Wooo! Edition #20 of Bass Report is here already! To anyone who enjoys my weekly dose of bass music, thank you so much for reading. I hope to keep your speakers rattling for many days to come.
Side Note: I try to avoid promoting myself on Bass Report, but that being said, I personally enjoy knowing more about authors and bloggers I read regularly. So! If you feel so inclined, I just released an EP of my own that you can stream/download free here!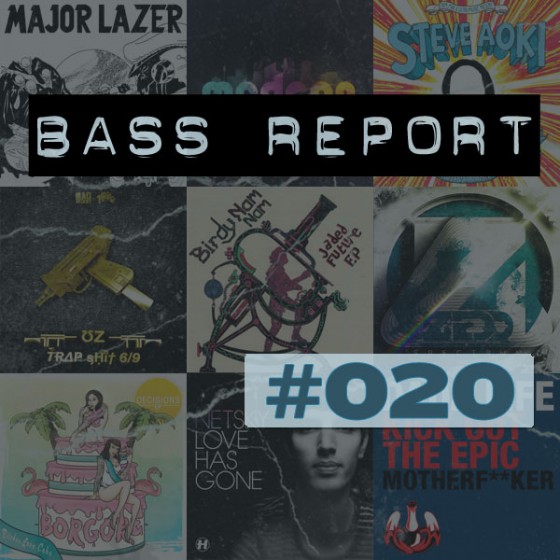 #1 Kill Paris – Tender Love

With his past handful of releases, Kill Paris has really established a sound to call his own. Rolling out chest thumping bass lines and cheerful flowing leads, I've found his newest material has the ability to evoke emotion more than the average bass music producer. I can't help but think Dillon Francis as I hear the bass line make it's way into 'Tender Love', but the major difference between the two is Kill Paris' frequent use of sampling. Rather than hanging on to one small snippet and repeating (see top 40 for examples), he fully utilizes Force M.D.'s original work, taking various segments of the song. There is a fine line between sampling and remixing, but as long as proper credit is given, it's all the same to me!
#2 MitiS – Endevours

If that first one from Kill Paris didn't make your day great, this should push it over the top. MitiS impressed me last week with his remix of Krewella's 'Alive'. This week, he's back with a chilled out feel-good drum and bass original. Deep and dark makes up a huge chunk of drum and bass, so hearing the opposite end of the spectrum done well always hits a soft spot. Play this one out and turn that frown way the eff upside-down!
#3 Benga – Hitman

Benga teams up with the Hitman game series? Very cool! I am pumped to see more and more big name producers embracing the video game world, and am just excited for the gamers, who are being introduced to great electronic music through a relatively untapped medium. Skrillex's 'Reptile Theme' for Mortal Kombat may have helped get the ball rolling, but with the gaming industry moving as fast as it is, the electronic dance music industry seemed like a logical partner anyways in keeping game audio fresh and exciting. 'Hitman' features some serious bass, and also  includes some samples from the in game audio to keep it relevent.
#4 The Others & Emalkay – Fallout

After catching a crazy set from Emalkay on Halloween, I've been keeping an eye out for this track. Combining with fellow bass enthusiast The Others, the duo cranks out a dark dancefloor friendly (insert synonym for banger here), with a great video to accompany the madness.
#5 The Frim – Drop It

Datsik has been heavily promoting Firepower's latest release from The Frim, letting us know he has dropped every track of the album in his summer sets. I could see 'Drop It' slotting in perfectly next to just about any Datsik tune. I'd take that as quite the compliment!
#6 Gemini – Robots

#7 Example & Dillon Francis – Someone to Die For

#8 Tantrum Desire ft. I-Kay – What is Your Desire (Kinzy Remix)

#9 Hirshee ft. Chaplyn – Burning For

#10 Bare – Bass Star

Still Hot!
*#1 on Nov 7th* Kill The Noise & Feed Me – Thumbs Up (For Rock N' Roll)
*#1 Last Week* Kill The Noise & Brillz ft. Minxx – Saturn

*#3 Last Week* Flume – More Than You Thought