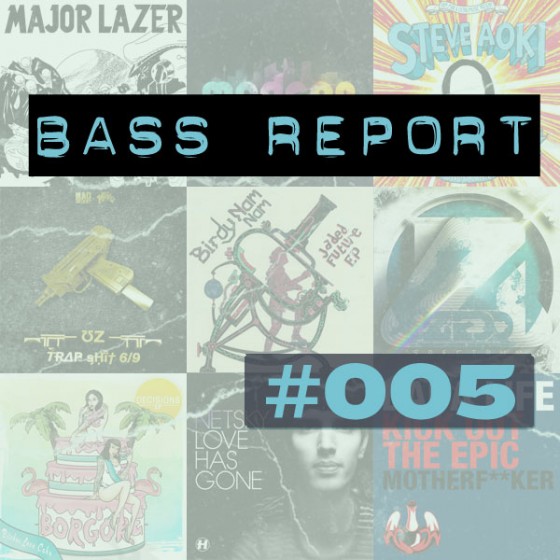 Are you ready? Bass Report is here, with enough fresh bass-based tunage to get you through the week!
This week's top track is a megazord of collaboration. I was super excited to see both of these names on a single piece of music, and it sounds like they have some real chemistry working at a moombahton tempo. The adventurous feel good synth of Dillon Francis, countered with a smooth n' sleazy Jack Beats bass line… That, is a recipe for a sexy dance floor.
KillaGraham is Bass Report's runner-up with his remix of Hirshee's 'Hold On To Love'. Having Sue Cho on vocals never hurts, but what else can I say about this one? It's got the epic big room sound of Avicii, but drops like a heavy Nero track. If that doesn't sell you, I don't know what will!
Number three goes to Alvin Risk who, after being supported by so many big name producers (including Skrillex), is out on his own and doing great things. This marks his second time around remixing the immensely popular 'We Are Young' by Fun & Janelle Monae, and assuming he doesn't go for the trilogy, the best was saved for last. Releasing such an upbeat remix, Alvin Risk shows us that dubstep doesn't need to be so dark and scary all the time. Total summer tune, play it out while you can!
Make sure to tune in next week. I'll be back with a WEMF edition of Bass Report to prep you for the big weekend!
#10 Nicky Romero & Zedd – Human

#9 Bare – Farenheit

#8 Totally Enormous Extinct Dinosaurs – Household Goods (Zeds Dead Remix)

#7 Emalkay – Bring It Down

#6 River Accorsi – MDCCLXXVI

#5 Calvertron & Melleefresh – 8-bit Dreamz

#4 F3tch – Get Low

#3 Fun ft. Janelle Monae – We Are Young (Alvin Risk Remix pt. 2)

#2 Hirshee ft. Sue Cho – Hold On To Love (KillaGraham Remix)

#1 Jack Beats & Dillon Francis – Epidemic

Still Hot
*#1 on July 18* Birdy Nam Nam – Goin' In (Skrillex "Goin' Hard" Mix)

*#1 on July 25* Zeds Dead & Omar Linx – Cowboy

*#1 Last Week* Zedd – Spectrum (A-Trak & Clockwork Remix)