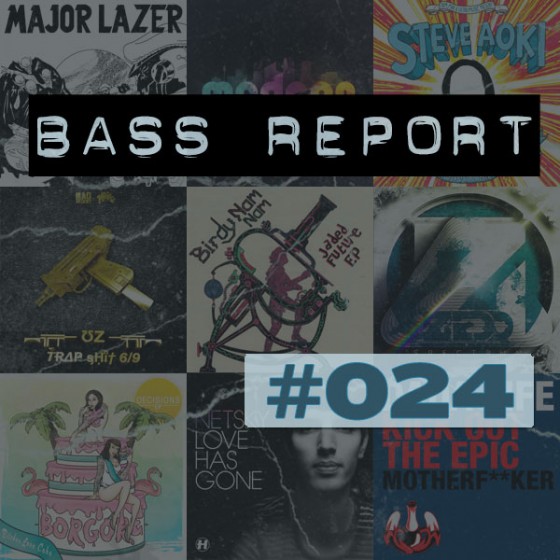 This week is a little lighter on the dubstep, but that's not to say I didn't scoop out a pile of quality tunes for your holiday listening pleasure!
#1 Porter Robinson & Mat Zo – Easy

Porter Robinson hasn't been pumping out tunes at the rate of some of his fellow producers, but those that do arise are 100% quality. He teams up with Mat Zo on 'Easy', an epic progressive electro house number that must be heard in it's entirety to get the full effect. It's a safe bet to say you will hear this many many times up in da club in the near future.
#2 Savant – Bananonymous

I don't post multiple songs from the same album often, but Savant's new *FULL* length release packs a whopping 22 originals… almost 2 hours of music! My favourite, 'Bananonymous' (no, it isn't a Dada Life collab), is saturated with pulsating synth lines that are sure to lift your spirits. You wouldn't be too far off to compare this to the Dada boys' work actually. A little funkier maybe, but it'll get you to the same place. I was getting a little down today going through so many regurgitated concepts in the bass music scene, but hearing this album really bolstered my confidence that there are still innovators out there.
#3 Mizuki – Damn F#cking Right

Ok dubsteppers, let's get to the heavy business. Circus Records' new compilation 'The Shady Bunch' included unreleased work from the likes of Doctor P, Cookie Monsta, Flux Pavillion, and many more… I didn't expect underdog Mizuki to overtake the heavy hitters, but this is killer. Bass is the sole focus here. Damn F#cking Right.
#4 Gemini – Robots (Chrome Sparks Remix)

I thought I was done with 'Robots', but Chrome Sparks simply left me no choice but to share one more remix. He takes the original in more of a relaxed direction, but those harmonized synth jabs still give it some punch.
#5 Calvertron ft. Mellefresh – 8bit Dreamz (Dank Remix)

Dank drops the nastiest of bass lines to put some weight behind Calvertron's popular '8-bit Dreamz'. In terms of quality and content, this really reminds me of Knife Party. Crispy clean production work to say the least.
#6 Savant – Redemption

#7 Ellie Goulding – Figure 8 (Xilent Remix)

#8 Far Too Loud – 800 Years (SkisM Remix)

#9 Lana Del Ray – I Love You (Kill Paris Remix)

#10 Nicky Romero & Nervo – Like Home (Dillon Francis Remix)

Still Hot!
#1:  Benny Benassi
Satisfaction (RL Grime Remix) [From Bass Report 23]
#2 DKS
Monster [From Bass Report 23]
#3 Caspa ft. Mighty High Coup
On It (TC Remix) [From Bass Report 23]
– StatiK