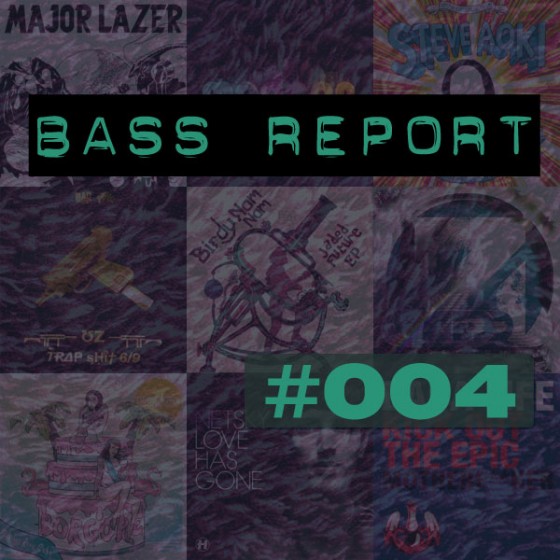 Electro house has managed to flood the Bass Report this week, with A-Trak & Clockwork's latest dance floor destroyer leading the way. This edition's fresh crop of tunes may be the best so far, so get your dancin pants on!
A whole slew of remixes of Zedd's latest track, 'Spectrum', were released yesterday, and I had no problem sniping out my favourite with confidence. There were a number of well done mixes on the release, but I think the talented combo of A-Trak and Clockwork put this one at par with the original, or better (Congo Rock or Monsta were great too if you're big on this track). Something about those bending bass synth sounds are just so satisfying in the mix. The overall feel is simple and catchy enough to get oodles of club play time, but also has the quality and complexity to back it up. Anyone who's anyone knows A-Trak is always bringin' it, but this track is extra huge, listen up!
Coming in at second, Dirtyphonics kills it, with their rendition of Krewella's 'Killin' It'. They definitely hang on to the party feel from the original, but take it up a few BPM into the drum and bass realm and do their thang. I wouldn't just recommend to drum and bass fans however, as the drum patterns switch up often enough here to keep it from just being your classic DnB tune.
Kill Paris is up next with a refreshingly upbeat remix at #3. This mix of alt-rock band The Great Flood Catastrophe is a bit of a Bass Report curve ball,  but that chorus melody is so damn catchy, I don't think you'll blame me for ranking this one so high. Kill Paris' funky BreakBot-esque electro sound will reel you right in… light, bouncy, and fun, with a silky smooth bass line that's still heavy enough to land the track in my top 10.
I was alerted to a monster of a track by Torro Torro this morning, and it couldn't be left out! Looks like a top 11 this week, don't be mad. Released yesterday, this isn't one of their laid back moombahton jams, but more like a sped up electro version of it. Here's one more talented act on the list of Toronto EDM that has been blowing up in the world's face. When Knife Party opens a main stage set at EDC with your track, I think it's safe to say you're doin' something very right.
Til' next time! You stay classy.
Hottest new release: Autoerotique – Roll The Drums (Torro Torro Remix)

#10 Subscape – Kick The Flow

#9 Figure – The Last Dawn

#8 Stefan Dabruck & Tocadisco – Saturn

#7 Kill The Noise – Jokes on You (Kill The Noise VIP)

#6 Dream – This Isn't House (LoBounce Remix)

#5 Bob Marley – Mr. Brown (Dubba Jonny Remix)

#4 Le Castle Vania – Play Loud

#3 The Great Flood Catastrophe – Fallen Love (Kill Paris Remix)

#2 Krewella – Killin' It (Dirtyphonics Remix)

#1 Zedd – Spectrum (A-Trak & Clockwork Remix)

Still Hot
*#1 on July 18* Birdy Nam Nam – Goin' In (Skrillex "Goin' Hard" Mix)

*#3 Last Week* The Others – The Way You Make Me

*#1 Last Week* Zeds Dead & Omar Linx – Cowboy