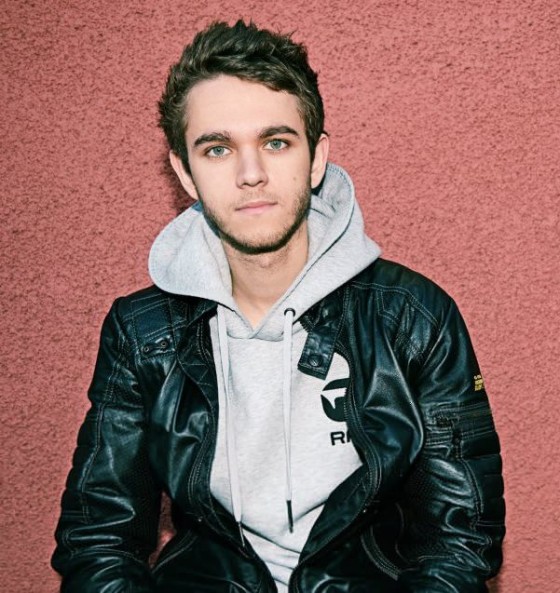 I've been following Zedd since his first release, 'The Anthem'. When I heard that track I knew there was something special about him. His style was unique and through the last two years his style has matured greatly. The moment he stepped on the scene he blew up. All of his songs have reached the top ten on Beatport and have topped the dance charts on iTunes. Each track he produced offered something new and as time went on he became one of my artists. He's released songs for Dim Mak and OWSLA while never really breaking out into the mainstream, until now.
'Spectrum' is a career defining track for Zedd. His first release after signing with Interscope records, 'Spectrum' is an instant classic. Just like how Skrillex's 'Scary Monster and Nice Sprites' and Avicii's 'Levels' brought those respective artists to worldwide recognition, 'Spectrum' is bound to do the same. Included in this EP is the original track, seven remixes, and an original track titled 'Human' that features Nicky Romero.

What can I say about this track that already hasn't been said? The extended version of this track is incredible. The opening is an array of synth growls accompanied by a pulsating kick drum. Matthew Koma's voice is wonderful here and never takes away from the track, only adding to it. Zedd's attention to detail is great here, he really shows off his production capability. If you want the complete rundown on the title track head here!
Armin Van Buuren kicks off the remixes with a great Trance rendition. Armin includes a simplistic yet beautiful classical piano to accompany Matthew's voice during the beginning. As the song progresses his usual Trance style comes to fruition. It's relaxed and not overly complex, but what is there is a great melody that is just as catchy as the original.

The second remix is a collabortive effort between A-Trak and Clockwork. Their remix is infectious, you can't stop moving throughout the entire thing. Arty follows up with his remix. Its the most aggressive house remix included on the EP. The double kick drum is great and the siren like synth makes this track very heart pounding. Deniz Koyu is up next and his remix is very "cookie cutter." The main melody he's created is catchy but the rest of it seems very simple. Its still a good remix but compared to the others included it doesn't stand out much.
Gregori Klosman  and Tristan Garner's remix is very cinematic in feel. During the main beat in the intro they have added a great medieval sounding trumpet. Another great aspect about this remix is the orchastra added during Koma's first verse. It gives the song a wider scope and cinematic feel. There are a few artist that can do Modern Talking correctly and Congorock is one of them. His main melody here is the catchiest thing I've heard with Modern Talking. My only complaint is that his transitions in the song are really sharp. It almost draws you out of the experience. Monta's remix is the only remix to step out of the steady beat format. Turning 'Spectrum' into a killer dubstep banger. You'll quickly notice how heavy the sub-bass is, it will rattle your entire body. The tricks he has done to the vocals are nothing out of the ordinary but the drop picks up the slack.
Zedd has also included an acoustic version of 'Spectrum'. For those of you who don't know, Zedd is classically trained in piano. Hearing Matthew's voice next to a classical piano is awesome.

'Human' is another banger from Zedd and Nicky Romero. The vocals are really catchy and you'll find yourself singing along. Its slightly repetitive but its still awesome. Seeing this track at the end of an amazing EP was just a great addition. Zedd is pushing boundaries and creating some of the best music around. He is rumored to be releasing his first full length album late this year or early next year. I for one can't wait to see what he turns up next.