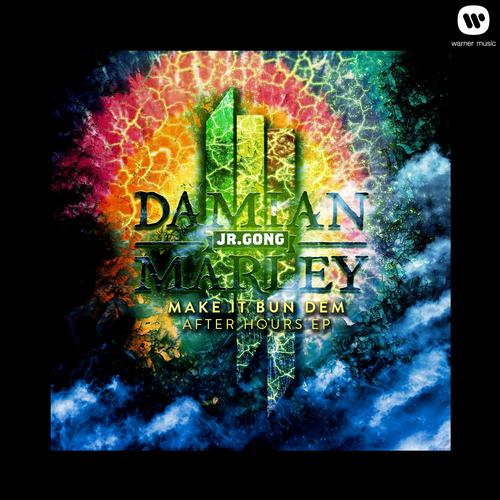 At the start of the summer Skrillex and Damian Marley teemed up to make one of the years best bangers, 'Make it Bun Dem'. The song quickly rose on the Beatport charts and was played everywhere. Fast forward a few months and we now have an EP of remixes, each offering a different style ranging from Moombahton to Trap. The original was such a tightly woven banger that fused Reggae and Dubstep together perfectly. This EP spans six remixes, each feeling unique. As great as the original track was, a few remixes on here really step it up in terms of intensity and substance.
Culprate's remix is up first and its a banger. If you spend a lot of time on the site then you know that he is a  favorite around here. His signature bass is found here. You can tell he's really stepped up his production, the bass has more "crunch" to it and the format of the song is more complex. The song is hard on the ears at first but you grow into it.
The next remix comes from Brodonski. His rendition is a an Electro House banger and easily the most relaxed. I did like this remix but it didnt tickle my fancy that much. There is a lot of effects on Damian's vocals and at times it feels like to much. Besides that little gripe, this remix was enjoyable.
Easily the most experimental remix on  the EP, French Fries's is full of breaks. I didn't really enjoy this remix, it's not bad, it's just not my cup of tea.
David Heartbreaks brings the Moombah in this intense remix. This was easily the contender for best remix on the EP. The vocals are sped up and the main melody of the original is tweaked just slightly. Adding a dem bow drum pattern, this is a great Moombahton jam.
Of course there is a Trap song on the EP, Trap is everywhere. Brought to us by Flinch, its what you come to expect from modern trap. While it doesn't add anything experimental it is a solid Trap song. Damian's vocals fit along side the hi hats and Trap melody that Flinch has made.
There is a saying; "Save the best for last." That is indeed the case here! Alvin Risk tears the original up into a masterpiece all its own.  Alvin is known for his intense Moombah tracks, its nice to see him try his hand again in Dubstep. The two drops feature a different bassline, which doesn't make the song repetitive. He throws in an 'Alvin and the Chipmunks' sample that will have you smiling. Hands down the best remix found here!