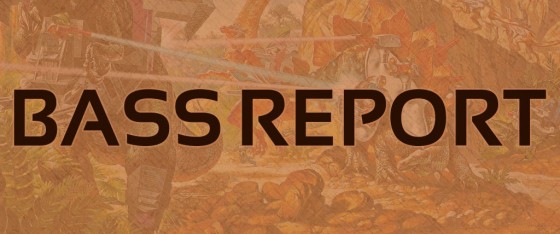 Welcome once again to Bass Report! If you're searching for that perfect track to blow out your new sub in style… you came to the right place.
I originally had The Killabits pegged for this week's top spot with their latest remix… but waking up to that new Zeds Dead EP yesterday left me with a tough call on my hands. I absolutely love the work coming from both pairs of producers, but Zeds Dead edged them out with 'Cowboy' this time around. 
It kicks off with hip-hop vocals alongside western/rock guitar, and is then doused in a signature grinding bass line that lets you know it's time to get down. Sometimes I question Omar Linx's role with the two, not because he isn't talented, but simply because they've already done so much together. I wouldn't mind seeing some varying collab work in the future, but Linx really lets loose some emotion on this one, and the combined influences of the three make this track a hit.
Already releasing three quality originals this summer, Adventure Club is now quite a reputable name in the Dubstep game, and this will mark their third consecutive appearance on Bass Report. This week however, it's fellow Canadians The Killabits on remix duties, claiming the #2 spot with a deadly version of Adventure Club's recent single 'Wait'. Having spent much of my night life in Toronto, I've caught The Killabits on a number of occasions and have always been impressed with their arsenal of heavy hitters. Add one more to the list!
Before I leave you to it, I want to give a quick mention to Meta at #5. It's always exciting to hear new artists with fresh sounds, and after getting a peek of 'Phoenix Down', I am eagerly awaiting the release of their debut EP 'The Alpha', July 30th. Definitely an artist worth following in the future, I think you'll agree.
That's all for now! If you have any feedback on the article so far, feel free to send it my way. I always appreciate compliments or criticism… don't hold back!
#10 Jibbs – Chain Hang Low (Crizzly & AFK Remix)

#9 The Bloody Beetroots – Rocksteady (Gigi Barocco Remix)

#8 Rusko – Thunder ft. Bonnie McKee (Tantrum Desire Remix)
#7 Colin Munroe ft. Pusha T – The Fight of My Life (Zeds Dead Remix)

#6 Mark Knight ft. Skin – Nothing Matters (Noisia Remix)

#5 Meta – Phoenix Down

#4 Madeon – Finale

#3 The Others – The Way You Make Me

#2 Adventure Club – Wait (The Killabits Remix)

#1 Zeds Dead & Omar Linx – Cowboy


Still Hot:
*#4 on July 11* Steve Aoki ft. Blaqstarr & Kay – Control Freak (Dillon Francis Remix)
*#3 Last Week* Dubba Jonny – No Stopping
*#1 Last Week* Birdy Nam Nam – Goin' In (Skrillex "Goin' Hard" Mix)