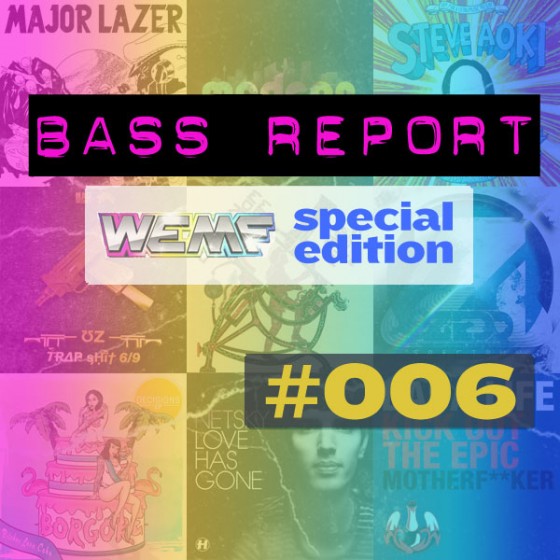 Bass Report has a different look this week, as I've chosen to dedicate it to one of the biggest festivals of Summer!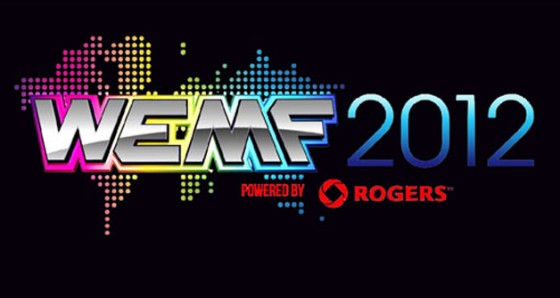 The usual top 10 countdown has turned into a top 20 mix, and is made up of exclusively acts you can catch at WEMF. Having already covered a bunch of newer material from many of these artists in previous weeks, I'll be digging back and picking out some of my all time favourites. That being said, I'm sure you'll still hear plenty of these tracks dropped over the weekend!
[wpaudio text="Bass Report – WEMF 2012 Mix" url="http://www.salacioussongs.com/files/Salacious%20Sounds%20Bass%20Report%20-%20WEMF%202012%20Mix.mp3″ dl="true"]
Tracklist:
Flight Facilities – Crave You (Adventure Club Remix)
Trolley Snatcha – Make My Whole World
Jinder – Youth Blood (12th Planet & Flinch Remix)
Insan3lik3 – Bad Pitched (Dr. Ozi remix)
Dub FX – Fly With Me
Figure & Cas One – Doomsday
DJ Marky & S.P.Y – Mystic Sunset
DJ Hype & DJ Zinc – Disappear
Major Lazer – Get Free (Andy C Remix)
Thomas Gold & Dirty South ft. Kate Elsworth – Eyes Wide Open
Wolfgang Gartner – The Way It Was
The Darcys – 100 mile House (Andy's iLL Refix)
Bart B More & Harvard Bass – The Funky One
The Crystal Method – Smile
White Lies – Death (Chase and Status Remix)
Sublime – Doin Time (Zeds Dead Summer Grime Remix)
Datsik – Annihilate
Pendulum – Set Me On Fire
Jeremy Glenn – New Life (Torro Torro Remix) (The Killabits' Esta Noche Edit)
Moby – Porcelain
P.S. I did my best to keep this to strictly bass music, but couldn't leave out a main act that I'm really looking forward to, and ended things on a chill note with Moby. I hope you forgive me!
For those who don't know, WEMF has been located in Madawaska, Ontario the past 2 years. I've heard it's a great scenic camping experience, and a perfect spot to forget about real life for a few days, but it's a serious trek for most. If you're lucky enough to have a ticket, I recommend downloading the mix and cranking it on the car/bus/plane/horse ride up! If not, I am sorry to hear, but you shouldn't have a problem getting your bass fix from this double stuffed edition.
This year's roster is stacked as usual, and while half the line-up would be headlining on any regular club night, the top slots are filled by the likes of: Wolfgang Gartner, Moby, Datsik, Chase & Status, Pendulum, Andy C, Zeds Dead, Infected Mushroom, The Crystal Method… the list goes on, you get the idea.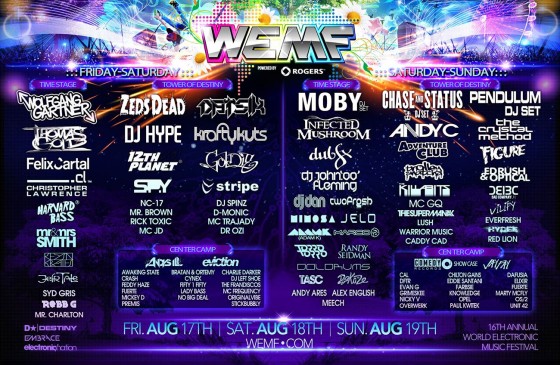 I know I won't be able to please everyone here with such a wide range of dance music in one place, but for the sake of ranking something this week…
10 acts not to miss at WEMF:
#10 Dr Ozi
#9 The Crystal Method
#8 Dub FX
#7 Chase and Status
#6 Adventure Club
#5 Andy C
#4 Pendulum
#3 Moby
#2 Wolfgang Gartner
#1 Datsik
Tweet at me and tell me who you think I should have on my must-see list! And if you're WEMFing it up this weekend, come find me and talk tunes!