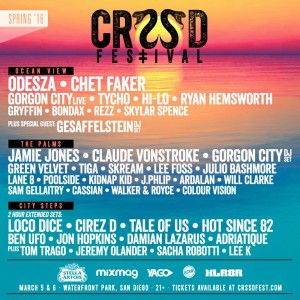 Summer's not quite here yet, but on March 5th and 6th, you will get a fresh taste of summer at CRSSD Festival at the Waterfront Park in sunny San Diego.
You will see some of this year's biggest artists in close proximity to the Pacific Ocean. Jam out to all the artists on CRSSD's stacked lineup with the sun kissing your skin and the ocean as the backdrop. With spray fountains throughout the park, take a break to play and cool off. Talk about some major fun in the sun.
CRSSD's lineup is almost overwhelming, so many amazing artists brought together. But hey, no complaints here. While I'm looking forward to all artists on the bill and the headliners speak for themselves, here are 5 artists that you should check out if you're headed to CRSSD in March.
1. HI-LO
So for those who might not know, HI-LO is Future House trailblazer Oliver Helden's darker, more bass-driven alter-ego. Whether you're a fan of Oliver Heldens and his high energy beats, or a fan of HI-LO's more dramatic deeper sound, you know the man himself won't fail at delivering an amazing set. Take a listen to his set from Electric Zoo 2015. However, I'm really looking forward to a full HI-LO set and really experience that Bass House he's created.
2. Poolside
This Californian duo's name really sets the mood for CRSSD. Poolside will grace everyone at Waterfront Park with their summery Electro Indie and Disco tunes. Trust me, you're going to be listening in on their set with that beachy setting, and you're going to feel nothing but zen.
3. Damian Lazarus
Damian Lazarus seriously is a genre bending creative mastermind. His sets seem to vary by the environment, literally the physical environment. Whether it's in the desert or the jungle or somewhere not confined to concrete walls, he produces unique sets that keeps everyone groovin' and movin'. Whether it's a single or a set, the surprises keep coming.
4. Lane 8
Lane 8 is one of my favorite artists right now. He has a talent for subtle melodies while progressively releasing energy in his songs. His tracks are so unbelievably smooth, yet one can't help but move his/her entire body. Check out his set from ABGT150, and prepare to be impressed.
5. Gryffin
Gryffin's been known for his dreamy, melodic remixes for "Desire" by Years & Years and "Talking Body" by Tove Lo to name a couple. However, Gryffin just released his debut original single "Heading Home" on January 22nd, and it's fire. He's also played at some festivals like North Coast in Chicago and Snowglobe in South Lake Tahoe, and has been a supporting act for big names like Kygo. He's well on his way to being one of 2016's breakthrough artists, so be sure to catch him at CRSSD.
For more info and tickets, check out CRSSD Festival's website: CRSSD Festival
Follow me on Snapchat @boomshakajackie to get in on my CRSSD experience.