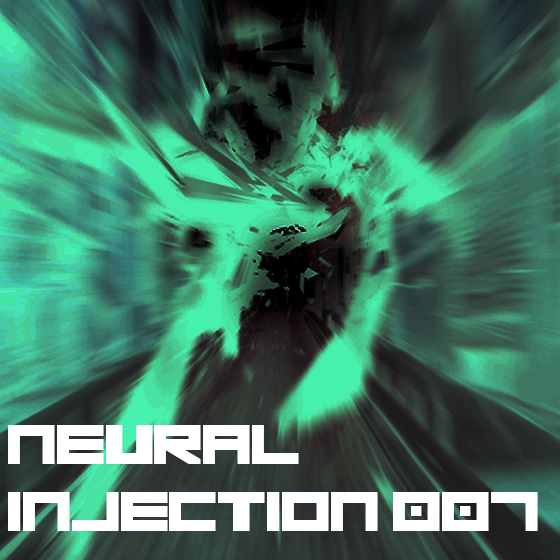 Here we are, once again, with another edition of Neural Injection, a column featuring the best new releases from the wide world of drum and bass. It's been a busy couple weeks for DNB, so let's not waste any time.
Optiv  –  Krakpot Remixes [Close 2 Death]
Kicking things off this time around, Close 2 Death Recordings brings us what may be the release of the year for me – remixes of drum and bass legend Optiv's 'Krakpot' courtesy of Jade (Budapest, HU) and Billain (Sarajevo, BA). The EP represents the convergence of three of the biggest names in drum and bass; Optiv – a founding member of Cause4Concern, and a true heavyweight in his own right – remixed by two pioneers of the neurofunk sound over the last half-decade.
Jade's remix is a perfect marriage of soft and hard sounds – dreary sirens call out mournfully, while an exceedingly evil bassline and punchy drums inject some anger into the equation. The bassline is some particularly harsh business…it feels like the soundtrack to a deadly virus or a festering wound, and actually knocked me back in my chair when I first heard it. Delightfully evil work from Jade.

Billain's remix is an equally devilish statement. If Jade's remix represents an organic evil, Billain's remix – true to personal style – is synthetic evil. One immediately impressive aspect of the remix is the melodic component added by the sad strings in the intro. Billain always hits the nail on the head when it comes to the use of cinematic sounds in dark neuro tunes; each song seems to have a story. This story gets particularly nasty, as the strings cut out abruptly and we're hit with the drop. Plastic bass which slices through everything in its path, swelling and ebbing with an almost sexual quality. At least that's how I perceived it…maybe I'm screwed in the head. Yet another masterpiece from the virtuoso Billain – I expected nothing less!
Without a doubt, a milestone release for Close 2 Death. Available digitally and on 12-inch vinyl.
 Jade on Facebook / Soundcloud
Billain on Facebook / Soundcloud
Aeph, Memtrix, Neonlight & Receptor, Infuze  –  From Roots To Wings EP  [Lifted Music]

One pleasant surprise as of late has been the increased activity from Lifted Music – former Renegade Hardware label manager Chris Renegade's imprint, home to the likes of Spor (aka Feed Me), Evol Intent, Apex, Ewun (aka Kill The Noise), and Falinox to name a few. Things around Lifted had been quiet for a while up until earlier this year. The 4 track EP seems to be a clear example of what we can expect from Lifted going forward – upbeat, hard-hitting dancefloor neurofunk. My favorite on the release was the first, 'One Last Chance' courtesy of Aeph. Aeph is, in my opinion, the finest practitioner of this particular brand of "shiny disco neuro." Warming up with an epic intro, 'One Last Chance' drops into a spaced-out, growly step before locking into a standard dancefloor groove. It all throws me off balance, in the best of ways. I can't wait to hear this in a club or rave. The offerings from Memtrix, Neonlight, and Receptor are nothing to sneeze at either. If you're looking for the Lifted sound pioneered by Spor you won't really find it, but this club-ready EP is sure to please even the most jaded of neuro heads.
Aeph on Facebook / Soundcloud
Memtrix on Facebook / Soundcloud
Neonlight on Facebook / Soundcloud
Receptor on Facebook / Soundcloud
Infuze on Facebook / Soundcloud
Mefjus & M-Force  –  Abandon  /  Struggle & Pain ft Maksim  [Breed 12 Inches]

Breed 12 Inches (sub-label of Lifted Music) brings us the latest from Austrian producers Mefjus and M-Force. Mefjus – who has featured in multiple previous editions of this column – has been making huge waves throughout 2012, recently adding an affiliation with Critical Music to his list of accomplishments. 'Abandon' opens the EP with the signature Mefjus production quality I've come to love this past year – big sound, tight drums, and percussive basslines which truly drive the groove of the track. The real treat on the EP comes on the flip, 'Struggle & Pain' featuring Maksim on the vocals. 'Struggle & Pain' caused a lot of excitement when it debuted on the Lifted podcast this past spring. Warm sub bass envelops sharp, simple drums as Maksim spits rhymes cooly on top. A minimal yet lethal concoction.
Mefjus on Facebook / Soundcloud
M-Force on Soundcloud
Teddy Killerz & Nphonix  –  Scary  /  Earth Shaker  [Bad Taste Recordings]

Two producers who've gotten a lot of attention lately are Place2b and Paimon, two longtime collaborators who recently debuted under their new alias Teddy Killerz. Those watching the European neurofunk scene are no stranger to Place2b & Paimon's previous exploits, which include regular appearances on Citrus Recordings and Tam Records. Their name change seems to signal a further step towards super-stardom, with a high profile remix of Skrillex & Damien Marley's 'Make It Bun Dem' completed, and now, a massive release on heavyweight label Bad Taste Recordings. 'Scary' is no doubt made for the dancefloor, with fun, energetic drums and a bassline that scrapes at your ears, almost excessively – it's a good thing Teddy Killerz have been doing this for a while. They're good at it. My personal favorite on the release comes on the b-side in the form of 'Earth Shaker,' a collaboration with Nphonix – a true OG in the Russian drum and bass game. Whereas most drum and bass gives me a sense of fast movement or running, this tune somehow feels as if its walking. That isn't to say it doesn't have a lot of energy – it walks with immense titan-steps, so large they leave cracks in the earth. If Shadow of the Colossus was set to DNB, it'd probably be this tune. Immense.
Teddy Killerz on Facebook / Soundcloud
Nphonix on Soundcloud
Various – Rise Of The Under Dogs  [IM:LTD]

Celebrating 4 years of deep, forward-thinking explorations into DNB, French imprint IM:LTD bring us 'Rise Of The Underdogs.' The compilation features ten tracks which have shaped the IM:LTD sound. Readers of this column will know that IM:LTD ranks among my favorite labels for deep, rich and soulful drum and bass. Everyone is sure to find something to their liking on the compilation, whether you're looking for something deep and ominous like Mortem's 'Whispers', a club-ready roller (Future Signal – 'Monopole'), or warmer, more soulful fare like Gunston's 'Universe' – the sound I usually associate the label with in my mind. For those interested in exploring the deeper, more 'intelligent' side of drum and bass, this is an excellent starting point.
IM:LTD on Facebook / Soundcloud 
Braincrack  –  Time Machine EP  [Synergist Records]
Up-and-coming label Synergist Records brings us the latest from a favorite amongst neurofunk heads – Braincrack of Budapest, Hungary. Synergist, founded in late 2011 by the duo Halflife, has already made some big waves with releases from Hykario, Diode, and Lifelink already on their resume. Braincrack's latest offering, Time Machine EP, closes out an exciting year for the Synergist camp and signals a bright future for them in 2013. The EP is replete with twisting reece basslines, banging drums and little hip hop samples – an addictive combination. In general, the release has a playful vibe to it which I think is missing from a lot of neurofunk. My favorite track on the release has got to be 'Skull Crusher' – between the nasty bassline, the rolling drums, and that little voice going "SHUT THE FUCK UP" (I think?), this tune is sure to cause pandemonium on the floor. This is a release worth checking out, and Synergist Records is a label worth keeping a close eye on. They've got big things coming. Trust me.
Braincrack on Facebook / Soundcloud
Synergist Records on Facebook / Soundcloud
FREE:
Bes & Miditacia  –  Sylvanas Crying  [Tam Records]

Two horribly addictive things. Russian neurofunk DNB. World of Warcraft. Who would've thought they'd ever come together? I was pleased to see last week that a new free track had been uploaded by two of my favorite producers in neuro – the russian scene don Bes alongside Miditacia, a producer who has cemented a reputation, in my mind at least, as one of the sickest talents in drum and bass. The two came together to create this WoW soundtrack remix, as a farewell from Bes to the game. I wish he'd keep playing, if it meant more music like this! This really doesn't feel like a free release. Consider yourself lucky!
Bes on Facebook / Soundcloud
Miditacia on Facebook / Soundcloud