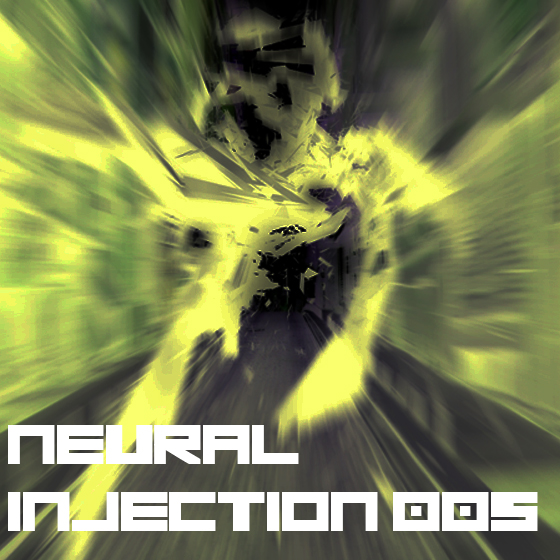 Hey everyone. Welcome to another week of Neural Injection, a column where I feature the best releases from the world of drum and bass. This week we're taking things a little bit deeper, with a selection of clicky, bass-filled, experimentally edged tunes which will no doubt get your legs and brain working a little harder than usual. Not to mention, some old school vibes thrown in for good measure…enjoy!
Disprove  –  In The Lab EP  [Ammunition]
We're kicking things off this week with a release on U.S.-based label Ammunition Recordings from UK producer Disprove. Ammunition Recordings (or "Ammo") has, from small beginnings, grown to become one of the strongest forces in US drum and bass as well as a tastemaker in the global DNB scene, having broken many producers who've gone on to do big, big things. Xilent and High Maintenance come to mind. Here we see Ammunition introducing the talented new producer Disprove, bringing us an EP laden with deep basslines, cavernous atmospherics, and meticulously crafted percussion. The EP kicks off with 'Mini,' a deep stepper with tiny glitches and pulsating bass galore. I'm struck by the sense of darkness in this one, with different elements echoing into the sonic abyss. The next tune, the titular 'In the Lab,' stays on this path and adds a trippy bassline which envelops your ears in its warmth. This one's sure to have the whole room bobbing their heads with one eyebrow raised. 'Sleep Cycle,' almost seems to breathe in between the little clicks and subtle atmospherics that make the track. If there's one thing Disprove has proven with this EP, it's that he's really good at making me feel like I'm alone in the dark. Rounding off the release is a remix of 'Mini' from Italian trio First Line Squad, who manage to transform it into a seriously powerful roller which retains the best qualities of Disprove's original. I'm looking forward to seeing what's next for Disprove!
Disprove on Facebook / Soundcloud
First Line Squad on Facebook / Soundcloud
Purple Sky EP  [IM:Ltd]
French imprint IM:Ltd brings us yet another release filled with emotion and character with this compilation of 6 tracks from 6 masters of atmospheric beats – Es.tereo, Gunston, Hibea, Nuage, Gerwin, and Atmospherix. You may remember IM:Ltd from the second edition of Neural Injection, when we featured the Water Beast / No Despair EP from Robustus. Es.tereo (Berlin) kicks things off with the release's namesake, 'Purple Sky,' an absolutely amazing bit of minimal drum and bass. The track, with its ever-present pads and drums which reverberate into space, instills a sense of suspension in both place and time. The track slowly builds upon itself, adding small elements as the tune progresses. This was clearly a labor of love, and it comes across in the sound…absolutely lush. Another favorite on the EP comes from Russian producer Nuage, who has continuously impressed me with his knack for crafting beautiful, emotive pieces of music. Melancholy piano riffs, soothing pads and longing vocal samples rest atop a bed of cozy sub bass. Stunningly pretty, but not necessarily happy. I first heard this tune on a sleepy weekend morning, checking my email after a long drive home. It was just what the doctor ordered. My third favorite on the release was Gerwin's offering, the mysterious 'Lonely.' Steppy drums and a creeping reece bass play out over bells which give a sense of exploration into the unknown. Definitely the darkest tune on the release. Me likey. All the tracks on this release are wonderful, and IM:Ltd continues to be one of the foremost labels I look to for emotive, minimalistic beats.
  Es.tereo on Soundcloud
 Gunston on Soundcloud
 Hibea on Soundcloud
 Nuage on Facebook / Soundcloud
Gerwin on Soundcloud
 Atmospherix on Facebook / Soundcloud
Larrge  –  Antidot  /  Sequence  [Future Funk Music]
Future Funk Music is a new sister label to Mindtech Recordings, the respected neurofunk label run by Nevroz and Square. So, right off the bat I had high expectations for Future Funk. This release, the label's second, comes courtesy of Larrge, a producer based in Seville (Spain) who came onto my radar some months back with his release on U.S. label Icarus Audio. One thing I quickly learned about Larrge then was that he's really fond of unique, complex drums which click and patter their way straight into your head, accenting a trippy (and often weird) bassline. His new EP on Future Funk keeps with this trend, with two tracks which have really kept me interested for the last couple weeks. In the first track 'Antidot,' Larrge seems to know exactly where to place each little drum hit and bass vibration, culminating in an infectious groove which makes me want to dance. Stripped down minimal DNB at its best. Less is more sometimes, right? The second tune, 'Sequence,' takes things even deeper. Glitched out drum hits and the odd synth stab skip onward over a huge foundation of sub bass. I'm really pleased with this emerging trend in experimental/minimalistic drum and bass, after the flood gates seemed to open with the release of 'Marka' last year. At least that's when the style really seemed to catch on, to me anyways. Eager to see more from Larrge, and just as importantly, Future Funk Music. Check out their soundcloud; there's a lot more where this came from.
Larrge on Soundcloud
Beta 2, Zero T  –  Love Finds Me  /  Red Hand  [C.I.A. Deep Kut]

C.I.A. Records' child label, C.I.A Deep Kut, brings us two tracks from two veteran producers in the UK drum and bass scene, Beta 2 and Zero T. Frequent collaborators, the two have had releases together on labels like Commercial Suicide and Bassbin. Individually, they've graced labels like Subtitles and Metalheadz. Beta 2 kicks things off with a collaboration with vocalist Pete Josef, entitled 'Love Finds Me.' Sweeping strings, piano, and rich bass give this ballad a truly cinematic vibe, evoking a sense of nostalgia and serenity. This is a tune which undoubtably lifts you up and makes you feel good. Zero T provides the goods on the flip, with 'Red Hand.' The track's most obvious feature is it's grinding, sparse baseline, but the highlight for me comes in the package of the mangled vocal samples (some of them classic jungle staples), which add an element of the old being blended with the new. Likewise, steppy drums are at the tracks forefront, but if you listen a bit closer you can hear that classic amen working its magic underneath. After listening it becomes obvious this release comes from two seasoned producers who understand drum and bass's rich history. In fact, they've experienced it first hand.
Zero T on Soundcloud

Forthcoming:
SPKTRM  –  Android Dreams LP  [Project 51]

After much anticipation, I'm thrilled to finally listen to the first previews of the next LP on Project 51 Recordings (home of U.S. DNB kingpin Gridlok) – Android Dreams, by SPKTRM! Having run alongside arguably the biggest names in North American DNB – Gridlok (Project 51), Dieselboy (Human Imprint), Evol Intent, and GEIN (Bad Chemistry Recordings) it's clear how SPKTRM's style was influenced – by an (almost) bygone generation of apocalyptic jungle-infused hardstep producers born and bred in the USA. SPKTRM's immense track 'Planet Human' is a perfect example of that. The 'Android Dreams LP' promises to rekindle some of those lost vibes, while taking things even further back in time into the golden age of jungle. While all of these tracks struck me as excellent, a few tracks which stood out to me were 'Observation Lounge,' 'Type III,' and 'Array.' 'Array' in particular piqued my interest, taking some overt cues from old school jungle – like being at 168 beats per minute, for one. It's nice hearing a jungle track produced at that laid back tempo, in this day and age of fast and furious beats. Not that the mood in 'Array' is anything to sneeze at – while it takes things a little bit slower, it's still an undoubtable stomper. Like the previous full-length on P51 (Cern – Terminus LP), this release is shaping up to be gold from start to finish. Out on November 20!
https://www.facebook.com/thespktrm
Until next time!
-adept