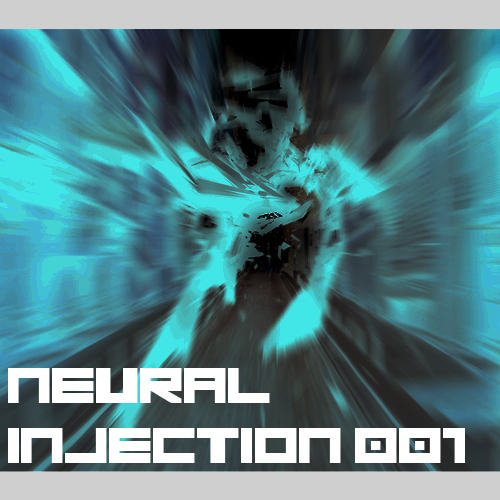 Ez, music lovers. Hope your week has gotten off to a good start. My name is adept, and this is the first edition of Neural Injection. Each week in this column I'll be featuring some of the highest quality tracks coming out of the drum and bass scene at the moment, with special attention to all things dark and deep. In doing so, I hope to expose some of the raw talent currently working within the world of DnB.
Maztek – Galactica / Odyssey  [Renegade Hardware]
This release marks italian heavyweight Maztek's debut for the highly respected London-based label Renegade Hardware. Hardware has always been synonymous with dark, cutting edge drum and bass, an image they've solidified through their extensive, high quality back catelog. When I heard they'd signed Maztek, it seemed natural; his hard-hitting funk inspired rhythms are at home in the Hardware camp. The tracks live up to their space-inspired titles, throwing me into zero-g courtesy of Maztek's keen sense for atmosphere and drum programming. 'Galactica' is the more energetic of the two with its busy, pumping bassline, while in 'Odyssey' the atmospherics and more restrained drums keep the track in more serene territory. 'Odyssey' even kind of reminds me of Basher & Xtrah's 'Hubble,' another space-themed tune which came out around this time last year. This is a really good release, and you should check out his other releases if you like this one (or even if you don't).
http://www.facebook.com/MaztekHQ
The music video for 'Odyssey' isn't too bad either. 😉
Mefjus, L 33, KUNG, Dextems, Allied – RA006 EP  [Rise Audio]
UK label Rise Audio has been around for about 2 years if I'm not mistaken, but their output has been rather sparse up until recently (this is only their 6th release). However this can probably be attributed to an attitude of "quality over quantity," as the label has consistently released some of the sickest tunes around from a small elite roster of artists both new and established. I guess you could call them a 'tastemaker' label with a sound carefully curated by label boss Kulak. The 4 track EP starts with a deep track from up and comers Mefjus and L 33 ('Inclination') who are both making big waves in the scene at the moment. Next, 'Misuse' – a growly neuro stepper from Spain-based KUNG. Third is a dark (as in, pitch black) roller from the Russian duo Dextems, entitled 'Radium.' Last is the Allied remix of Dextems's 'Hidden Path.' 'Radium' and 'Inclination' definitely stand out to me the most. 'Inclination' manages to keep me on my toes with its razor sharp, oft-changing drums and alien low-end. And 'Radium' is just plain scary. This EP is deserving of the label's super cool logo. A symbol which continues to represent quality.
http://soundcloud.com/riseaudio
http://www.facebook.com/riseaudio
Cause4Concern – Remix EP Vol. 1  [Cause4Concern Recordings]
This release on legendary group Cause4Concern's imprint contains remixes of 4 C4C tracks from Dabs, Hybris, BTK, and Nocturnal, respectively. Cause4Concern is a household name in drum and bass, so the remixers had a raised bar from the outset. Dabs kicks off the release with his remix of 'Crash Test,' a punchy roller which maintains the classic C4C sound while updating it for 2012. Second comes the Hybris remix of 'Scatterbrain' – a tune which moves along as if it's been coated in some kind of dark gelatinous matter. Again, Hybris doesn't disappoint with his natural sense for space and advanced sound design. Third, is a remix of 'Paranormal' from BTK, a Brazillian broken beat expert who's been getting lots of attention not only for his own productions and label Dutty Audio, but also due to his exploits with C4C's Optiv. Probably my favorite track on the EP, 'Paranormal (BTK remix)' is rolling favela funk which makes me feel like I'm running for my life through a Brazilian slum. I mean this in the best of ways. Serious vibes. Last comes a remix of 'Dub Funk' courtesy of Nocturnal, a sinister upfront tune with a heady bassline easy to get lost in.
http://soundcloud.com/cause4concern-recordings/
http://www.facebook.com/Cause4Concern
Dyamorph – Suita / Caliphate  [Overtech Recordings]
Dyamorph is a Russian producer who's been releasing tunes in the neurofunk scene for quite a while, a regular on Russian DnB don Bes's Tam Records. This release – like many of Dyamorph's – particularly shines through its melodies, which are spooky and, in a certain way, dramatic. The melodies play out over a rich low-end sure to set danceloors alight, giving rise to two bombastic-as-fuck tunes worthy to be the climax of any neuro set.
Overtech is one of the most exciting up and coming labels to pay attention to, and one of my favorites all around. This is owing not only to the consistent quality of the releases, but also the level of involvement the label has elicited from drum and bass fans. I think it's because of this interaction that the imprint has successfully built such a strong community of fans, been able to break many great new artists, and ascend from small beginnings to being supported by some of the top DJs in the DnB game – all in a short period of time. At the helm of the label is Jae Overtech, who's tastemaker instincts and wicked DJ skills have guided the label and himself into the spotlight. Recently the label announced a partnership with veteran neurofunk label Close2Death in an alliance known as Deathtech Music Group, as well as partnership with big-league vinyl distributor Triple Vision. This column will be featuring more from Overtech in the future, without a doubt.
http://soundcloud.com/overtechrecordings
http://www.facebook.com/OvertechRecordings
Parallax – Tidal Wave / Causality  [Overtech Recordings FREE]
While we're talking about Overtech, they just gave away this release from 19 year-old Atlanta, Georgia based producer Parallax for free. A generous offering. While 'Tidal Wave' offers serves up some seriously dark 'n growly vibes and moves along nicely, it's the infectious groove in 'Causality' which really does it for me. Parallax's keen sense for eldritch mechanical sounds makes it easy to see his potential for joining the tradition of other drum and bass producers with a dark, technical flair like the legendary Billain. Keep an eye on him.
http://soundcloud.com/parallaxdnb
http://www.facebook.com/parallaxdnb
Octane & DLR – Method In The Madness LP  [Dispatch Recordings]
Last (but certainly not least) comes the massive debut LP from Octane & DLR, recently released on the respected Dispatch Recordings. This album oozes the quality that drum and bass fans have come to expect from the Leeds-based duo, featuring both new tracks and ones which have been on the dubplate-rotation for some time. The entire album has the jazzy, deep quality I've come to love about Octane & DLR. This isn't to say the tracks won't send dancefloors into a frenzy, since they will. It's a pretty huge release (size-wise) so I'll just say this – my favorite track on the album is the collaboration with Break, 'Murmur.' It's got the pure soulfulness I love about everything Break does, matched with the clean production and rhythmic maturity I expect from Octane & DLR. The track almost intentionally throws you off balance, at times, only to lock you back in with its flawlessly constructed break. It's a perfect match. And it's not the only great collaboration you'll find on the album – Cern, EBK, Script, and Fokus are a few other names you'll find. 'Stick and Move' featuring MC Fokus is another favorite; I'd been waiting on it for a year or more, so it definitely marks a high point on the album for me personally. This is probably one of the best releases of the year.
http://soundcloud.com/octane-dlr
http://www.facebook.com/octanedlr
FORTHCOMING:
Emperor – The Fire EP  [Neodigital]
To keep you on your toes till next time, here's a preview of the new single from young up-and-comer Emperor, due out next week on Neodigital (sub-label of Phace & Misanthrop's Neosignal imprint). Emperor, at only 19, has made some big moves in the drum and bass world in the last year. After catching my attention with his release on US-based Ammunition Recordings in 2011, Emperor continued to impress me this year with tracks signed to Break's Symmetry Recordings and his induction into the Critical Music crew alongside the likes of Kasra, Enei, and Xtrah to name but a few. His release on Neodigital once again demonstrates his versatility as a producer and further cements his reputation as a new force to be reckoned with in the world of drum and bass. Out next Monday.
http://soundcloud.com/the_emperor
http://www.facebook.com/EmperorDNB
Hope you've found something you like here. See you next week.
-adept