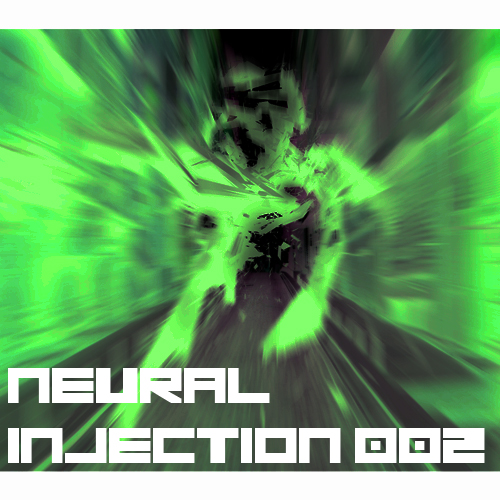 It's that time of the week again – time for another edition of Neural Injection. Each week in the column I feature some of the best new tunes in the world of dark and deep drum and bass. No cheesy crap allowed! This week we've got a slew of new releases across a range of styles…strap in tight!
Ulterior Motive – Versus EP [Subtitles]
Kicking off this week we've got Ulterior Motive's new release on Subtitles Music, run by the illustrious Teebee. I've really enjoyed this duo's previous releases on Subtitles, so I was excited to see this on my radar. It's been interesting to hear their sound change across their different EPs. Their singles 'Tesla' and 'Featherweight,' for instance, are driven mostly by their almost minimalistic syncopated basslines and drum patterns, which are simple yet expertly crafted – "pure funk," so to speak (a theme which spans across most of Ulterior Motive's music). On their next Subtitles release, 'It's On' / 'Point of Difference,' the group ramped up the overall aggression, with drums that seem to almost beat you up physically at times, while maintaining the minimalistic "pure" approach from before.  Versus EP sees Ulterior Motive explore new sounds and styles, as they face off with a different collaborating producer on each track. In general, the drum programming seems sharper and more complex than in their previous releases. While this comes through clearly in the tunes with Lenzman ('Catharsis') and FD (aptly titled 'Drum Circle'), my favorite tunes on the EP are the collaborations with Hybris ('Bring Out') and Krakota ('Minesweeper'). 'Minesweeper' is a particularly potent concoction of atmosphere and drums, one which will no doubt intoxicate dancefloors in the best of ways.
Ulterior Motive on: Soundcloud – Facebook
ZX – KREIS EP [Close2Death]
Close2Death continues the release-a-week killing spree it's now been on for over a month with this release from Bosnian producer ZX. C2D, part of the Deathtech Music Group mentioned last week alongside Overtech Recordings, is a stalwart of dark drum and bass within the scene. However, their release schedule seemed to get rather slow sometime last year, and the signed tunes awaiting release began to pile up. During the past couple months C2D has officially switched back into gear, catching up by releasing sick new music almost every week. If dark and scary neuro is your cup of tea, check Close2Death Recordings every Monday and see what's new – you won't be disappointed. I couldn't find much about ZX, so I'll let the music do the talking. While the two solo tunes he's done on the release ('Kreis' and 'Rifle Cut') are growly stompers in their own right, ZX also collaborates with fellow Bosnian Ophlot on the release in 'Hud' – a tune residing in more synthetic territory. I think I like 'Kreis' and 'Hud' the best. This is another great release from C2D, and I'm excited to see what else they have in store during the coming weeks.
ZX on: Soundcloud
While you're checking C2D out, peep last week's release from Dv2R, 'Damn Where Am I.' Also, just released on vinyl is the long awaited C2D010 EP featuring Qo, Mefjus, Bowsar, and Kaiza. Big 'tings.
Robustus – Water Beast / No Despair
Taking things a bit deeper, here's a release from New York City via Bulgaria producer Robustus on French imprint IM:Ltd. The tracks have a dark, liquid (as in, fluid) flair to them, with warm baselines that flow, surge, and bubble. 'Water Beast' is a steppy tune which chugs along quite nicely, but the flip 'No Despair' conveys a sense of fluidity perhaps even better than the title track, and had me bobbing my head the most. Deep vibes.
Robustus on: Soundcloud
Be sure to check out IM:Ltd as well – they've been reliably serving some of the choicest deep DNB tunes for some time. Many drum and bass fans are probably familiar with their release from Mortem late last year, 'The Touch,' which featured a huge remix from Sabre.
The Clamps – Meaning of Life [Free Download]
The Clamps are a duo from France working primarily in neurofunk drum and bass and Electro. I first noticed them after hearing their track 'Dark Town' (also a free download!), released on their label Kosenprod.  Some seriously gnarly neuro-infused drumstep. This release too seems deserving of being more than a free download, but hey, I'm not complaining. The tune begins with a ridiculously hard hitting, intricate groove before the first breakdown, then drops into a massive electro/breaks section to give dancers a little "rest." Then it switches back to drum and bass. No doubt I'll be rinsing this one a bunch. The Clamps production, both structurally and sonically, always kind of reminds me of Imprintz & Kloe – another French neurofunk duo who, although not making tracks anymore, remain one of my favorites. 'Meaning of Life' is no different…I'm hooked on this tune.
The Clamps on: Soundcloud – Facebook
Forthcoming:
Gridlok, Optiv, & Mindscape – Time Goes By / Chrome [Project 51]
Due out on October 23rd comes the next release on Project 51 Recordings, the label run by infamous San Francisco based producer Gridlok. Gridlok has never failed to deliver the dark, futuristic vibe I love about so much drum and bass. There's a great quote from an interview he did not too far back…
"Futuristic, you know, but it's urban. So it's like now, but it's later at the same time. That's kind of what Blade Runner pulled off too, you know? It's a familiar setting – it's Los Angeles, it's downtown. Like, we all know that, but also it's flying cars and all these other things going on…drum and bass is that."
Blade Runner/cyberpunk/science fiction is a big influence for me too, so maybe I'm biased. Regardless, this release – featuring collabs with heavyweights Mindscape and Optiv – is a must have, along with mostly everything else on Project 51. If you're new to Gridlok or P51, peep his tune 'Insecticide' released around this time last year. Also check out the Terminus LP from Cern.
Gridlok on: Soundcloud
Here's the interview I mentioned:
Until next time…
-adept