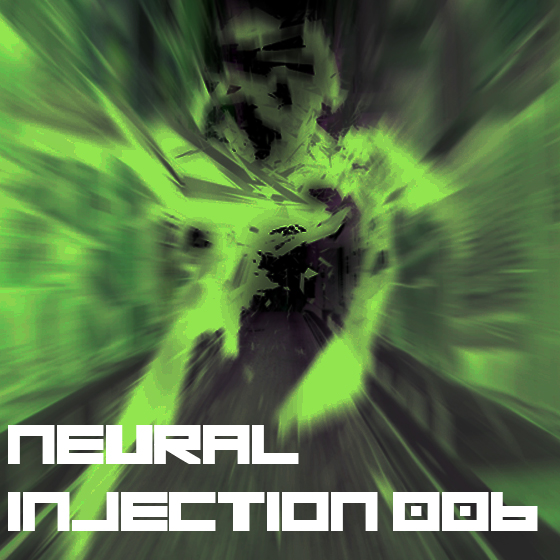 Hey! Neural Injection is back with another selection of the finest recently released music in the drum and bass scene. In each edition, I run through some of my favorite tunes released over the last week (or in this case, few weeks), with a general focus on all things dark, deep, and experimental. November has been a busy month in DNB, so let's get to it…
Calyx & Teebee  –  All Or Nothing  LP  [RAM Records]

How else could we start this edition off? After much anticipation and speculation, drum and bass fans are celebrating the latest offering from two undeniable kings of the scene, Calyx and Teebee. The pair first crossed paths in the late nineties as label-mates on the legendary Moving Shadow. After a score of solo releases on a "who's who" of DnB labels, they came together in 2004 to produce 'Cyclone' and 'Follow The Leader' (Moving Shadow), thus beginning a long working relationship which many would call the best in drum and bass. Outside the studio, Calyx & Teebee demonstrated their prowess in the DJ booth with their continuously evolving back-to-back sets, eventually reaching their current iteration; six decks (four CDJs + two turntables) and two mixers.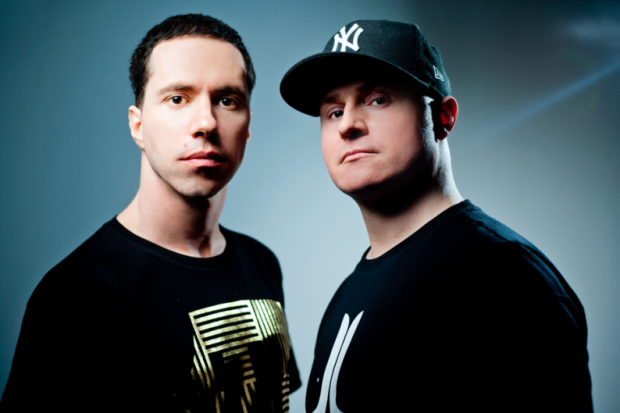 Their new full-length LP 'All Or Nothing', out on Andy C's RAM Records, is their first since 'Anatomy' (2007) – an album generally considered a landmark in neurofunk drum and bass. While 'Anatomy' was characterized by hard, gritty drums, warped reece basslines, and a generally dark aesthetic, the duo's latest effort steps outside the neurofunk/tech DNB niche and takes influence from a wide range of sources, including many outside drum and bass. Such was their intent with the album; Having reached the highest level of credibility and acclaim possible within the drum and bass community through their prior work, Calyx & Teebee have sought to use this creative license to showcase their talent as well-rounded musicians. And for the most part, they succeed. Though the vibes range from halftime autonomic jams to jungle, jazz and hip hop to "straightforward" dancefloor future funk, they all hold one thing in common – these tracks are made to get bodies moving. Each song is great in its own way, so, rather than go through each, I'll only mention my favorites. One track which explores a lot of new ground, perhaps more than any on the album, is 'Strung Out' – one of two tracks featuring Calyx's own vocals. The instrumental lies somewhere in between hip hop, and the autonomic movement in drum and bass (see: Instra:mental, DBridge), over which Calyx impressed me with his convincingly soulful singing and compelling lyricism. The track conveys, as the title may suggest, a sense of excessive relaxation and deep thought…perhaps "artificially" induced. Apart from Calyx's vocals, my favorite aspects of the track have got to be heady bassline and calm, jazzy keys which immediately put me at ease. Sonically the track just comes off as really full bodied and good, probably more so than any other tune on the album, and pushes the envelope stylistically the most too. Another favorite came in the form of 'We Fall Away,' the most chaotic tune on the album. The tune is (along with 'Scavenger') definitely the most reminiscent of their darker stuff; The dramatic intro, the intricately warped bassline, the ambitious rhythmic structure…these are the hallmarks of the so-called "classic" Calyx & Teebee production. However, true to the rest of the album, 'We Fall Away' has a clean quality to the production not found on their older work. One track on the album which has grown on me immensely over time is 'Skank.' If there was ever a tune made for a big, big room, this is the one. The metallic bass echos and warbles overhead as if reverberating in a huge dome, and the snare/clap cuts through the rest of the mix in a really aurally pleasing way. Definitely had it on repeat. 'We Become One' featuring the infamous Foreign Beggars and DJ Craze is a solid tune as well. The fact that Craze featured on the tune made me smile, since the dude was actually a wicked drum and bass DJ in the 90s (little known fact) and an early proponent of the US DNB culture. Lastly, the final track on the album 'Nothing I Can Say' closed things out nicely with its expertly crafted jungle vibe, and left me feeling satisfied having finished the album. You might have noticed, I didn't cover any of the tracks previously released as singles during the six months leading up to All Or Nothing's release ('Pure Gold feat. Kemo', 'Scavenger', 'Elevate This Sound'). These tracks already have plenty written about them, and all you really need to know is that they're great…just listen to them. 'Elevate This Sound' and 'Scavenger' are probably my all-around favorite tunes on the album anyways, along with 'Strung Out.'
So did 'All Or Nothing' live up to the hype? I'd say so. While the DJ in me is half-lamenting the lack of bombastic neurofunk epics along the lines of 'Warrior' from the 'Anatomy' LP, I really can't complain about what the album is. I've had it on repeat for 2 weeks, and even though it's not that reminiscent of the Calyx & Teebee which captivated me originally, it still is really really good music – exactly what the duo set out to do.
Enei  –  Machines LP  [Critical Music]

Along with the Calyx & Teebee album, the new debut LP from Enei garnered the most anticipation of any drum and bass release in 2012, and has remained in the spotlight since its release. The Russian producer, who over the past few years has cemented his position as a top player in the deep/dark drum and bass sound, delivers an album which lives up to the hype and contains some of my favorite tunes all year. If Calyx & Teebee's album was notable for its diverse influences from outside drum and bass, 'Machines' is notable for its adherence to a range of tried-and-true drum and bass formats, each vibe carried out beautifully with style and taste. Enei pretty much hits the nail on the head with all the styles he attempts on the album, whether it's a amen/jungle-infused tune or a deep stepper, and it's hard to say which track is the absolute best.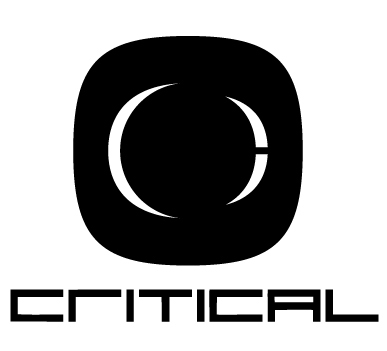 The album kicks off with the eponymous track 'Machines,' which remains one of my favorites. It's tracks like this one which sort of sum up what I like most about Enei's music – a skillful repackaging of classic techstep and jungle tropes, equipped with a present day bass-driven musicality. Between the alien atmospherics, throbbing low end, and steppy (almost tribal) drums which echo into space, the vibe could easily be described as "cavernous," the soundtrack to a long, dark descent into the unknown. Every 8 bars, the reece calls out lonelily. While the track contains a lot of elements rooted in the past, it still comes off as futuristic and unknown. Herein lies what one of the things Enei does best, and really one of the main reasons DnB is exciting to me to begin with; the never ending pursuit of a dark, retro-futuristic artistic vision born almost 20 years ago, constantly re-imagined through the lens of the present. The fact that music with so many "anachronistic" qualities could evoke imagery of the future speaks volumes by itself. Another track which has been really doing it for me is the fourth on the album, 'Runnin' featuring vocalist Georgia Yates. Sad piano riffs and Yates' chilling vocals start this one out, before dropping into an powerful bassline and break, which is strong but never does too much to pull your attention away from what matters in this tune – raw, mournful emotion. At the moment the break begins, Yates' voice hits a high note which pierces through me, and immediately starts haphazardly yanking at my heartstrings. This is a gorgeous song. Some other highlights come in the form of collaborations with fellow Russian producer EastColors – on '2012' the atmosphere stands out as the tune's best feature, while 'Cracker VIP' gets my vote as the most energetic, floor-friendly track on the album. I'm reminded a bit of the Ulterior Motive 'Versus EP' I included in the second installment. The two MC-heavy joints on 'Machines' – 'The Moment (feat. DRS)' and 'Saligia (feat. Kemo)' – are big tunes as well. 'The Moment' features some slick lyricism from DRS (as per usual), and 'Saligia' delivers my fix of amen/jungle vibes, complimented by stark halftime breakdowns with Kemo's signature whispery lyrical style.
The album also has some great bonus tracks exclusive to digital and vinyl versions, including a couple tunes with more of a hard, neuro flavor to them. My favorites are 'Movin Fast (June Miller remix)' and 'Crawlers (feat. Mefjus).' Check them out as well. All in all, this is a really solid album, a worthy and very useful addition to any vinyl crate or CD collection.
Enei on Facebook / Soundcloud
Critical music on Facebook / Soundcloud
Inward Phase, Computerartist – Killa Frequency EP  [Close 2 Death]

Another big release from the Close 2 Death boys! This one comes from Inward Phase, out of Budapest. I always look forward to new Inward Phase tracks, but never have enough…this dude needs to release more material! The 21 year old producer has been a mainstay in the neurofunk scene for a few years now, with some seriously sick tunes released on C2D, Fatality, and Mindtech Recordings. The eponymous track, 'Killa Frequency' has some personal significance to me…heard it in one of my favorite mixes right towards the beginning of my neuro-love affair, and a few other mixes since. 'Killa Frequency' kicks off with the basics; fat, energetic drums and an eerie, somewhat melancholy piano melody. The bass grinds upward and upward further until dropping into one of the most memorable drops I've heard in any neuro tune. Simple? Maybe. But that's really the beauty of this track. It's like bread and butter…it's never going to go out of style. 'Killa Frequency' will be in my bag for a long time to come.

On the flip, Inward Phase mangles Computerartist's 'Slug,' released last year on C2D's Blood Money LP Pt 1. You can always count on Inward Phase to take an already evil tune and make it all the more sinister. This remix is a lot more restrained than the original – whereas Computerartist assaults you with a nasty twisting reece bass, Inward Phase lets you revel in the sub-bass and drums as the bassline and odd sound effect poke their heads in tastefully. Not to mention, that spooky Inward Phase piano we all love. A worthy remix, and the original is worth copping as well.
Also be sure to check Tenet's release on Close 2 Death from a couple weeks ago…big!
Inward Phase on Facebook / Soundcloud 
Close 2 Death Recordings on Facebook / Soundcloud
Optiv, BTK, Mefjus, Teknik & Borderline  –  VA Remixes 2  [Dutty Audio]

Brazillian heavyweight BTK brings us another quality remix EP on his label Dutty Audio. This second installment in the 'VA Remixes' series includes remixes (by Optiv and Mefjus, respectively) of the tunes on Dutty Audio's fifth release, 'Drop It' and 'Whatever.' It also includes a remix of Borderline's 'Thinker' done by Teknik. The EP opens with Mefjus's remix of 'Whatever' by Optiv & BTK. I've been really digging this style he's been doing a lot of his tracks in since the 'Double Tap EP' came out on Trust In Music a couple months back. Fat, percussive, syncopated bass notes which hit with the force of a taiko drum. Rich low-end which seems to envelop your entire head. Tight drums. His remix of 'Whatever' adheres to this trend, while adding some weird flares of sound design you might expect to hear on a Neosignal record. It's no wonder this guy is blowing up so hard. Next up is BTK – 'Drop It (Optiv remix).' This definitely gets my pick for best on the EP. The original has remained in my bag since its release last year, and for good reason. BTK's South American influence comes through strong, with the remix opening up with one of the tune's best features – an infectious conga pattern which is layered throughout the track. Next, Optiv turns up the heat with punchier, cleaner drums which do wonders for the track's danceability. And then the vocals drop…at which point I'm pretty much sold.
Yo!
I drop with funk, smack the driver's head.
I drop hardcore, smack the driver's head.
I drop the spliff, smack the driver's head.
I drop to the roots, smack the driver's head.
I drop with funk, smack the driver's head.
I drop hardcore, smack the driver's head.
I drop f#ck you, smack the driver's head.
I drop the bomb, smack the drop, the drop the drop…..
Rude!! Even if you have no idea what the hell he's talking about, you can't deny the rhyme and its presentation's overall dopeness. I was a big fan of the original track, and rather than butcher it into something unrecognizable, Optiv came through with a remix that improves upon the original, while leaving its best elements intact. Last on the EP is Teknik's remix of 'Thinker' by Borderline. The powerful, rolling neuro vibes with a jazzy touch definitely makes this fit in with Dutty Audio's aesthetic…the soundtrack to a walk (or run) through the slums of Rio.
BTK on Facebook / Soundcloud
Optiv on Facebook / Soundcloud
Mefjus on Facebook / Soundcloud
Teknik on Facebook
Dutty Audio on Facebook / Soundcloud

Monologue, Protone & RoyGreen  –  Moonwalker  /  Factory  [Syndrome Audio]

Here's a release from two producers I've been digging recently, RoyGreen & Protone, in collaboration with Monologue. The trio serves up three stripped down neuro steppers, each featuring its own minimalistic combo of bass, atmosphere, and carefully programmed percussion. My favorite has got to be 'Moonwalker' – tracks like these prove that with an interesting break, one or two solid melodic elements, and a simple (yet deceivingly complex) bassline…you don't need much more! Deep, deep stuff. Syndrome Audio has been pushing this style pretty hard, and I'm liking it more and more. Keep an eye on this label.
RoyGreen & Protone on Facebook / Soundcloud
Monologue on Soundcloud 
Forthcoming:
Defazed  –  Fallout  /  Cruel World  [Close 2 Death]

Recently got sent these…wicked. They kind of speak for themselves. With releases forthcoming on C2D, Synergist Recordings, and Adapted Records, Defazed is a dude to watch. Release date unknown!
Defazed on Facebook / Soundcloud

See you next week…