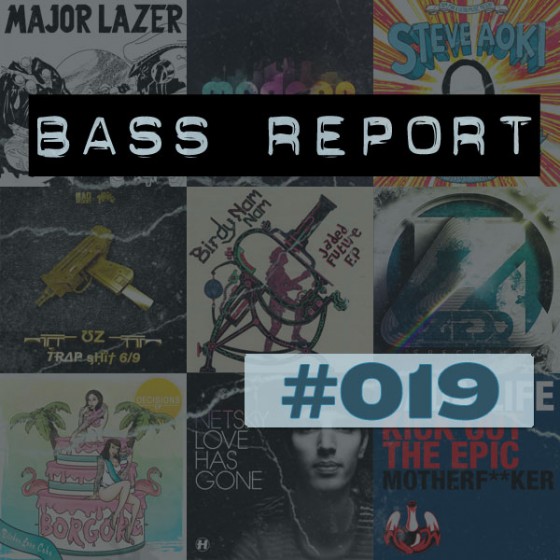 #1 Kill The Noise & Brillz ft. Minxx – Saturn

You won't see me handing out consecutive #1's to the same artist too often, but this album has really grabbed my attention, as Kill The Noise continues his rise to the top with latest release 'Black Magic'. The album is just stocked full of hits, including this week's #1 tune 'Saturn', a catchy and melodic, yet still gut wrenchingly heavy piece of electro house. His work with Feed Me earned top spot last week, and after another full week of listening, I feel this collaborative effort with Brillz and Minxx is just as deserving.
#2 Netsky – 500 Days of Summer

After so many solid releases, Netsky has worked himself into a spot on my list. My list (I know you all have one), is that very exclusive collection of producers that you just know will not disappoint you. This is a good list to be on. To go along with his upcoming tour, Netsky is releasing a deluxe version of past album '2', which includes a second disc promising to be full of new singles, lots of unreleased material, and a handful of remixes. '500 Days of Summer' is one of the new ones, rocking a chill drum and bass vibe, flowing effortlessly throughout.
#3 Flume – More Than You Thought

This new song from youngster Flume is all about getting you in that zone. While 'More Than You Thought' may not be as heavy as much of Bass Report, it certainly builds some captivating grooves that are built specifically to lure you deeper and deeper. Flume's recent self-titled release showcases this ability many times over, and is not to be missed. Check out our full album review from Ziad here!
#4 Destroid – Raise Your Fist

How could I not talk about this!? If you aren't excited about Excision, Downlink, and Pendulum drummer KJ Sawka joining forces to form a live dubstep band… you are just flat out lying. The trio is doing a great job marketing their mysterious new project with a great Earth invasion themed video, and more notably, a comic book story with very cool artwork from Devin Taylor to accompany the music. I could see the project turning out somewhere in the area of what musical/visual geniuses Gorillaz have accomplished, but a little darker obviously. Here's a first glimpse of what is to come. Learn more about Destroid here!
#5 Krewella – Alive (MitiS Remix)

#6 Dead Audio ft. Jade Harris – Take Me Away

#7 Adventure Club – Need Your Heart (Minnesota Remix)

#8 Reso – Check 1, 2

#9 Obscenity & Point.Blank ft. Messinian – Nothing But Heat

#10 NumberNin9 – Monochrome

Still Hot!
*#1 on Oct 31* Calyx & Teebee ft. Kemo – Pure Gold

*#6 Last Week* Rudimental ft. John Newman & Alex Clare – Not Giving In (Phaeleh Remix)

*#1 Last Week* Kill The Noise & Feed Me – Thumbs Up (For Rock N' Roll)