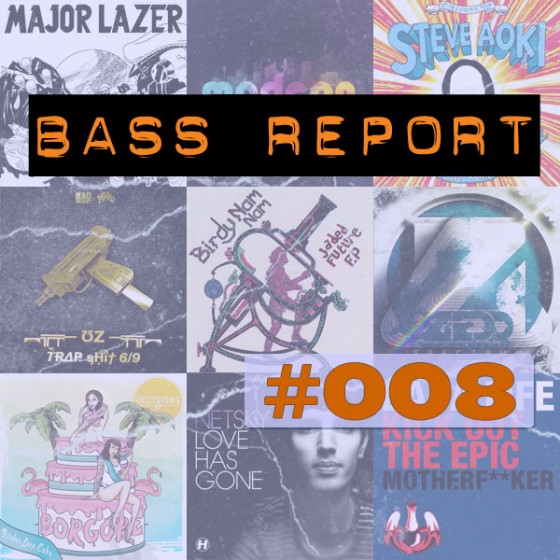 OWSLA has been busy lately, with a solid collection of remixes for Skrillex's 'Make It Bun Dem'. Both Brodinski and Culprate's takes on the reggae infused dubstep anthem of summer 2012 impressed me the most, but neither of them took Bass Report's top honour this week. In fact, it was actually claimed by the next artist I stumbled upon looking through the labels recent releases…
Hundred Waters gives us a refreshing new track by the name of 'Thistle. The band features a vocalist that might be considered pretty out of the norm for the electronic scene, and I mean this in the best way possible. The EP also released with a worthy crop of remixes from AraabMuzik, TOKiMONSTA, Lockah, Different Sleep & Troublemaker, along with my #1 selection this week from Star Slinger. You won't find his mix at your local 'Bangers R Us', but Star Slinger still steps up the energy of 'Thistle' to a danceable level with some bangin hip-hop drums, and a pleasantly catchy harmonized bass line. I'd be lying if I said my play count on the night was below 30 36.
I wasn't a big fan of the new Dada Life track. I know, it feels weird to say too. I think 'Feed The Dada' could have used some of the guys' famous synth hooks in place of the vocals, which sounded a little more intense and energetic pitch shifted up a touch in Dice Motion's remix. The feel good vibe definitely rubs off on this dubstep take, but if you're here for some heavy drops, you won't be disappointed either!
Bow. Bow…. chicka chickaaaa. You WILL recognize some samples in this homage to popular 80's film, "Ferris Bueller's Day Off." Diplo, ETC!ETC!, Brillz, and Whiskey Pete join forces to nail down some serious trap that will get oodles of dance floor prime time plays for months to come. Sliding into third position this week, 'Bueller' is a kick drum dominated crowd pleaser that manages to switch up seamlessly into a moombahton section to keep the listener on their feet. I can't imagine working with such a big crew, but I'm loving the different influences coming together here, and I'm sure it was nothing but fun paying tribute to such a classic piece of work. Oh, and if you're into it, a second version was also released with added vocals from Chuck Inglish!
#10 Steve Aoki – The Kids Will Have Their Say (Andy's iLL Remix)

#9 Jantsen – Krush Groovin (Obscenity Remix)

#8 Bro Safari & Knuckle Children – Freak

#7 Alexisonfire – To A Friend (Adventure Club Remix)

#6 Skrillex & Damian Marley – Make It Bun Dem (Culprate Remix)

#5 Madeon – The City

#4 Skrillex & Damian Marley – Make It Bun Dem (Brodinski Remix)

#3 ETC!ETC! & Brillz & Diplo ft. Whiskey Pete – Bueller

#2 Dada Life – Feed the Dada (Dice Motion Remix)

#1 Hundred Waters – Thistle (Star Slinger Remix)
Still Hot
*#2 on August 8* Hirshee ft. Sue Cho – Hold On To Love (KillaGraham Remix)

*#5 last week* No Doubt – Settle Down (Baauer Remix)

*#1 last week* Feed Me – Little Cat Steps