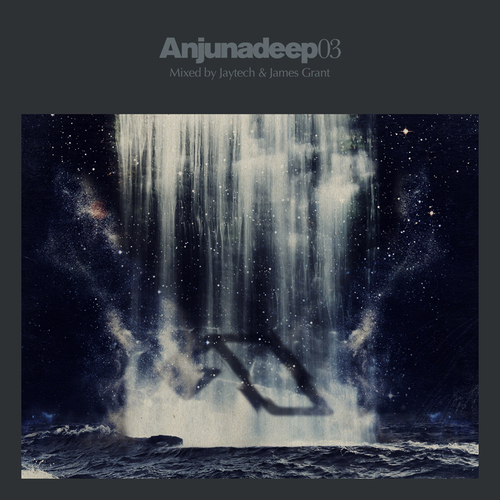 Firmly established as a bedrock of the progressive and melodic techno sound, Anjunadeep has scaled new heights in the past 12 months with support coming from acts as disparate as UK techno baron Dave Clarke, Laurent Garnier, Eric Prydz, Groove Armada's Andy Cato and stadium-filler Deadmau5 – the latter commenting on Michael Cassette's Anjunadeep anthem 'Ghost In The Machine': "I haven't felt this good listening to a piece of music since Eric Prydz's 'Melo' -10/10".
Showcasing the full spectrum of the label's diverse sounds, Anjunadeep 03 is the latest annual label collection and features 29 largely unreleased tracks that range from deep, dark and hypnotic techno sounds to upbeat, uplifting electronic house grooves.
Beginning on the lush techno of Stephen J Kroos' 'Micrsh' and the beautifully brooding deep house chasms of Martin Roth's 'Deep Style', Anjunadeep A&R James Grant's CD1 mix continues to build through melodic techno and progressive textures with tracks and remixes from Underworld, Spooky, Michael Cassette, Andrew Bayer and promising newcomer, Soundprank.
On the second disc, Anjunadeep mainstay Jaytech shows off a slightly more upbeat and uplifting electronic house sound that touches on nu disco, electro and more classic house grooves and includes Jaytech's own forthcoming anthem 'Djembe', as well as deep audio offerings from Solarity, Dinka, PROFF, Interplay and Maor Levi.
To celebrate the release of this flagship release, Anjunadeep is holding a brace of transatlantic launch parties. The first will take place at the world-famous Ministry of Sound on Friday 4th February, where Jaytech and James Grant will be perform a 4 hour back2back set for The Gallery.
The second will be at Miami's Ice Palace on March 24 where Anjunadeep will be hosting the second room of Above & Beyond's annual Anjunabeats In Miami party. For further album tour dates, check www.jaytechmusic.com.
Released by: Anjunadeep
Release date: Feb 21, 2011
Anjunadeep on Soundcloud
Anjunadeep:03 – mixed by Jaytech & James Grant by Anjunadeep
Anjunadeep: 03 Tracklisting:
Disc 1 / Mixed by James Grant
1. Stephen J. Kroos – Micrsh
2. Martin Roth – Deep Style
3. Da Funk – Weekend Rubdown (Jaytech & James Grant Respray)
4. Electrobios & Liluca feat. Interplay – Depends On You
5. Underworld – Two Months Off (DAVI Remix)
6. Danny Loko – Coastal (Eelke Kleijn Remix)
7. Michael Cassette – Regatta
8. Andrew Bayer – Distractions – Movement 2
9. Soundprank – Captivated
10. Paul Keeley – Relic
11. Komytea – Algebra
12. Spooky – Belong (Sasha Involver Remix) [Prankster Edit]
13. Matt Lange – Rift
14. Boom Jinx & Andrew Bayer – By All Means (Solarity Remix)
Disc 2 / Mixed by Jaytech
1. Embliss – Back To Mine
2. Interplay – Ignition
3. PROFF – Interstellar
4. Answer42 – Dew Point
5. Beckwith – N To Brooklyn
6. Kobana & Yane3dots – All Those Loose Things
7. Roddy Reynaert & Man Of Goodwill – Brotherhood
8. Jaytech – Djembe
9. Suspect 44 – Japanese Schoolgirls
10. Dinka – The Sleeping Beauty
11. Soundprank – The Far Side
12. Maor Levi – Devotion
13. Timmy & Tommy – Unit 29
14. Levente Márton – Big Fat Kiss
15. Solarity – Marsh