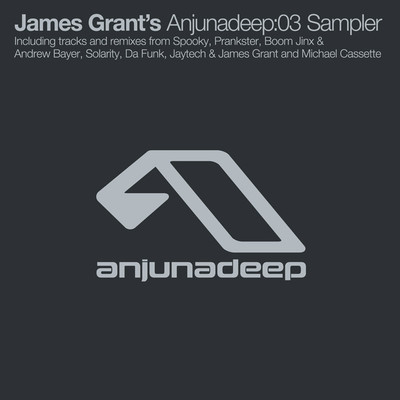 James Grant's Anjunadeep:03 Sampler by Anjunadeep
Released 8th March
After giving you a taste of some of the tracks that Jaytech's been mixing up on the new 'Anjunadeep:03' compilation, we thought it was only fair to have James Grant pick out a selection of tracks from his mix.
We begin with an edit of the deep, soothing fathoms of Sasha's Involver Mix of Spooky's 'Belong'. A timeless, spiritual progressive anchor track that demands (and rewards) repeated listens, it is tweaked to perfection in this new edit from Prankster aka Soundprank.
Boom Jinx & Andrew Bayer truly are an Anjuna 'Dream Team' and they did not disappoint with last year's smash 'By All Means'. The Solarity boys take hold of Øistein and Andrew's progressive masterpiece and transport it into floatier realms on an uncharacteristically restrained rework that demonstrates their melodic touch and shows that they've added a few more weapons to their arsenal to go alongside those heavyweight basslines!
Next up we have the retro-tinged melodic delights of Da Funk's slow burner 'Weekend Rubdown'. A track that has been hovering around for a while, its languidly paced, richly layered number with a thick, grubby groove, sheeny 80s synth lines and a chilled vibe that befits the title – it gets a tidy 2011 respray by Jaytech & James Grant.
Wrapping up the EP is another future hit from Michael Cassette by the name of 'Regatta'. With its delightful cascades of undulating synths and pulsing groove it's more in the progressive style than hook-filled, chorus led tracks such as 'Summer' and 'Kilimanjaro' and will no doubt become a real favourite.
BUY ANJUNDEEP:03 MIXED BY JAYTECH & JAMES GRANT IS OUT NOW:
BUY LINKS:
ITUNES: http://bit.ly/deep03itunes
BEATPORT: https://www.beatport.com/en-US/html/content/release/detail/331584/anjunadeep-03-mixed-by-jaytech-and-james-grant
AUDIOJELLY:http://www.audiojelly.com/albums/20728″
TRACKITDOWN:
BUY DOUBLE CD from:
ANJUNASTORE: http://www.anjunastore.com/productdetail.jsp?productPK=unittest-FHFnnL2jzbQF0wEGqN3IEb-1&CategoryPK=
HMV: http://hmv.com/hmvweb/displayProductDetails.do?ctx=280;-1;-1;-1;-1&sku=931831
AMAZON: http://www.amazon.co.uk/Anjunadeep-03-Jaytech-James-Grant/dp/B004J0SRUW/ref=sr_1_1?ie=UTF8&qid=1298282299&sr=8-1-catcorr
Released by: Anjunadeep
Release/catalogue number: ANJDEE099D
Release date: Aug 3, 2011