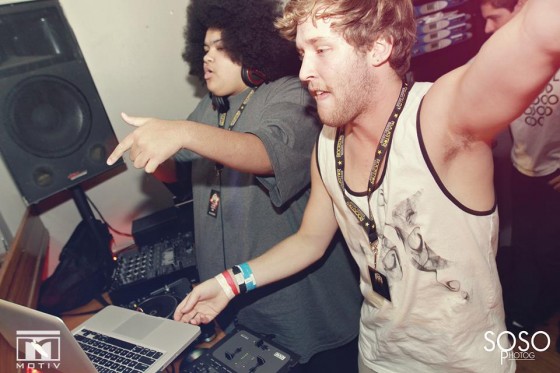 Even after winning back-to-back Beatport remix contests for Skrillex's Make it Bun Dem, and Bingo Players' Rattle, Candyland really didn't get the response they deserved. They have countless other great records on their Soundcloud that you should check out with time… but on to the main event. However, the EP that these Santa Barbara natives produced recently will help them make the waves they need. Let's get to it:
The first song is called, "It's a Shark!" which must be a Santa Barbara thing, but with some rather panic inducing dialogue, the EP begins with a solid, bouncing drop, sampling fear stricken voices. Always a recipe for success.

Following what I will henceforth refer to as "the shark song", is the title track, "Bring the Rain." Using a beautiful melody, sung by Lexi Forche, the duo lures you in, before they drop one of the funkiest drops I've ever heard, that, in my opinion, was summed up eloquently by a Soundcloud user as, "the tits." Well said that guy on Soundcloud who didn't plug his own tracks. This one has potential to blow your speakers… just cause you'll want to turn it up loud.

Next, the EP takes a turn towards Drumstep. "Beneath Myself," like the previous track is real funky, but slower so it really grooves. This song isn't worth drooling over, but boy is it satisfying!

The 4th track, "Get Wild," is exactly what you'd expect from a track titled like this: fun, pulsing, and it makes you want to dance. The fun part of about this song is that it goes from being a tradtional club tempo 128 down to Moobahton at 110, making my DJ program confused. Poor Traktor.

Welcoming MakO to the EP, the fifth track, "All You Gotta Do," is sweet; It's equally worthy of the "the tits" description of the title track. After some satisfying rap-style vocals from Makism, the track dips into some more Dubstep that makes you want to do just as the track instructs: "Drop when you hear the kicks." Tasty. Possibly my favorite track.

The final track of the EP is "Castle of Affair." This is one of those dubstep tracks that doesn't really know it's supposed to be dubstep. Going in and out of fun upbeat vocal sections without any of that traditional growl, this track doesn't go by the book, and it certainly packs a punch in its unexpected drop followed by its mellow (let's call it) counter-drop. Dope track.

All in all, this a great EP from underrated producers. Do yourselves a favor and listen to the rest of the stuff they have on their Soundcloud, and support them on Beatport! They deserve it! Especially listen to their remix of Adventure Club's Need Your Heart. If you're a sucker for synths like I am, it'll know your socks, and shoes, and all of your clothes off. Don't tell me I didn't warn you!
Candyland on:
Facebook | Beatport | Soundcloud | Twitter
^Xaos