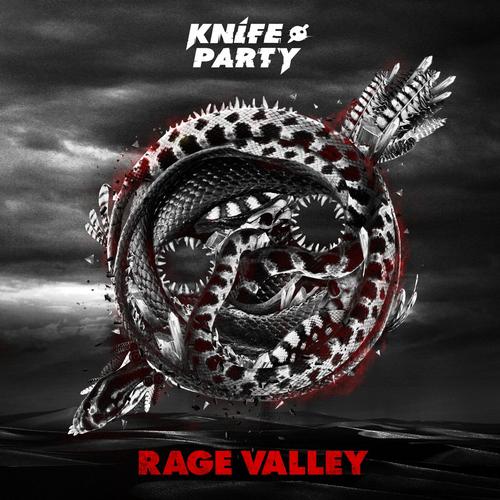 Knife Party excels at writing aggressive bass music. As the EDM scene moves more and more to progressive house and lighter, melodic pieces, Rob Swier and Gareth McGrillen continue to pick up the slack and create fresh, raw, and unadulterated filth.
Don't get me wrong, I love vocal-driven progressive a la Deadmau5, but there is nothing more compelling for me as bone-shaking, heart-convulsing bass. And 'Rage Valley' delivers exactly that.
The four-track EP leads off with its namesake, which might be more appropriately titled "Awe Valley". As soon as the song started, I knew something exciting was coming. Tension builds for over a minute and a half, and I was on the edge of my seat with anticipation. And when the release comes, I was in awe.
But as good as the drop is, the synth top-line which follows really ties the song together. Knife Party has demonstrated their production mastery in all of their work as Knife Party, and this song more than any other reminds the listener that they are also impressive songwriters. Everything is perfectly in place, the synths are full, the bass growls at impossible depths, and it feels genuinely exciting. Hats off to you, gentlemen.

The next track, Centipede, is not one for the weak of heart. The complextro style, pairing moving 'performer' bass elements against the higher synths and blazing lasers, reminded me immediately of the hardcore Dubstep producer Downlink — a personal favourite and one of the foremost producers of this style. Knife Party definitely did it right on this one!

Next up is Bonfire, a dramatic departure from the rest of the EP. This track reminded me of Knife Party's Drum and Bass roots as members of Pendulum. Let me tell you, they certainly haven't lost their touch for the genre. They added a Reggae vocal line and syncopated synths to make a nice blend of genres that I thought turned out very well. Despite their skill for D&B and cross-genre production, I was left a little bored by the end of the track. Tell me what you think!

Last on the EP is the aptly named Sleaze, featuring Mistajam. On Beatport, the song is marked as Electro House, but the track has an undeniable Moombahton vibe, 108 BPM, with the hollow rhythmic synth and syncopated bass notes. I can see this track being hugely popular on the club circuit. Also, the beginning seriously sounds like the Jaws soundtrack. Just sayin'. Again, their talent for drama is evident in a massive buildup, and when the bass hits the pressure from the deep, resonant notes made me feel like my ears needed clearing. Yep, plenty of bass.

All in all, I feel like this EP is a very good showing, with Rage Valley being the standout track. Knife Party demonstrated yet again that they are truly among the foremost of edm songwriters. Their production, above all else, feels polished. And in a world becoming increasingly crowded with similar-sounding, unperfected DJs and producers, polished is increasingly enticing.
Grab the entire EP on Beatport