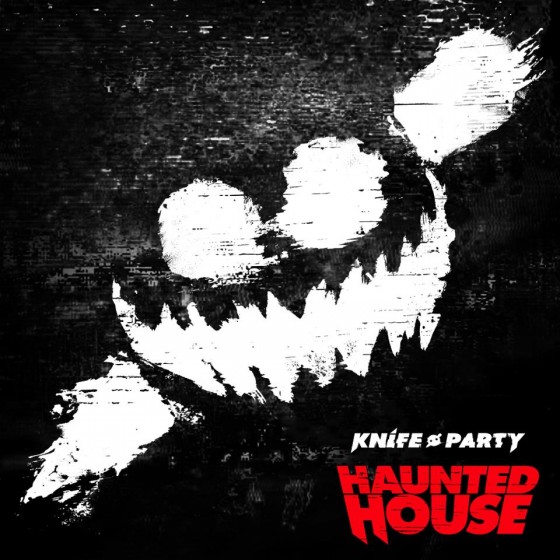 Eight months have passed since fans got confirmation that a new Knife Party EP was in the works. After months of delays, Haunted House is finally out and already it's causing a ton of controversy. Originally planned were four new tracks, but before the release they switched Baghdad out for a VIP of Internet Friends. While I'll admit that I am disappointed, this however did not hinder my opinions on the three new originals. We live in a era were we are constantly given new music at every moment, people forget how long it takes to make some really great tracks. Knife Party has done just that, the three new originals are stellar pieces of Electro House, all with a different flavor.
The EP kicks off with Power Glove. The intro in Power Glove is intense; a powerful choir sample combined with a commanding drum pattern had me hitting repeat a few times before I finished the song. The main melody might be the catchiest Knife Party has made thus far. The only downside to Power Glove is the lack of variation in drops but the midsections help keep things interesting.

LRAD is hands down my favorite Knife Party song. The slow building intro adds intensity while the main melody slowly creeps in. When the buildup came to a halt I was expecting a typical Knife Party drop. Instead we get this heart pounding minimal drop that is infectious. The second drop adds some tribal vocal samples, which adds a completely different atmosphere to it then the first. This song has so much dynamic to it, one their best tracks yet.


EDM Death Machine has one of the most grin inducing intros ever. Poking fun at Skrillex, Baauer, Borgore, and themselves, then it transitions into a robot coming to live. Soon we are hit by a flurry of spastic lazers and crunchy bass. The midsection features a warm synth that reminds me of Darude's Sandstorm. EDM Death Machine will no doubt be played throughout the festival circuit.

The EP closes with a VIP of their hit, Internet Friends. The only major change is the second drop is changed to Dubstep. It's a fun VIP but it would have been nice to get a fourth original.

This is a solid EP, not their best, but a solid effort. LRAD is the standout track here! For those wondering why there is a lack of variation in genres: The EP is titled Haunted HOUSE, get it? It's all Electro House bangers, minus the change in Internet Friends. But in the end this EP was enjoyable, can't wait to see whats next.
-Filippo
Knife Party On: