[audio:Knife Party – Fire Hive.mp3]
School, family, work, friends, hobbies, health, happiness, clean living… These are just a few of the many things that rank below Knife Party on my list of lifetime priorities.
So, when they showed up at Ministry of Sound, I figured there was no way I wouldn't see them. And lo, It was decided — with a group of fifteen or so intrepid adventurers, I set out to Elephant and Castle, and away from the usual Dalston and Shoreditch haunts. Because Knife Party.
Before I talk about the show, I want to talk about the cultural context of Ministry, and condemn those who dismiss it with bad or no reason.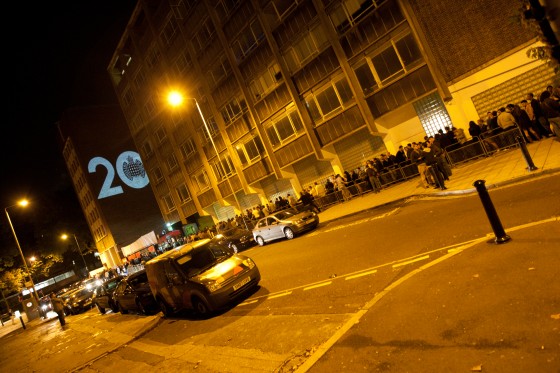 Technically, Ministry is an excellent club — it's an easy to navigate space with an absolutely top class sound system that gets pushed to its limits. In terms of the crowd, I found people I could just as easily have met at The Nest or Corsica Studios.
To what degree is audience-makeup due to the venue or the artists? Well that's the point — when it gets the right artists in, people who appreciate those artists will follow. I think it's time to accept that it is foolish for this vocal minority to discount this excellent space, and that if they can book acts of the calibre and musical legitimacy of Knife Party, then they could become a (a blogger who wears round glasses) favorite venue of mine to which I look forward to returning.
/dearlondonhipsters.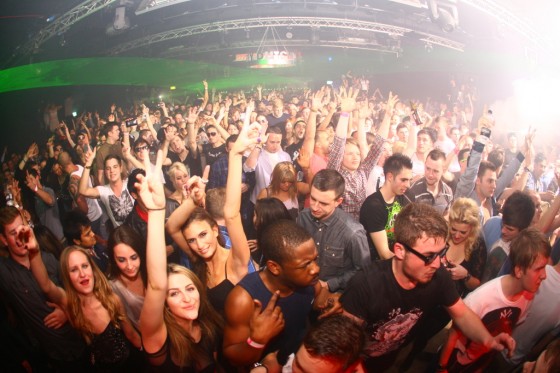 Okay, enough bitching about hipster opinions on clubs. Let's be honest — it's the music blog equivalent of a TED talk on how social media will revolutionize something.
Knife Party's set was, as I expected, primarily their original work. They opened with Internet Friends and the room went nuts. I haven't seen Lonodners go this crazy since… well… since I've been here. They proceeded to drop their EP, their new single, and some curated electro and dubstep of dispersed origin (more on this later!). Technique-wise, I noticed that they were having a lot of fun with their transitions, cutting and mashing them up live. Their jocking was, obviously, masterful — it seemed quite natural that they were teasing drops, pulling out builds, dangling opens, and, generally putting on a great show of spinning the platters that matter. Remember, though, this is 2/3 of Pendulum we're talking about here — the fact that they displayed skill is not interesting…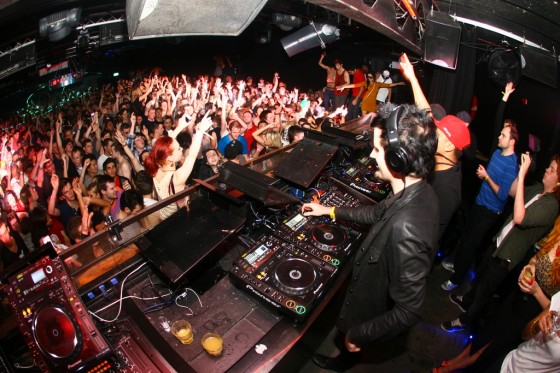 I'd like to think about some things that make Knife Party's performances unique — the blending of electro and dubstep into one set, the changing of the character of a song as it moves from laptop speakers to giant-fuckoff-Ministry speakers, and finally, the curation of some standout, non-Knife Party songs McGrillen and Swire chose to include.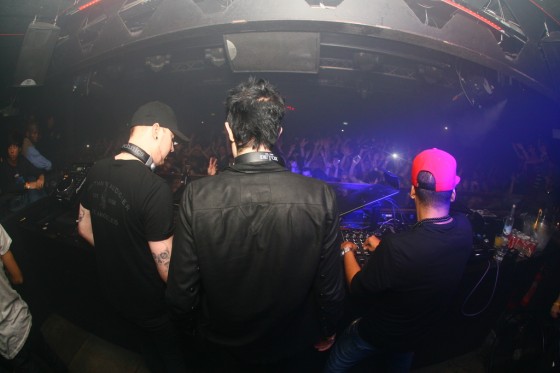 As anybody who has ever mixed will know, tempo is everything — how can you beat match 128 BPM and 70/140 BPM? It's why we have electro/house sets and dubstep sets, and not-often-the-twain-shall-meet. McGrillen and Swire's peculiar mixing techniques — a demonstrated preference for cutting, as opposed to blending — allowed them to create a coherent set out of songs with very different tempos. When you combine this more difficult mixing technique with the similar-across-the-board instrumentation of the Knife Party catalogue, then I think you can begin to see how this would work, and how easily these songs might mash up live. This esoteric style had a couple effects on the show: first, each song, from beat one, is clearly distinguished from each other song, and second, each song is remade to the point of challenging the audience's preconception. On the first point, I'll just note that, as Pendulum, Swire and McGrillen opt for a more blended style of mixing — and I think that relates to the more consistent style of the Pendulum catalogue. On the second point, I noticed the crowd struggling to keep up with the new songs. The Knife Party boys were not just handing them familiar beats on a silver plate, but rather undermining their expectations of how these songs progress. During Internet Friends, for example, they decided to use this cutting tactic to delay "You blocked me on Facebook, and now you're going to…""Die!" I think we can all agree that it's a cop out for DJ's to simply fade their songs into one another, operating as a glorified sound technician — Knife Party's approach to the DJ set as performance rather than technical venture showed through, and I think the audience appreciated it.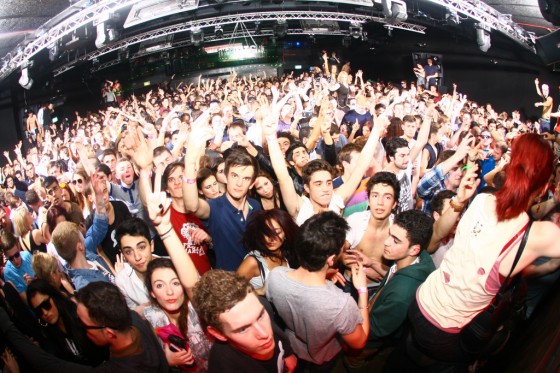 I think every electro fan has listened to Knife Party on his/her Macbook (pro?) speakers. If you haven't then go listen to Antidote. I'll wait. Okay, well, it's awesome in any context, but I think it's worth saying in italics that these songs are not meant for small speakers. The "lazers" on Destroy Them With Lazers, for example, may be bold, may be new, may be your mother's brother… but their intended effect; piercing, shrieking, is lessened by smaller speakers. While my assertion may seem banal, I think the point is important — Knife Party is music that is meant to be experienced rather than simply listened to, but the experience is empty unless the equipment is able to match the level of insistence of the tunes themselves. It's aggressive, pounding, and, I'll use this word again, visceral like Korean cinema. Believe me: this quality does not come through on headphones, but it is now crucial to my future enjoyment of these guys.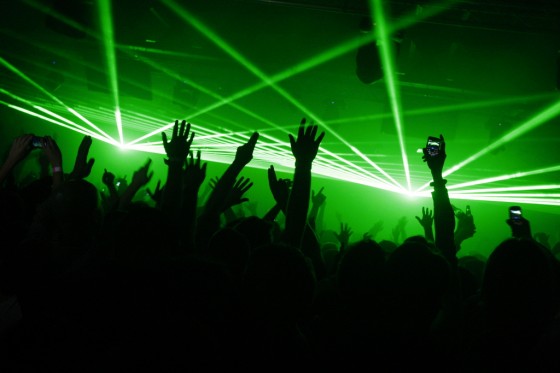 The last thing that jumped out at me was some of the choices they made in terms of non-Knife Party tunes to exhibit. My favourite, without a doubt, was from our favorite filthy devils, Zeds Dead — Undah Yuh Skirt (feat. Mavado). Knife Party's original and collaborative productions maintain a high level of energy, so to curate other artists' music to match that intensity is a delicate task. I cannot think of a more rage-driven Zed's Dead song than Unduh Yuh Skirt, and I think this choice in particular demonstrated a singularly excellent understanding on the part of Swire and McGrillen as to the "work" done by their music — they are able to look at their own catalogue, and find complementary work elsewhere in the world of dubstep (most of the electro portions of the set were Knife Party originals). This was the most-standout of any of their choices in particular, so I think it's the one that bears mention more than any other (Skrillex and the like which, will it performed its function perfectly does not bear much interest for me as a writer).
I predict that Knife Party, especially on the festival scene, is going to be the show to see in 2012. If you haven't yet, get on it and find out when they're going to be in your town.