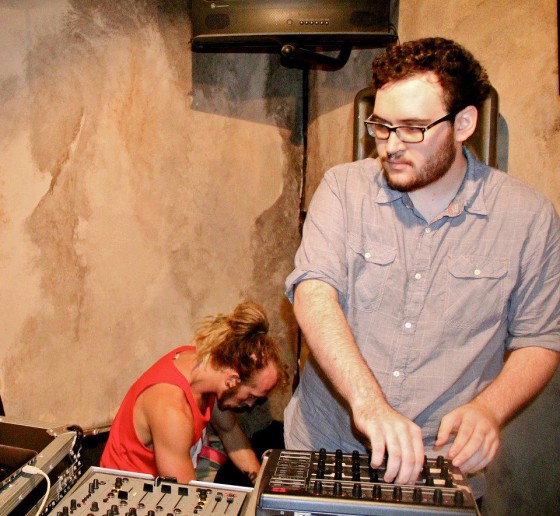 Jacob Weinstein of 7DeadlySynths is a musical mastermind! This producer from North Hollywood also doubles as a mastering engineer. He has worked alongside many artists producing everything from Pop, to Rock, to Country and to most recently, TrapStyle hits. After his packed show on Friday night at Los Angeles' night club, Los Globos, I was lucky enough to sit down with him and get some insight into his harmonious journey to popularity.
And don't forget to scroll down and grab free downloads of some of my favorite tracks!
Tell me about how you first became involved in music.
My parents got me to take piano lessons in kindergarten and I always hated practicing and performing recitals. But when I started making music it all clicked together on why they had me do it. Now, it's one of those things I regret not enjoying more when I had the chance.
I got an ibook G4 when I was in middle school and started creating music out of boredom and sheer curiosity. I was making movies with iMovie when I opened up GarageBand it just transformed  into what I'm doing today.
How did you evolve from mastering tracks to being half of NeonGenesis, to your newest solo project, 7DeadlySynths?
Well, haha.. I was ditching high school all the time to write music so I never really attended. When the time came to decide what to do after my non-existent high school career, I decided to move out to L.A. and pursue what I wanted to do since the beginning– record music and help artists polish their sound to a commercial quality level. It all basically started after I moved to L.A. out of high school and tried to step up my game a little bit.
I went to MI and that's where I've met all the talented people who have helped me get where I am today and who definitely seasoned me. I learned a lot about the real world and how professionals do things, from school. I helped start KatHaus Records with a few friends, and today I'm so ecstatic that I can give artists a place for their music to get heard, and provide a home where they can progress and be introduced to new, exciting opportunities.
After I went to school, my teachers got me an internship for a little bit at a studio where I learned how to get faster and better at what I do. After that, I started a project with my best friend from middle school whom I had met on Myspace and we really liked each others stuff. We stayed in contact through AOL Instant Messenger, exchanging tracks and eventually we started working together. Soon we developed a project together called NeonGenesis. We played a lot of shows, wrote a lot of tracks.. I learned a lot about collaborating. Through time constraints and distance we had to start working on our own stuff. Right now I'm doing what I really want to be doing, a really soulful future-screw slow grind sound and I'm really enjoying it. I've always loved what I've created but with 7DeadlySynths I truly hear myself in it, my personality comes out. Which is something I've always struggled with, hearing myself in the music I make, it was cool, but I never thought it was truly myself and now that I'm doing this solo project I'm enjoying it tremendously.

How would you describe your music, why is it unique?
I'm not trying to confine myself to any one specific genre, I'm trying to incorporate a lot of different things that inspire me from soul music to future garage and everything in between. I'm trying to find a sound that is viable but doesn't sound entirely like everyone else right now.

What's the most inspirational track for you?
Thoroughbred by Ghost Mutt is a track I've really been into lately. I'm also getting a lot of inspiration from 60's and 70's funk and soul. I'm really digging a lot of Curtis Mayfield and Bobby Womack right now.
How does mastering tracks and looking at music from a technical standpoint affect the quality of your music?
I'd call myself pretty critical of everything, Hypercritical. I mean, if I like something, then I really like it and if I don't like it, then I really don't. There's no in-between for me, so if I'm mastering a track and something's wrong, I'll do my hardest to try to correct it. In my own music, I'm rarely happy with what I come up with so if it gets posted, then it's something I truly believe in.
Tell me about your process of creating tracks.
Most of the stuff that I like the most comes randomly. I'll open up Ableton, start messing around and I'll come up with something I enjoy. I almost always start with a piano chord progression, a lot of artists start with a drum beat or a melody but I like having the basis of everything that's going to be structured around it already in place, and I'll evolve that into different sections. It has to be congruent with my mood, though. I like the way I feel to be communicated through my tracks, they are very personal.

So, you always go back to your piano playing roots?
Definitely. I just can't start with a drum beat 'cause it's not inspiring to me. Everything has to be crafted around the one vibe that is the chord progression.
What are your goals for 2013?
Basically, at this point, to continue to create music that I enjoy and hopefully other people will as well. I'm grateful that people are able to enjoy what I bring to their tracks through mixing and mastering and I hope I can continue to work with talented people and make them feel great about what I'm able to bring to their productions. I also really want to have a more intimate relationship with my fans this year.
Do you have any specific goals as a mastering engineer?
The biggest thing I'm trying to work on is I'm trying to find that fine balance between casual listening and club environments. I'm trying to find the balance between tracks sounding great on ipod headphones and ihome speakers and docks and stuff but still having it have power when it's played live at festivals and clubs.

Anything else you'd like to say to the readers?
When I started making music almost 8 years ago my dream was to work in studios and record music and mix music. If you keep working at things, dreams can happen. Even if it takes 7 or 8 years, you can truly do it. If you work hard and are surrounded by people who are like minded, anything can happen.
//Yup