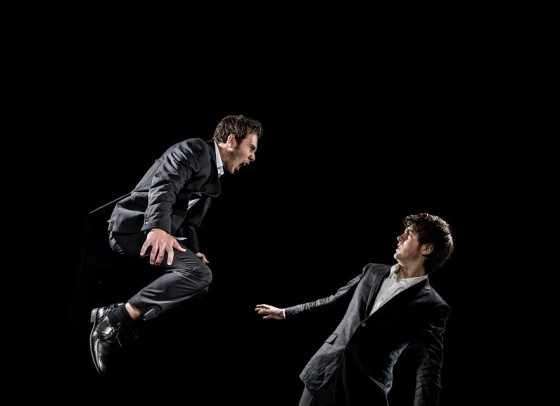 I had the chance to hop on Skype with Victor Pool from the Dutch duo, Vicetone, recently and I'll be honest with you – I was just as curious to learn more about this production powerhouse as I'm sure you all are. In a little over a year they've shot into the electronic music spotlight, dominating Beatport, Hypem, and SoundCloud charts with their (frankly, phenomenal) productions.
Let's start this off nice and simple: What did you guys get up to today?
Same as we do every day – we worked on new music in the studio!
When did you guys really get serious about music?
It really started about a year ago, somewhere in March, when Ruben decided to build a home studio. The day the studio was finished he invited me [Victor] over to join him in the studio and we just began to work on a track. This resulted in a few more tracks and we got a lot of positive feedback from our friends and family, so we decided to step it up after the summer ended. Since then we've practically been in the studio every day and made a lot of music together. We both have our own studio setup now so there won't be a moment where we're not working on Vicetone music!
What's your production setup? Any elaborate plans to expand it?
We don't use any hardware gear really, it's all in the box. We are planning to upgrade the studio after our first tour, and maybe buy a hardware synth or two. It's not a necessary asset in production though, it's more of an expansion – a lot of soft synths will do just fine and most sound excellent. Besides a hardware synth, we're always looking to buy new plugins that are not really well known – we've gotten some really unique and cool effects out of plugins few producers use or know about.
Where does the name "Vicetone" come from?
People sometimes think that the word 'Vice' has something to do with Victor's name, but it's actually the other way around. Ruben really liked the word 'vice', and Victor liked the word 'tone', so we decided to combine them! Coming up with a name was actually a pretty long and tedious process. We just couldn't think of a good name that wasn't already in use by other artists or companies. So we were pretty relieved after finally finding a way to combine 2 words we really liked into an artist's name that was unique and pretty cool sounding… in our opinion at least..
Can you shed some light on your creative process? How do you start a track? Are there any elements that you always have a hard time with?
The creative process usually starts when we work on melodic ideas separately in our own studios. Most of the time we come up with a melody and try to find a sound with it, or we try to create an unique sound and then make a melody that fits that sound. So it goes both ways, and often a new and unique sound results in a full blown track. Very often after we have a small melodic idea, the other person will take that idea and improve on it and add to it. A lot of our tracks have melodies that were started by one of us, and finished / improved by the other, and those tracks are a lot of fun to work on. It also depends on the kind of track we're working on – with remixes, for example, we usually start with creating our own chord progression that fits the vocals like we feel it, and then continue with different sounds and ideas. So when we are both in the studio preparing to work on a track, we always have an idea already.    
How is work shared between the two of you? Do you each have specific strengths?
We think we share a lot of the same strengths, but in a slightly different way. Ruben for example starts of his melodies by playing them on the keyboard and then progressing them in the piano roll. Victor usually starts with drawing in the melody in the piano roll. So we both have a little bit of a different workflow when it comes to composing our own melodies. What we think is very important is that we work next to each other every day. We've been doing that since the start and we feel it's the best way to work on music, and of course a lot of fun!
I understand that you'll be coming over to North America in the next few months – which cities/venues do you really want to play?
We'd really love to play anywhere… the scene in the US is so big right now, we can't wait to go there. We don't really have a favorite city or venue – but we'd love to play in the big cities like Miami, LA and New York!
What upcoming projects do you have in the works that you can talk about?
We are working on a LOT of projects as we speak, almost seems too many… We have an original track on Nicky Romero's label Protocol Recordings that will come out this summer. We're really excited for that track! We've also just remixed his next release together with Krewella called 'Legacy', so you guys can expect that one soon as well. Also, we've got a lot of other remixes and originals that we finished the last couple of months, so there's a ton of new stuff coming out. We're stoked to release everything we've been working on for the last few months!!
If you could collaborate with anyone, who would it be?
Well, a couple of weeks ago we said we'd love to collab with Nicky Romero, and that hasn't changed, but it might happen sooner than you'd think!
Has the city that you live in had a big impact on the style of music that you make?
Not at all. As far as we know, the most popular genre in our area is techno. Most of the clubs here in Groningen are playing a lot of techno and  it's not really our style. Our environment hasn't been a factor at all in our music taste, since all the music that we listened to and liked was available on the internet. If anything, the internet helped us shape our music style! Everybody can hop on the internet and have access to pretty much every song out there, so that is the main way we got attracted to the music style that we love to make right now.
Do you ever feel locked into producing progressive house because that's where you made a name for yourself?
Not really. There is a reason why we started out making music with our own style, whatever genre people think it is. We will always be making the music that we love and that's why producing is so much fun for us. We actually made a lot of different tracks that nobody has heard, where we tried to switch things up and experiment with different styles and sounds. They're very different sounding, but most of the time, we want melodies, harmonies, emotions and energy to be the foundation of our tracks.
Vicetone on:
SoundCloud | Facebook | Twitter