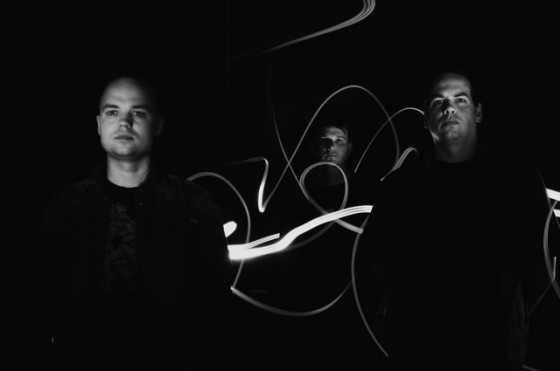 Since the mid nineties BSE have been taking the DnB world by storm with their signature Neuro Funk sound. With five critically claimed albums under their belts they are without a doubt legends. Rene Verdult of the group took the time to answer some questions about the future, their new label, and how getting his ass kicked in video games helped start BSE.
For our readers who don't know: How did BSE form? What was the first inspiration to start producing?
We were in school together and always used Milan and Micha's parent's house to connect all our PCs and kill each other in games. I was already into synthesizers and since I was always getting killed way before everyone else, I convinced the others we needed a different hobby. So we started making trip hop and techno together. Turns out we really had even more fun doing that. We wanted a lot of studio equipment so we got jobs and brought our paychecks to the local store every month, getting samplers and synths, speakers and mixing desks. When we heard drum and bass in a club for the first time we really knew what to do next. After we started releasing records people wanted to hear us play gigs so we started doing that too! Guess it just kept going forward after that.
 As a trio do each of you have an assigned role? What's it like having three people work on an individual track?
We don't have assigned roles and we hardly ever work with three people on one track.
Similar question, you've teamed up with Noisia before, have you ever had six people on one track?
I don't think we've ever worked with 6 people at one time. Similar to us three hardly ever working on something at the same time, working with them is usually one of us and one of them. Maybe two and two. There is only one mouse and one keyboard, you don't want to fight off five others all the time.
 What DAW do you guys use and what are your individual "go-to" VSTs?
We work mostly with Cubase 6.5 and sometimes Live, but since we have an old version of that we only use it for quick ideas. The VSTs we know well and love a lot are (u-He) Zebra, (Vember Audio) Surge, (Native Instruments) Massive, Kontakt and Guitar Rig. Also Fabfilter and Voxengo plugins.
Micha recently released the Tinlicker album. Milan and Rene do you guys have plans to do solo albums of your own?

No plans for solo albums right now, but you never know. Milan has been talking a lot about his new accordion!
You recently launched the label, Blackout music. What's your goal with this label?
We had labels before, but we felt Black Sun Empire recordings (the main one) was a bit too connected to us as DJs and producers. We wanted the shift the focus to artists we like and respect and have the label and label nights be a strong interconnected thing.
Do you guys have any plans of bringing the Blackout parties to the states?
We would like that very much, a big part of our following is from there so it would make sense. You guys are living so far apart though, we would have to really think about the how and where!
What have you guys been listening to lately?
Really excited about some new music, like the new album by Jon Hopkins, the upcoming Trentemoller and Moderat albums. James Blake and The XX get played a lot. The new Crystal Fighters album. Seems like 2013 is a great year for music.
Who are the artists you want to collaborate most with?
All of the people in the last question. Also some DNB people would be nice. Memtrix, Mefjus, and Gridlok.
After five albums what keeps you guys inspired and driven?
Don't know. The feeling you can always do better! Music never stands still. Even when people look to the past for ideas, or to different genre's, they will add new stuff or do things in different way.
Last question: what's next? New album? 
Right now the main focus is getting the word out about Blackout as a label and a night. Some exciting releases are coming up and of course we will start thinking about our next artist album too.
-Filippo
Black Sun Empire On: