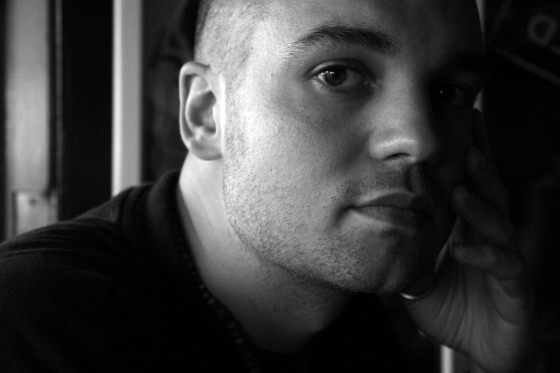 Micah is a legend. He's been producing music since the nineties. He's one third of acclaimed Drum N Bass trio, Black Sun Empire. Black Sun Empire have released five critically praised albums and now Micha has released his first solo album, Remember The Future. His solo work as Tinlicker is far different from his work as a trio. Micha took the time to answer some questions, check it out below!
Last year Black Sun Empire released the acclaimed album, From the Shadows. Now you've just released your first solo album. Whats the production process like when working with BSE versus doing a solo album?
With Black Sun Empire we normally work in pairs. We might start a track alone (as we have more studios), but at some point one of the others will jump in, either when you are stuck or when someone else has a 'better' idea. So eventually it's always a collaboration. With 'Tinlicker' I'm always alone, so the biggest difference between making 'Black Sun Empire' or a 'Tinlicker' tracks is not getting instant feedback, not getting any help when you are stuck etc. This makes it more personal, but therefore even a bit scary.
This album is drastically different than your work with BSE. why did you choose to do such an album in this style?
When it comes to making music you have to keep challenging yourself. Widening your horizon helps keeping you creative. I didn't actually choose to produce a certain genre, I just wanted to make something different, so I started to play around using a four to the floor beat and creating sounds that I think fitted. In the beginning every tune turned out fairly different. So I decided to make more until things started falling into place. I found myself really enjoyed it, It gave me a lot of positive energy, a lot of new ideas (for both Tinlicker and Black Sun Empire) Eventually I had so many tunes that I liked, that I realized this process automatically generated my signature and 'Tinlicker' was born. Now the only rule I have is that I have to like it, therefore it will be a reflection of the constant changes in my taste, but it will always be me.
You've been producing music since the 90's, why did you choose to release a solo album now?
It wasn't that I needed to have a solo project, I just had a big urge to try something new. I wanted to see what else I was capable of besides Drum'n'Bass, so I started experimenting alone and I couldn't stop doing it. Maybe even because I was doing it alone there was nobody else to stop me. So It wasn't after I actually finished a lot of tracks that it became a solo project. Now that it is I embrace it as it's mine.
 how long  has this album been in the works?
A bit over a year.
Where does the name Tinlicker come from?
The name comes from a bar session with Rene. We were talking about 'circuit bending' while having a beer, joking about the fact what you'd have to do if you were in the process of soldering a circuit but ran out of hands to hold the 'tin' in the right place. We imagined you'd have to use your mouth. You'd end up being a Tinlicker.
Circuit bending is the creative customization of the circuits within electronic devices such as low voltage, battery-powered guitar effects, children's toys and small digital synthesizers to create new musical or visual instruments and sound generators.
What was the inspiration for Remember the Future?
Life haha.
What is your production  setup consist of?
A PC running Cubase 6,5, a shitload of VST and VST-I's, a pair of Genelecs 1031a, a pairs of Adam S3A with the Adam Sub 12, Clavia Nord Modular g1 + g2, a nice desk, a good chair and a coffee machine.
 Whats your favorite thing about Electronic music blowing up?
That I'm able to make a living from it and do what I love doing.
 Whats the thing you dislike about electronic music blowing up?
That you can drown in it, go crazy from all the bad replicas of the track that made the genre popular in the first place until the next big thing comes along.
 I hear people say that electronic music isn't real music all the time. What is your counter argument to that?
That's a hard question. It is either music or not music at all, the word 'real' implicates it's not music. If the definition of music is: 'the art form whose medium is sound and silence'. Then the discussion is more about is it 'Art' or not.
My answer would be, there is 'art' in every form. If it touches me, provokes me, makes me think, then for me that it is enough.
if you say electronic music can't be music, just because of the fact that It was made by electronic instruments, then they should question themselves whether there was music before we invented the Piano, Cello or Violin?
It's just conservative thinking. Music shouldn't be judged by the instruments it's made with.
What is in the horizon for you? Tour plans? New BSE album?
We have a lot of plans for 'Black Sun Empire'. There will be a remix album after the summer (more info about that soon). We also started building the 'Blackout' brand by hosting a lot of parties all over Europe and launching our new label 'Blackout Music NL' this month with it's first release: 'Optiv + Btk – Bad Attitude – EP'. Besides that we'll keep making music playing shows with both Black Sun Empire and Tinlicker, just keep your eyes and ears open.
Thank you again for doing this, hopefully I'll be able to see you live sometime! 
Thanks and don't forget to give 'remember the future' a listen! spread the word!
Micah On:
Facebook | YouTube | SoundCloud | Twitter