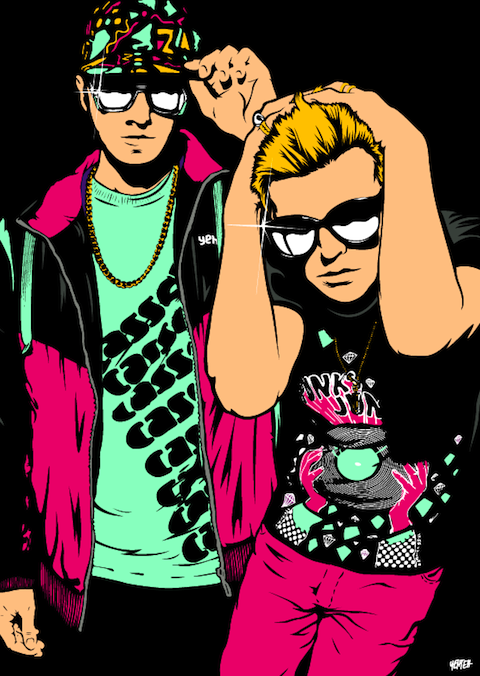 This UK duo recently graced Salacious Sound with a fantastic disco house DJ mix dropped here, and now we managed to ask them a few questions about their music, and what fuels their passion.  For me, PJU embody everything that is the new face of electronic music – great online presence combined with online social networking with their fans (see: me), electronic distribution of their music and small scale runs of high quality merch for their loyal followers, a love for playing live shows, and hard work in the studio.  I really wish these guys all the best.
Don't forget that Punks Jump Up play at Neon Noise Project with Chromeo (UK Exclusive DJ Set), Trevor Jackson, JBag and Classixx – 27th November 2009 – The Village Underground, Shoreditch, London
Word is you have upcoming releases. Will anything official/unofficial be dropping this year?
We're working intensively on our new material, but nothing will be released this year – we're aiming to get something out by March/April 2010. We got lots of great collabs on the go with people that we're really into, and it's looking good..! After having H Pelle on the last release we've tried to get even more exciting guests onboard. Some of the names start with C, one starts with B, another one with Z, then you've got R and not forgetting… M.!!! We've done a remix for Zongamin's new single Azzazza but we're not sure whether it will drop this year or not.
How do you guys select artists to remix?
When we get a remix we usually do it because we like the original track and get a good vibe off of it.
What has been your favourite album released this year? What makes it your favourite?
As a sign of the times, we listen more to songs in general as that's the way it's going nowadays. We like producers and artists like Metronomy, Siriusmo, Men, Chromeo, Fever Ray, Beni, Breakbot, Zongamin, Gooseflesh, Jackpot, Playgroup, Lykke Li, and Sebastien Tellier. When it comes to albums we listen to the classics from yesteryear, all sorts..!!
Your myspace says you have been working in the studio a lot lately, and that you have a growing library of songs. Have you been producing stuff to release as EPs or perhaps a collection, or are you more interested in producing a full, coherent album?
That's a tough one. Â We love the idea of an "album", where a collection of songs makes a full listening "experience" and creates a vibe. Thing is that nowadays the album concept seem to disappear more and more as separate songs are available to download as you wish. We'll probably release a few singles and then the album. What we do know is that we wanna make an album that is not clinging on to the sound of one specific genre too much and to create our own PJU sound.
How has living in the UK influenced your sound? Â Can you delve a bit in to the culture or scene you guys have been influenced by?
UK is great because of the rich & diverse musical heritage, if you're into music it's hard not to be influenced by all sorts music from left right and centre. We're into everything but we're mainly influenced by the post punk scene, all sorts of 80's electronic music, dub, and disco, right up to present day electro dance stuff. Hopefully this will show in our music.
Can you name a contemporary whose work you follow? Is anyone doing what you guys want to be doing, or do you feel like you're after something else?
We're trying not to pay too much attention to the latest crazes, and prefer to lock ourselves away in the studio and just experiment to see what naturally comes out. We use up to date production tricks, but musically we wanna do our own thing. We're trying to not copy what everyone else is doing, which is harder than you might think!!!