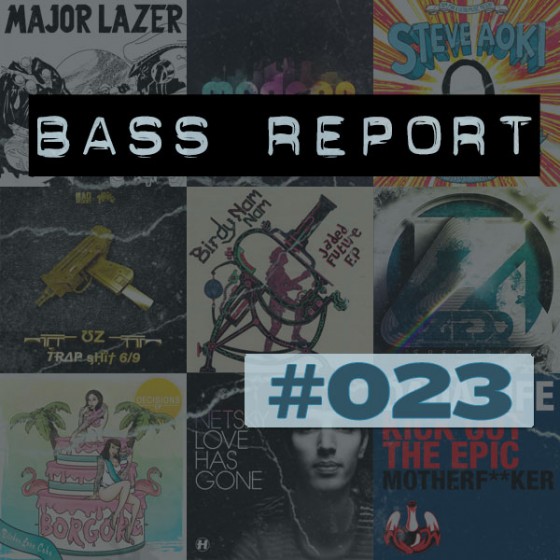 Week 23 of Bass Report is packed fuller than your Christmas stocking… and with things you need more than those damn chocolate balls.
Up high on the bass throne this week is Goosebumps enthusiast RL Grime with his take on the classic 'Satisfaction'.
#1 Benny Benassi – Satisfaction (RL Grime Remix)

Electro-veteran Benny Benassi's 'Satisfaction' has been one of the longest lasting hits in dance music, and has seen more than it's fair share of play time over it's 9 years in this world. It's an electronic staple that absolutely can not be remixed without intense scrutiny, so it's a good thing RL Grime was behind the wheel on this one. Taking the mandatory bass line and vocal sample, he hits the perfect sweet spot between vintage Benassi and cutting edge trap. Play this out til' you can get your satisfaction.
#2 DKS – Monster

Number two comes from Datsik's Firepower crew. DKS' new EP 'Can't Get Enough' really caught me by surprise… I don't usually find myself discovering an album I enjoy equally across it's entirety. He throws down a barrage of melodic dubstep that will melt your face with bass or some cliche dubstep term along those lines… but also drag you in on a deeper level that will have you grooving to the melody of it all (as well as violently thrashing out).
#3 Big Gigantic & GRiZ – Power

Ohhh boy this funky tune from dubsteppas Big Gigantic and GRiZ covers so much ground. On top of everything you hope for in a great drumstep tune, 'Power' packs in a multitude of synth lines to keep you guessing… And did I mention there's sax as well? Of course I didn't, but now you know!
#4 Krewella – Killin' It (KillaGraham Remix)

With the increasing popularity of Chicago trio Krewella, comes higher calibre remixes. KillaGraham makes great use of the original vocals on one of the group's trademark tracks, and adds his own bangin bass line. Does it live up to the original? Close call.
#5 Caspa ft. Mighty High Coup – On It (TC Remix)

To be honest, I was a little bored with the original of Caspa's new track 'On It'. TC gave it a much needed basslift as he drops the lighter elements of the original, beginning with a more threatening bass line and creeping into some equally heavy D n' B.
#6 Helicopter Showdown – Nobody Loves No One


#7 Madeon – The City (The M Machine Remix)


#8 Gemini – Robots (KillSonik Remix)


#9 Jakwob ft. Rocky Nti – Blinding (Hybrid Minds Remix)


#10 Ellie Goulding – Figure 8 (Feature Cuts Remix)

Still Hot Hot Hot!
#1:  Datsik
Bonafide Hustler (VIP) [From Bass Report 21]
#2 Delerium
Days Turn Into Nights (Seven Lions Remix) [From Bass Report 22]
#3 Wilkinson ft. Iman
Need To Know [From Bass Report 22]
– StatiK