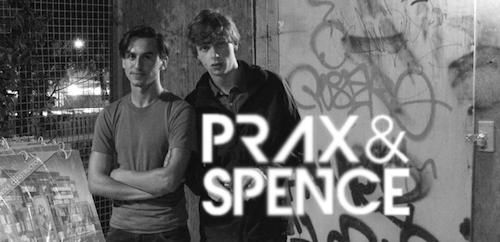 Introducing
Prax & Spence (Toronto)
Facebook
Soundcloud
If you are familiar with the Toronto scene at all then these two may be slightly familiar to you. Known primarily for their raucous DJ sets where they can be heard playing everything from electro to house to dubstep to drum&bass, these two have also been steadily grinding out their production skills together since 2009. While they first began producing progressive house, their sound today finds them sitting somewhere in that weird amorphous world of bass music…part house, part juke, part trap, part UK funky, and fully primed for the party. The two have been hard at work in the studio producing and laying down some super thick mixes (their 3 deck sets are a sight to behold!), and they've been kind enough to give us a sampling of both.

"Cloud City" is a pure sub-flexer trap tune complete with a pitched down and hazed out vocal sample and supremely beefed out 808 kicks. Built for the car and the club, it's that kind of track that you find yourself being enveloped in and hypnotized by.
And check out the exclusive mix they laid down too. Bit of a housier vibe in this, and filled with some extremely choice tunes…
Track List:
The Streets – Turn The Page (Prax & Spence Bootleg)
Hot Chip – Night & Day (Dusky Remix)
Ruben Mandolini – Modular Love
Kepiki – Craft
Steve Huerta – Take Me Closer
Disclosure ft. Ria Ritchie – Control
Menthol Man – Snowball
Rude Kid – Get Busy (FunkyStepz Remix)
Bonus: Some of my favorite tracks from the last week…
Maru – I Need
Representing the Transmission Collective,  check these soothing deep house sounds with a dusky sunset beach flavour from Maru.

Doctor Jeep – 'Angel'
The doctor goes full beast mode in this tune. Thumping tribal drum pattern and a bassline that is sure to spill many a drink on the dancefloor.

Boddika – 'Crack'
Suspenseful dark techno. If that shrill synth riser doesn't send a chill down your spine then you might want to check your pulse.


Jeremih – '773 Love' (Cashmere Cat Remix)
One of the newest editions to the Pelican Fly roster issues up their take on a tune from one of the standout R&B mixtapes of the summer.

Disclosure – 'Latch' ft. Sam Smith
I wish I was as cool at 19 as these kids are. The seemingly unable to do wrong duo issues up another sultry house tune. Expect a full LP from them in 2013.

Azealia Banks  – '1991'
Impeccable flow and exquisite taste in beats. The young Harlem rapper and burgeoning fashionista goes in over this track with production from fellow New Yorker and all around beatmaking badman Machinedrum.

For more tracks like this be sure to follow my Facebook Page and Tumblr.