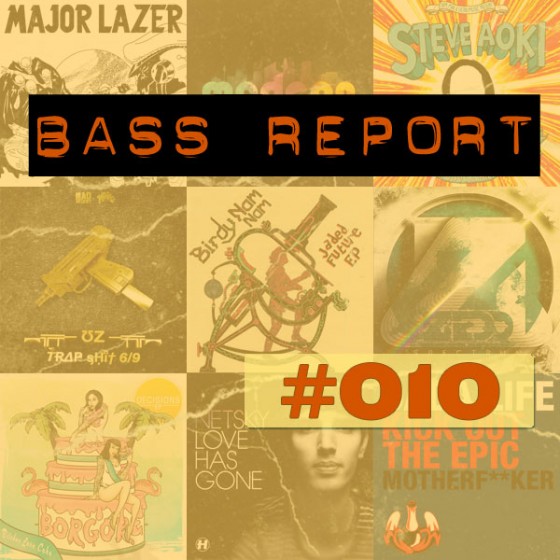 Leave your rainbow boots at home, and ready yourself for some seriously sinister music. Things are getting dark this week on Bass Report.
I heard this first track dropped by a few drum & bass giants at WEMF in August, and have been searching for it ever since. I will admit, my memory was a little hazy that weekend due to lack of sleep (yeah, we'll call it that)… but now that we've been reunited, I can tell my judgement was still crystal clear. The original is an impressive piece of work on it's own, as the production is tip-top tier. I have to say though, it is the ghostly vocals of Sam Frank that keep bringing me back. I've been a huge fan of the material he has put out with Skream, and he delivers once again with perfectly processed vocoder lines that suit this release oh so well. Neosignal is a collaboration project of already established DnB producers Phace and Misanthrop for those who don't know, and this is no spin off side show. The duo build a bangin' robotic monster around the vocals of Sam Frank on this remix, heavily making use of the line "make me human again". As far as vocals go, you can't get a better fit than that!
#1 Rockwell feat Kito & Sam Frank – Childhood Memories (Neosignal Remix)

Dubstep duo Stinkahbell just put out their new EP, and I'm really into the overall vibe they create over the entirety. I don't usually give too much attention to names, but 'Film Noir' suits this album perfectly. In this track, melancholy piano complements the deepest of bass lines, bringing you into an atmosphere of darkness and despair. I don't know how, but 'Sunday Worries' actually manages to make me feel like I'm a part of some old horror movie. The song itself is so well produced, but I think the feelings the track manages to bring out are equally valuable in making it a great piece of work. I hope you are pulled into the gloomy atmosphere of 'Sunday Worries' the same way I am now.
#2 Stinkahbell – Sunday Worries

Document One grabs number three, and rounds out a pretty dark top 3 this week. The synth work here is probably what earned such a high rank, but I do say, those vocals from Tigerlight are a nice organic contrast to the heavily electronic feeling making up  the rest of 'Already Lost'.
#3 Document One ft. Tigerlight – Already Lost

I'm sorry if those first few tunes brought you to a place of evil, and to keep you from killing cats today, here's something upbeat! This one from Savant's new album sounds like something out of a celtic influenced video game. Then add bass. Always add bass.
#4 Savant – ISM

#5 Fabio Lendrum – Out The Water (501 Remix)

#6 Tiesto & Steve Aoki – Tornado (Kill The Noise Remix ft. Polina)

#7 Subfocus ft. Alpines – Tidal Wave (KillSonik Remix)

#8 Terravita – This Time It's Personal

#9 Downlink – In The Zone

#10 Bassnectar ft. Chino Moreno – Hexes

Still Hot
*#2 Last Week* Koan Sound – Introvert

*#3 Last Week* Tritonal – Still With Me Feat. Cristina Soto (Seven Lions Remix)


*#6 Last Week* Zomboy – Nuclear (Hands Up)