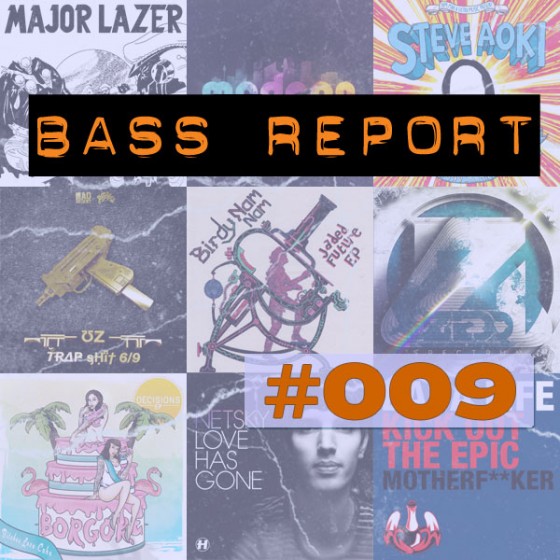 Let it be known across the lands! Thunderous bass hath been cast down upon the mortals at the hands of Koan Sound and Excision! As you can tell, two albums released this past week that really tickled my musical pickle. I couldn't include all my favourites, but two from each will give you a good slice of what you're in for!
As if Excision's 'X Rated' wasn't enough on it's own… a fat stack of remixes was just released and will definitely turn some heads. 'Sleepless' was already a favourite of mine on the original album, and seeing Loadstar and Xilent handed the reigns on this one definitely took me from six to midnight. Those vocals from Savvy are just so damn sexy, and always manage to cling in my head for hours after listening. Loadstar originally had my vote, and while I'm still debating which I will end up loving more after 100 listens, Xilent's dance-y monster of a mix steals the gold for now.
#1 Excision ft. Savvy – Sleepless (Xilent Remix)

When you talk originality in the bass music scene, Koan Sound is no doubt part of that conversation. These two re-affirm their ability to pump out funky ass booty shakin' beats with their latest release, 'The Adventures of Mr. Fox'. The album comes with solid remixes from Reso, Opiuo, and Neosignal, but the real gems are in the original material here. 'Introvert' is my top pick of the EP, and pulls in at #2 on September's first report. It's a full on journey featuring a spacey atmospheric background, and boasts one of the smoothest bass lines I've ever heard.
#2 Koan Sound – Introvert
I just about had my work all wrapped up for the week, but I didn't even debate shaking up the top 10 to get this in. Sevon Lions comes through with this chilling remix for trance duo Tritonal. I was so captivated hearing this the first time, I didn't even realize the first drop was almost halfway through the song! As a full time music dweeb, I'm a little embarrassed that I haven't been following Sevon Lions longer, and only first heard of him through Salacious Sound's 'Introducing' series a few weeks back! This might actually play out to the trance crowd more so than the dubsteppers, but either way, this is an elegant, dark, yet uplifting adventure that you should not miss.
#3 Tritonal – Still With Me (Seven Lions Remix)
Another stand-out from 'The Adventures of Mr. Fox'. I think I'd describe this as elevator music catered to dance floors. Yup.
#4 Koan Sound – Sly Fox
Calyx & TeeBee's drum n' bass take on Excision's title track, 'X Rated'. Another killer chune, but you really need to check out the whole collection. Full track list on Beatport.
#5 Excision ft. Messinian – X Rated (Calyx & TeeBee Remix)
#6 Zomboy – Nuclear (Hands Up)

#7 Foreign Beggars & Knife Party – Apex

#8 Benga ft. Marlene – Pour Your Love (Taiki & Nulight Remix)

#9 Figure – Super Sonic Brain Waves

#10 Doctor P – Flying Spaghetti Monster

Still Hot!
*#6 Last Week* Skrillex & Damian Marley – Make It Bun Dem (Culprate Remix)

*#3 Last Week* ETC!ETC! & Brillz & Diplo ft. Whiskey Pete – Bueller

*#1 Last Week* Hundred Waters – Thistle (Star Slinger Remix)

Don't forget to hit me up with feedback if you have comments, criticism or suggestions! And follow me on Twitter if you enjoy my picks!