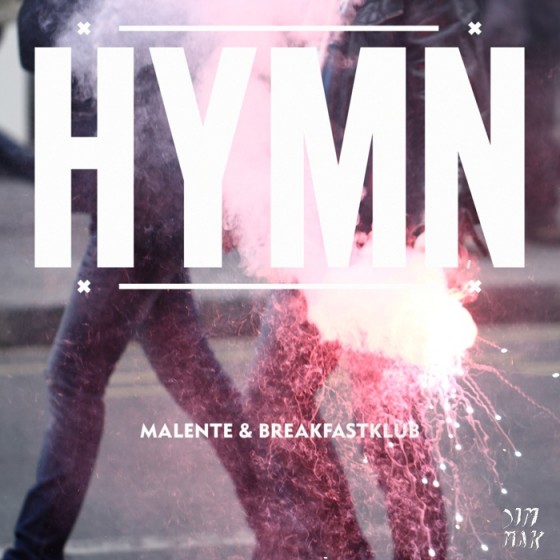 Buy the release on the following outlets:
–iTunes
–Beatport
Malente is back and this time he is teaming up with Breakfastklub. Malente should be a familiar name, as he's been making jams for the last fifteen years. And his latest effort 'Hymn' is truly something special. It's a song that makes your whole body move, as though you're in a club without being in one.
Along side the original are five remixes that range from Nu Disco to Dubstep.
Hymn (Original Mix)

The intro is a steady 4/4 beat that is filled with deep toms, followed by a signature synth melody which is infectious. Two minutes later and the song has built up in energy, to screaming synths which fill your ears while being layered with subtle cross-melodies.
The highlight of the song is the percussion, however. It's set at 128BPM, but at times it feels super slow and at other times it feels faster, thanks to clever changes in drum layout and signature. Malente tricks the listeners' ears in to believing the tempo is changing.
When listening to albums for reviews I play them throughout the day. I play them at work, home, and when I go out. Each time I listened to this EP I couldn't stop moving, and no other song has really done that, whether it was moving my fingers to the beat or straight up jumping. This is a song that could instantly make any party more exciting.
Malente and Breakfasklub have made a fantastic track!
Hymn (Rory Lyons & Peo De Pitte Remix)

This remix is the darkest one on the EP. It has a creepy feel to it and the vocals that say "get on your knees and pray" really add to it. The opening has a real Latin vibe and almost feels like a moombahton jam. The build up starts and this is where the remix shines.
After a short vocal clip the bass hits; while the song maintains the feel of the original, a lot more atmosphere is added. It almost sounds like there's rain in the background, which gives the song a "woodsy" feel.
Hymn (Funkin Matt Remix)

This remix keeps the overall feel of the original but its nothing great. It adds a countdown to the drop that in my opinion is a weak one.
Theres really not much else to say. I did not enjoy this remix.
Hymn (Slap in the Bass Remix)

This remix turns the original into a Nu-Disco song with a great vibe. The beat is original but it keeps the same synth style, and adding new melodies. It's infectious like the original but it really feels like it could have been an original track. Its a great remix, none the less.
Hymn (Costello Remix)

This is the remix to stay away from. It sounds like a bland house track. Nothing from the original is included and if you hear this first you probably wouldn't want to give the original a try. If repetitive house is you're forte then give this a shot.
Hymn (Dj Oder Remix)
This remix isn't on Soundcloud, and that's a shame because it's absolute madness; Oder transforms the original into an awesome dubstep track. This is by far the best remix on the album. Intact are the screeching synths and drums but sped up to 140BPM, and the drop will have you flailing around on the dance floor. You must check this out!
Excluding a few remixes this EP is good. If you have a chance, at least pick up the original. Its one of the most infectious songs I have ever heard! You will not be disappointed.