This week's Tuesday Top Ten is a very special edition, featuring the 10 biggest, popular, and most salacious tracks being played at this summer's electronic dance music festivals.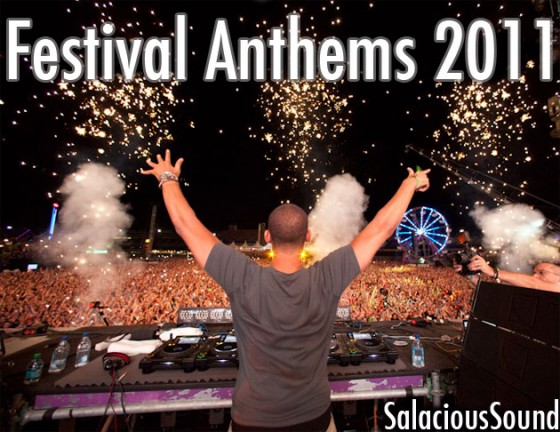 We're part way through festival season in the Northern Hemisphere, and after a month of playing for swelling crowds as large as a quarter million (ie Electric Daisy Carnival 2011 Las Vegas) DJs around the world are taking account of the tracks that moved crowds the best. And by crowds I obviously mean sexy girls, because who really gives a shit about the guys? It doesn't matter what you play, because they're going to have a good time as long as the girls are shaking their asses, tossing their hair, biting their lip during a buildup, screaming in ecstasy after an orgasmic drop, raising their hands to expose their sweat-glistening sideb… I mean show appreciation for the DJ and the track, etc.
Now on the surface, this statement may SEEM like something of a betrayal to my predominantly male following on SalaciousSound. That would be a misinterpretation though – I am definitely all about the homies. All I can offer is assurance that you are in good hands. I'm an expert, and I give you my word that I am looking out for your best interest at the party. And by your best interest, I mean my best interest, and my interest is seeing sexy girls shaking their asses, sideboob, orgasmic, etc.
So what are the crowds loving? Well there are the usual festival classics – lots of Daft Punk and Red Hot Chili Peppers, some Rage Against the Machine, and even Blur (remember Song 2?) I heard at least six different incarnations of Otherside down at EDC last month, and what I learned was that at a festival you can play almost whatever you want, as long as it's anthemic. Warp 1.9 by the Bloody Beetroots is a good example of a song that I would have thought was completely played out, but each of the four times I heard it the track nearly (sigh) blew the tops off the girls in the audience.
Some of these are from late last year and have been rinsed on the Australian festival circuit, and some are recent hits, but all of them were massively popular at EDC. So without further adieu, here is a list of the tracks that caused the biggest sing alongs, drew the biggest crowd responses, and most importantly made me smile (downstairs).
Top 10 Festival Anthems of 2011 by salacioussound
Since everyone who played Rolling in the Deep had their own remix and none of them are available, I just included the most party-appropriate one I have. The mashup below is also good fun!
[audio:Adele vs. Robin S – Show Me In The Deep (DJs From Mars Classic Club Bootleg).mp3]
Edit: apologies, but soundcloud has engaged in content filtering and as such, some of the tracks in this list have been automatically removed. The complete list is:
Swedish House Mafia – Save the World
Benny Benassi – Cinema (Skrillex Remix)
Bingo Players – Cry (Just a Little)
Diddy – Coming Home
Martin Solveig ft Dragonette – Hello
Flux Pavilion – Bass Cannon
Afrojack – Take Over Control
LMFAO – Party Rock Anthem
Adele – Rolling in the Deep
Bare & Datsik – King Kong