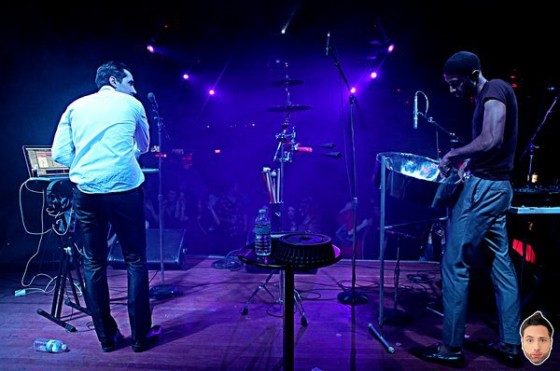 When The Monarch told me that we had booked The Makeover for our Salacious Sound 2 Year anniversary party I was a bit skeptical. He has been known to have esoteric tastes, and I wasn't sure how an ostensibly live band (they use mostly caribbean instruments with beats from ableton and CDJs) was going to work at what I was hoping would be another installment of the successful electronic nights at Arcade Fridays @ Mod Club in Toronto. I usually go to hear folks like Wolfgang Gartner or Thomas Gold, and the regular 4×4 loving crowd tends to expect acts like Miami Horror or Trentemoller to be a rarity.
The reason I'm waxing here of course is because the night was a huge success, and The Makeover really set the tone. Their incredible live vocals and eclectic instrumentation combined with dance beats made for an unstoppably funky sound. They completely transformed the club from its regular vibe – a dark theatre with incredible strobing lights and solo dancing divas – to a warmly lit and intimate party of 600 friends grooving out to something unexpected and delightful.
If you get the chance to see these gentlemen live, don't sleep.
The Makeover on Soundcloud
[audio:The Makeover – Mix One.mp3]
Tracklist:
1- The MAKEOVER – The Sprawl Part II Part II
2- Projections Vs. Woofly – Neeve (Permanent Vacation Tropical Heat Mix)
3- Canyons – Dancing on Silk
4- The MAKEOVER – Feel it All Around
5- Little Jinder – Youth Blood (Tomas Andersson Remix)
6- Andy Ash – Freak (Andy Ash Edit)
7- Dance Disorder – Metalic Italic (Jeremy Glenn Mix)
8- Tensnake – Get it Right (The MAKEOVER)
9- Stephanie Mills – You Can't Run from My Love
10- Michael Wycoff – Diamond Real
11- The MAKEOVER – Tightrope
12- Beth Ditto – Open Heart Surgery
13- Jimmy Edgar – Hot Raw Sex (The MAKEOVER)
14- Jammers – Be Mine Tonight
15- Cassius – Les Enfants (Gesaffelstein Remix)
16-Kasper Bjorke – Alcatraz (Zombie Disco Squad Remix)
17- Happy Clappers – I Believe
18- Mario Bassanov/Arithmatix – Do You Remember Love Hurts (The MAKEOVER)
Bonus:
[audio:The Makeover – Tightrope (Janelle Monae Makeover).mp3]
The MAKEOVER – Remember Love Hurts (Mario Basanov/Gino Vanelli MAKEOVER) by The MAKEOVER