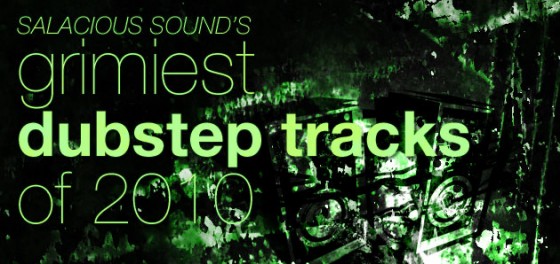 Over the next seven days, SalaciousSound will publish a series comprised of dozens of articles chronicling the best electronic music that 2010 had to offer, across all genres.
You can view the whole series by clicking the category link above '2010 in Review Series', and you can also view every post ever written on SalaciousSound about the artists mentioned herein by clicking on the artists' links at the bottom of the post.
If you like this type of music, you should also try clicking the genre tags at the top of the post, so you can find more.
I hope you all enjoyed and were inspired by electronic music in 2010 as much as I was. It was a special year!
This is the sixth article in the series, and is more or less just a recounting of the dubstep tracks that I listened to and played the most in 2010.
14: Foreigner – Cold As Ice (Specimen A Remix)
Specimen A on Soundcloud
[audio:Foreigner – Cold As Ice (Specimen A Remix).mp3]
13: Deadmau5 – Sofi Needs A Ladder (At Dawn We Rage Remix)
At Dawn We Rage on Soundcloud
[audio:Deadmau5 – Sofi Needs A Ladder (At Dawn We Rage Remix).mp3]
12: Breakage Ft Donaeyo – Speechless
[audio:Breakage Ft Donaeyo – Speechless.mp3]
11: N.E.R.D. and Daft Punk – Hypnotize You (Nero Remix)
[audio:N.E.R.D. and Daft Punk – Hypnotize You (Nero Remix).mp3]
10: Zeds Dead ft Omar Linx – Out For Blood
Zeds Dead on Soundcloud
[audio:Zeds Dead ft Omar Linx – Out For Blood.mp3]
9: DJ Sneak – Southern Boy (12th Planet and Flinch Remix)
12th Planet on Soundcloud
[audio:DJ Sneak – Southern Boy (12th Planet and Flinch Remix).mp3]
8: Doctor P – Sweet Shop
[audio:Doctor P – Sweet Shop.mp3]
7: Rusko – Hold On Ft. Amber Coffman (12th Planet Remix)
12th Planet on Soundcloud
[audio:Rusko – Hold On Ft. Amber Coffman (12th Planet Remix).mp3]
6: The Moody Blues – White Satin (Zeds Dead Remix)
Zeds Dead on Soundcloud
[audio:The Moody Blues – White Satin (Zeds Dead Remix).mp3]
5: Sub Focus – Could This Be Real (Joker Remix)
[audio:Sub Focus – Could This Be Real (Joker Remix).mp3]
4: Freestylers – Cracks (Flux Pavilion Remix)
Flux Pavilion on Soundcloud
[audio:Freestylers – Cracks (Flux Pavilion Remix).mp3]
3: Magnetic Man – I Need Air
http://www.youtube.com/watch?v=m2vWQFHP3D0
Magnetic Man on Soundcloud
2: Nero – Innocence (Original Mix)
[audio:Nero – Innocence (Original Mix).mp3]
1: Skrillex – Scary Monsters and Nice Sprites
Skrillex on Soundcloud