Human Life consists of a trio who's sound comes from a parallel universe.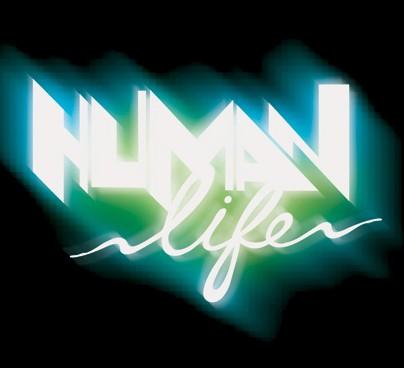 Paul Lester of The Guardian quotes that Human Life are: "If Prince & Dave Gahan had a baby, in Paris, in 90's, that kid might now be making music like this. In LA. At night." Their sound consists of very deep bass lines, lovely synthesis and incomparable vocal leads.  Their biggest hit of the summer, 'In It Together' has received massive acclaim from all around – and now they're just around the corner from kicking off their European tour. As they prepare for the journey, Salacious Sound gets an exclusive look at what's happening at the Human Life camp ground.
As your European tour looms, how are you guys preparing yourselves for the epic journey ahead?
Actually we have really been preparing for months!  Putting together new songs and completely rebuilding our live show…. and we cant forget researching voltage conversion so our gear doesnt short our when we plug in, lol.
Could you describe for us what the live 'Human Life' live experience will entail?
We really try to do something different than any other group… it's not a "concert" where a band just plays traditional instruments, but it's not a DJ set either.  Really it's somewhere in the middle!  Matt and Rachael sing and we all play live instruments like bass and keyboards, but at the same time, Josh is manipulating Ableton Live with samples and clips…. bringing in the electronic vibe.  We want to play dance music live!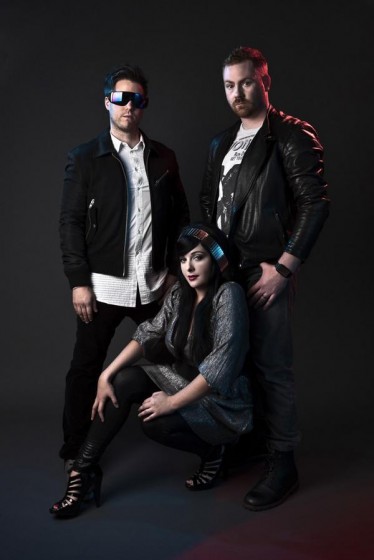 From left to right: Matt Wasley, Rachael Starr, Joshua Collins

I read on your facebook page that Human Life is signed with three different labels.. How does that work?
Yes, at this moment we are signed to Alan Braxe's Vulture label, which was an amazing honor for us!  Some of our material will be coming out there and then additionally we have our own label, LIFEX Recordings.  It's great because we can do whatever we want!!  Get exactly the remixers we want, etc.  Then also we have signed some other tracks to etcetc (sony australia) and a french label called Boxon Records.  For us we like having our music out on different labels because it helps expose us to different groups of listeners.
Backtracking a bit; how was Human Life formed?
We all met through mutual friends and started by collabing on one track.  One turned into 3 and so on… really fast we realized people were into the results so we've kept going.
Who/what is the creative force behind your sound?
Our sound is a true mix of the tastes of all 3 of us.  We all like different stuff so its crazy to see how tracks develop sometimes.  With this project there are no rules, we are just having fun!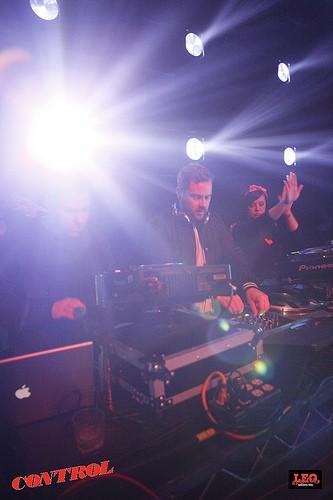 Human Life rocking the set at Avalon
Are your recordings mainly 'in the box' or do you also track live off the floor?
We do record mostly track by track simply because we get better results.  Although sometimes we may just jam out all together and see what happens.
How do you approach a potential musical production?
If it's an original track it starts one of two ways: mostly one of us has an idea in their head and sort of imagines the song in their head… then we try to tranlsate that thought.  Other times we get inspired by a synth sound or something and then build around it.  Either way we try to get the general idea down before spending too much time on engineering but sometimes we end up spending a whole day EQing hi hats or something, lol.
Are there any fresh releases on the way?
We certainly hope so :)    Actually we have our next single 'Wherever We Are' coming out on November 1st on LIFEX Recordings.. it has some rediculous remixes from Grum, Manare, Minitel Rose and more.  Then our Vulture release will be out in January it looks like.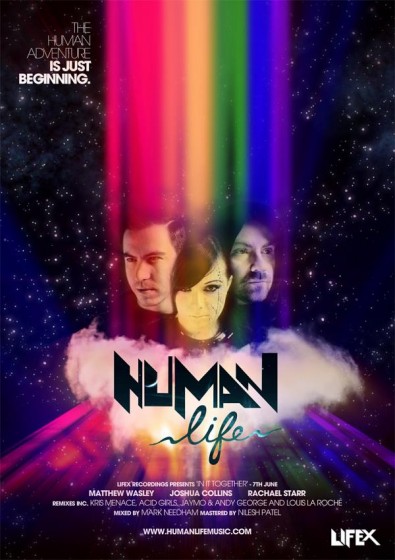 'In It Together' was released on the 7th of June and has been remixed by the likes of Kris Menace, Louis La Roche, and Acid Girls
Who is producing your works?
We produce ourselves completely!
Collectively, what did Human Life have to do to come this far?
Ohh boy, we have paid our dues!!!  Getting fired from day jobs, no sleep, spending all day int he studio and playing shows all over the world… it's a labor of love tho, we enjoy every minute of it!
And lastly, any shout outs to the world?
World. we comin for ya.  Stay rad.
Awesome stuff from this fresh crew. Looking forward to see what's next in store from Human Life, as Salacious Sound will be watching closely. Be sure to check them out on myspace and beatport!
Jump Jump Dance Dance 'Show Me The Night' (Human Life Remix) by Human Life
In It Together (Polygon Palace Remix) by Human Life
Human Life – Summer 2010 Mix Part 1 by Human Life
Human Life Summer 2010 Mix – Part 1 – Daytime
Mr. Flash – Domino Part A
Voltage – QE2
Holy Ghost! – Static On The Wire
Mario Basanov – Caribbean Girl
Ali Love – Smoke & Mirrors (Villa Remix)
Yolanda Be Cool & D-Cup – We Speak No Americano (Moonchild Remix)
Scissor Sisters – Invisible Light (Siriusmo Remix)
Digikid84 – Are You Ready
Goldfrapp – Alive (Joakim 'NRG' Dub)
Human Life – In It Together
Hystereo – Gonna Love You
Fred Falke – When I Look Into Your Eyes (Quinten 909 Remix)
Totally Enormous Extinct Dinosaurs – Garden
subskrpt – We'll Be Fine
DJ Hyperactive – Chicago
Two Door Cinema Club – Come Back Home (Myd Remix)
SunnyBeach HappySlap MardiGras – Mamacita (Bambounou Remix)
The Krays (aka Yuksek & Brodinski) – We're Ready When You Are feat. Ebony Bones
Carte Blanche – Gare Du Nord
Jamaica – I Think I Like U2 (Buffalo Bunch Remix)
VISITOR – Los Feeling (Alan Braxe Remix)
jj – No Escapin' This