Biggest Battles
Ac Slater @ Social vs. Classixx @ Wrongbar
It's the first weekend after everyone has got out of their exams. Students who go to live elsewhere are staying in Toronto for one last weekend, Students who go to school elsewhere are rushing home to avoid another night in a local college town bar. In one corner, Classixx for Wrongbar's 2 year anniversary; in the other, AC Slater for Faktory Saturdays at the Social. These two parties are just down the street from one another. One of The Social's owners was actually in attendance for a while @ their competitors party. Both parties exploded. For Classixx, we know because we were there and everyone who we saw from The Social afterward was grinning ear to ear. Have to give the nod to the young up and comer who is quickly establishing itself as the brightest rising star in the business, Wrongbar.
Jack Beatz @ Social vs. Crookers @ Skybar
Crookers at Skybar was wild. It was one of those parties that "everyone" was going to, the type of "everyone" that when you ask someone who is going they can't really name more than 5 or 6 friends that might be there. Jack Beatz at Social may not have been able to topple the "everyone" effect, but when asked who was going, one could easily tell you the names of the 5 friends they were going with and 5 or 6 groups they planned on being with that night. Jack Beatz ripped a solid set, and I managed to catch both shows by heading down to the waterfront and up on the roof to catch the end of Crookers set. It was one of those nights where they played what "everyone" wanted to hear, but at the same time they managed to slip in a couple of cool cuts for the heads. Crookers takes the cake, but Jack Beatz gets to eat it too.
Kill the Noise @ Social vs. Grum @ Wrongbar
How both of these shows underperformed I will have no idea. The problem with this city is that sometimes people forget to look at who is playing and become creatures of habit. Frequenting the same place because it is always good a never great. Let's just say I've come to realize how many great shows I miss out on because I'm promoting another party, I feel sorry for those who don't realize what their missing out on. This night they missed out, humble beginnings at The Social then over to Wrongbar with 4am last call and our good friend Mr. Charlton closing out the night on the ones and twos.
It Should Have Popped
Major Lazer @ Guvernment on Canadian Thanksgiving
What is the best way to get down off of a 10 foot ladder? Jump off, and land on top of a girl in a bikini gyrating your waist. Possibly the most impressive dance acts to come along with an electronic music show I've seen, everyone who was there will remember the first time Major Lazer touched down in Toronto. It was disappointing that Diplo played without Switch under their duos monarchre, but regardless his set managed to bring a completely different feel to the Kool Haus at Guvernment.

Bird Peterson @ Toi Bar
When Bird Peterson plays a bar that can hold maybe 80 people you expect it to be at capacity. When it isn't and he starts playing Hip Hop for the heads you stop caring. Since everyone there was involved in the industry in some capacity their was a great appreciation for music, period. It's the second time I've seen Bird Play to a crowd that doesn't match his magnitude. Whats up Toronto? Game might recognize game, but the masses can only recognize Aoki.
Evil Nine @ Social (Toronto)
Chase and Status @ Circa
When you manage to fill one of Toronto's biggest venues and still make a list filled with under attended shows, someone fucked up. A Drum and Bass rave with the biggest names in the game, 1000 people chanting "TURN UP THE BASS" in unison and the sound guys decide not to listen is a waste of music, energy and enthusiasm that leaves people remembering something for all the wrong reasons.
Adrift Booty Shaking Competition
Had to put this one on the list. Not because it was in anyway going to define music or nightlife or any of the above, but because of the video. The video that has made so many people wish the came. The official video was removed from YouTube, I wonder why?
It Flopped
Steve Aoki @ Nava (Richmond Hill)
I'm pretty sure we were at a Jack Astors?
Audio.Visual Saturdays (Toronto)
Oh well, I tried and I failed. Good idea, wrong location.
DiscoTech @ Social (Toronto)
DiscoTech at The Social for their 4-Year Anniversary on a Thursday, this would have been amazing if only they remembered to get their visas… But I guess they owe us one.
Rusko @ Social (Toronto)
Are you ready for the bass? Too bad, so sad, all the bass we could have had. Rusko blows the system; actually his equipment blows a fuse. He gets frustrated and bounces before the problem is resolved. Awesome to see the man take up a bass guitar and play live. While Skream and Benga blew the roof off, this party happened at Toronto's Monday Meetings, where half the crowd was just regulars getting exposed to new music, Dubstep found new ears that night.
Calvin Harris @ Circa (Toronto)
Wah happened? I don't know, do you?
Guns and Bombs @ Up on Carling (London, ON)
Artists need to stop getting to drunk, they need to start getting to gigs, people are paying good money to see a show. And its not like you were so drunk that you couldn't play, it was that you were so drunk that they wouldn't let you board a plane.
Correction: Promoter screws up visa, somehow rumors abound and this article was wrong… sorry for the misinformation.
We Missed It
Klever @ West
When you promote a party you are expected to be there. When you are excited to be there you generally go. Okay I missed it, I had finally heard the end of it but then I had to write out this list. If you're coming of 4 straight late nights during Canadian Music Week and you plan on taking a 1 hour nap, tell people to wake you up and for got sake take your phone of vibrate. 20 missed calls, 30 text messages and the regret of missing what was probably the one time this year that Klever had the opportunity to set it off properly… Why does he keep getting booked to play for crowds that don't understand why his mastery on the decks is important? Oh well.
Derrick May @ Footwork
The godfather of Techno music, and I couldn't make it. Hosting a party elsewhere in the city and unable to get down there for some late night bouncing in the dark, a true disappointment. He will be back, and I will see him play. At least I got to see Kevin Saunderson at The Social right?
Loco Dice @ Footwork
Boune Techno heads bounce. Couldn't make it during regular hours, didn't have the fortitude for after hours. Loco Dice destroyed the room apparently and I was there to miss it.
Audion @ Footwork

No. Words. Necessary.
Modrat w/ Gingy @ Circa
The homie Gingy playing with Modrat at Circa. One of those shows you knew was going to be sick but you slept on, you hope for the chance that it will come back again, but if not you'll live, love, and prosper.
passed out because of a rough Canadian Music Week and left the phone on vibrate.
Mayer Hawthorne @ The Drake Underground
Thought I'd be able to get in at the door through some friends who work at the venue. Turns out, staff couldn't even get in. One of those concerts that was booked long before the artist flourished, this one found itself without room for the fans to breath for what I will assume was the last chance to ever see this talented artist in such an intimate setting.
Flying Lotus @ Tattoo Rock Parlor
Instrumental Hip Hop's finest, we had a party elsewhere with our names on the event. Ultimately, we will catch this show next time, but at the same time its not like it was Nosaj in the Drake Underground.
We Don't Remember It
Wrongbar August 29th?
Can someone tell me what we were doing there? I know Charlton was DJing but that's about it.
Early in the Summer Somwhere on Queen West
Violca with other DJs on Queen with a rooftop patio after-hours. What was this for?
You Liked It
David Guetta @ Circa
Didn't go but some friends of mine booked "The Cube". A sea of people, this one popped off hard, but I mean just because you have a magnum of shitty shampagne doesn't mean that the pop is quality.
JFK @ The Key to Bala
Muskoka, JFK, college students and their parents cottages. Considering Electro's invasion of College campuses over the past year, it should come as no surprise that this became one of those parties that "everyone" went to…
Steve Aoki Anywhere
You loved it and that's why he did it. The easiest person to sell to people who aren't into electronic music, his long hair and screams became staple sights and sounds in College towns that would have previously sold out based on cheap beer, rather than a DJ from LA
Kool Haus @ Decadance
Why weren't you in the main room? I (The Monarch) preferred the main room. Crookers set was cool though.
Best Crowd Surfs
JFK @ MSTRKRFT @ UP on Carling (London, ON)
Ben Rosenberg @ Tattoo during Baltic Pine w/ Boy 8 Bit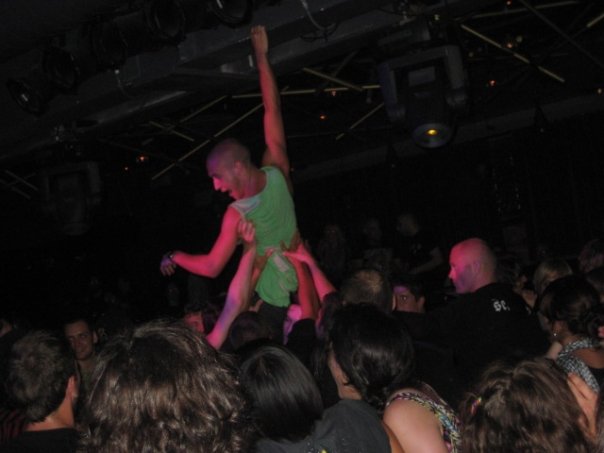 Not a song to rage too but Benny takes to the crowd and gets lifted to the rafters for a chin up.
Many People @ Wrongbar for Fake Blood
[nggallery id=99]
I stood there atop the stage bottle in hand pulling people up only to baptize them in a crowd of rowdy fans, oh wait this was during Barletta's opening set.
Everyone, from everywhere @ The Saintwoods.com Kill Halloween w/ Bloody Beetroots
Probably one of the most theatrical shows I've seen with Electronic music all year. But I have never, and doubt I will ever see so many bodies fly off of various stages, tables and anything that got you above the crowd to jump into the crowd. I'm not really a fan of the use of the word rage for partying, but these people raged hard, raged well, and made me realize what I means to rage.