With 2016 wrapping up soon, Deep Root Records wants to help see it out in a big way, by hosting the 2nd edition of its event series, Deep Root Sessions – taking place at Space Ibiza NY! The event itself is set to have a total of 3 stages – one of them being a Back to the 90's stage, to take you back to the best decade ever (80's babies may refute this).
Taking place in its main room, the blast-to-the-past evening will feature Spinnin' Records crew members Pep & Rash and Joe Stone, as well as Deep Root's own Francis Mercier and Dean Mickoski. NY favourite acts Sam Allan, MGM, SOOKI, Mestizo, Gold Coast, Samson, Noir & Blanc, RËGAL, and John Lutchman will be performing as well, alongside Miami's own  Jeff Molner and Oscar Olivo. Flying in from Dubai will be The Groove Society's own Dezarate, and several other support acts, for a night which will have you partying like it's 1999 (again). Check out the teaser for the event below, as well as the full lineup for the night!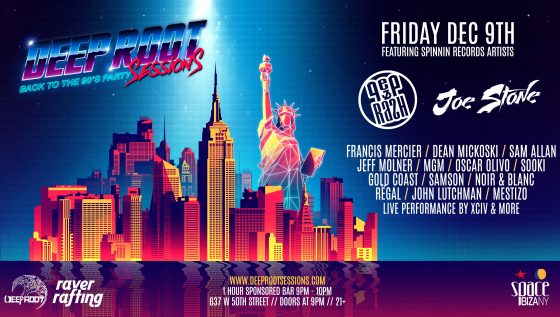 ———
Meanwhile, just downstairs, a completely different party will be simultaneously throwing down – held in Space Ibiza's UNDR venue, the night will hear the likes of Techno, Deep House and Soulful House for its UNDRGround event, featuring Steven Lee and Carl Kennedy as JUST US, supported by Agent Orange, Miss Jennifer, and Yulia Niko, among others. Special Guest from Miami Pedro M, as well as NY resident Partage and Shawn Dexter, will also be warming up the decks. For those that want the finest that the underground scene has to offer, there's no better-suited place to look!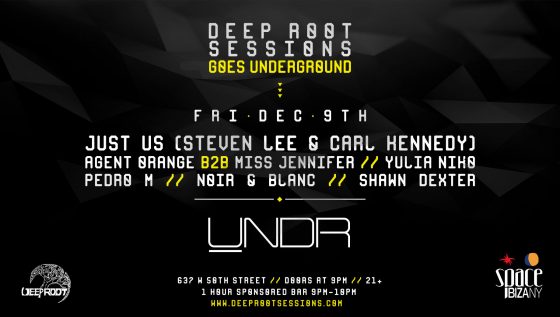 Tickets to both events are on sale at www.deeprootsessions.com – buy yours and help usher in the end of the year with a party you won't forget!
Event Produced by NY leading independent record label Deep Root Records & Natural Selection Entertainment, and sponsored by Raver Rafting. Sponsored Bar from 9pm-10pm.
~Deep Root Records~
Facebook | Twitter | SoundCloud
.