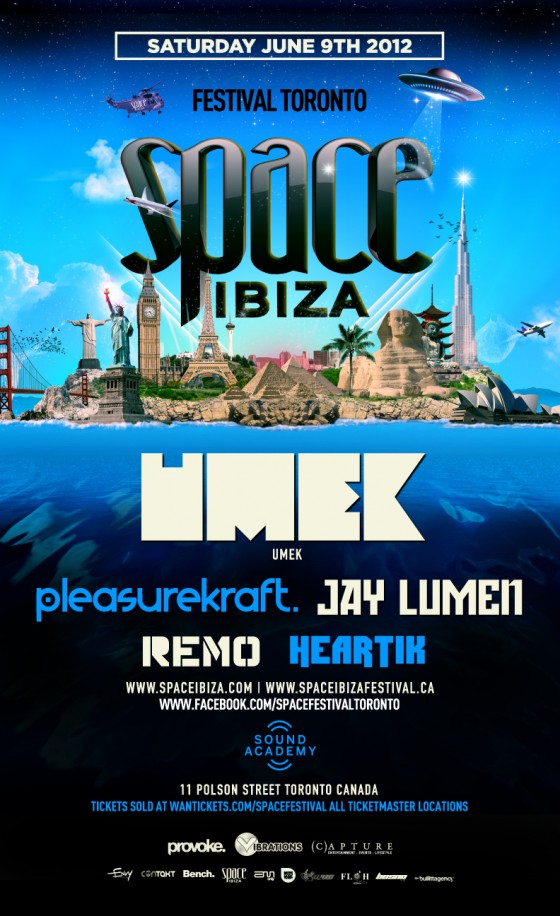 Awarded "Best Global Club" at the International Dance Music Awards in 2005, 2006, and again this year, Space Ibiza is making its way to Toronto for the second annual Space Ibiza Festival. Space originated in 1989 in Playa d'en Bossa on the outskirts of Ibiza Island and has been traveling all over the world ever since.
This year Space Ibiza Festival Toronto will include an impressive line up including Umek, Pleasurekraft, & Jay Lumen, as well as rising stars Heartik, and Remo. Along with Toronto's finest, this line up is guaranteed to light up the dance floor for 3000 crazy fans come Saturday 9th June 2012.
Umek has a slate of releases on some of the world's most reputable labels, including Nervous, Toolroom, and his own label 1605, which is regarded as one of the foremost in techno and house. He has a new release out on Toolroom June 6th 'One More Sound'.
Pleasurekraft has received a great deal of attention on our site. Have a listen to their most recent release, a collabo with Belocca titled 'Murdered Out', and if you're in for a fun read check out my interview with them from a few months back.
Jay Lumen is no new subject on Salacious either – a few months back we filmed a performance feature at Toronto's 'Maison Mercer' which we soundtracked with a few of his freshest 2012 releases.