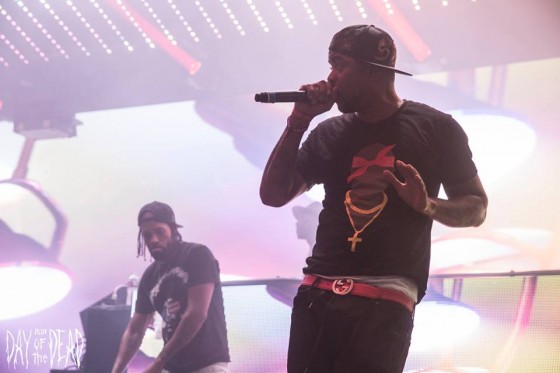 Hard Day of the Dead was a success this weekend. The lineups were stacked with artists that ranged from Rock, Rap, and of course House music. Facing increased pressure from the City of LA, Hard Events increased their police presence, increased the age limit to 21+, and cut capacity by a third. These added features did have it's pro's and cons. It assured that most people would be mature and responsible, but there still were those trying to sneak in with fake ID's without much success. The increased police presence felt a little unnerving for many attendees. This year the event featured alcohol vendors everywhere (inside the stages as well) which made grabbing a beverage so much easier; not being limited to a beer garden was liberating.
The Lineup for Hard Day of the Dead featured something for everyone on Saturday:
Gladiator rocked the early crowds and even dressed for Halloween in a Hot Dog and Spicy Mustard outfit. They played their classic track with Chromatic, Gamecub Nintendo and played some great Moombahton tracks for their diehard fans. With every DJ Set, there has to be one Hip Hop track in the mix and Jumpman by Future & Drake was Gladiator's weapon of choice.
Jauz had a huge crowd come out for his set. The Shark Squad family came out in force to hear one of Jauz's best performances. His set featured his collaboration with Skrillex, the Pokemon theme song (yes it was awesome), Kiss' popular hit "Rock & Roll All Night" and even Drake's "Hotline Bling"
Future Dropped his classic hits and tons of material from his Dirty Sprite 2 album.
XXYYXX played a few of his tracks, some uptempo material, and kept the vibe grooving with his MC.
Then Armand Van Helden kept those amazing House vibes going all through his set
Method and Red Man made it very clear that they can still rock a crowd like no one else. They played a few of their hits and went through a timeline structured set of their hits from early 90's to some of their contemporary tracks.

In conclusion, Gary Richards, Founder of Hard Events continues to deliver a memorable music festival while jumping through hoops to accommodate the concerns of Los Angeles. Regardless of what pressure Gary Richards faces, we can be assured that the music, vibes, and community will always be there at Hard Events.

*Pictures Courtesy of Hard Events*