Cover photo by: Leah Gair
The Shambhala music festival, and I can say this with all certainty, has it. There's something to be said about a 5 day long adventure in the mountains that has people not even wanting it to end by the time the closing ceremony comes around on Monday. There's something magical about Shambhala, but it goes beyond PK Sound's "I-have-trouble-breathing-right-now" sound systems or the intricate design of each and every beautiful stage. Shambhala simply has what a lot of other festivals lack: a real sense of community. You'd normally think it's impossible that such a large festival, especially one that essentially becomes the largest city for miles in the Kootenay wilderness for its duration, is able to keep itself constantly fun, engaging, and positive; but somehow, thanks to everybody involved from crew, to artists, to press, to guests, Shambhala pulls it off as a collective.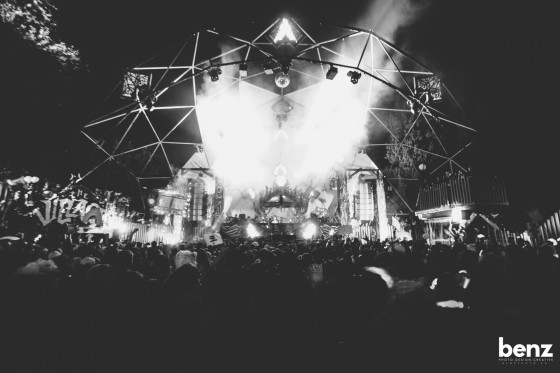 Photo by: Benz Photography.
Harm reduction tents, sanctuaries, safe zones, mind-melting stage designs, shops and boutiques, and organ-dissolving sounds form the basis of the festival. However, even though this amount of infrastructure is top tier, it's still the people who truly make it worthwhile. From the freaky costumes to how genuinely excited everybody is to be there, it's hard to find a festival that doesn't have those brief moments where you look around and wish you were back home in bed. It's absolutely crazy how much everybody gets involved with the camaraderie of the festival. Everybody is just having a fucking good time, and that's what festivals should be about.
Sage advice scrawled on porta potty walls, a glacial river that (literally) takes your breath away, and five unique stages whose visuals make you contemplate your existence in the middle of a raging crowd. There is not enough positive stuff that can be said but let's take a minute to talk about both the artists and how much a particular speaker manufacturer kills it every year.
Highlights that we managed to catch from this year's line-up include GRiZ, Zed's Dead (totally called it), Skrillex, Datsik, Excision, Big Wild, Mr. Carmack, GANZ, DJ Jazzy Jeff & Mix Master Mike, A. Skillz, The Funk Hunters, The Grouch & Eligh, and tons of other performances that we managed to catch parts of or stumbled upon unknowingly. To everybody else we didn't catch, you were sorely missed and I hope Shambhala is working on either a time or cloning machine so everybody can catch every artist.
However, the real powerhouse of the festival has to be the honestly a bit intimidating PK Sound. There were moments during Datsik's set that we had the wind knocked out of us in the best possible way; there's nothing quite like having your whole body vibrate while you look around and see every single person just getting lost in the barrage of bass. Unlimited props to PK Sound for causing a mix of terror and excitement with their setup.
All-in-all, if some other festivals are that one girl who drank too much sour Puss/Goldschlager and is throwing up on the door of a porta potty, Shambhala is the rad dude who gets her to the first-aid tent and still manages to catch Pretty Lights on time. Infinite love to everybody involved.