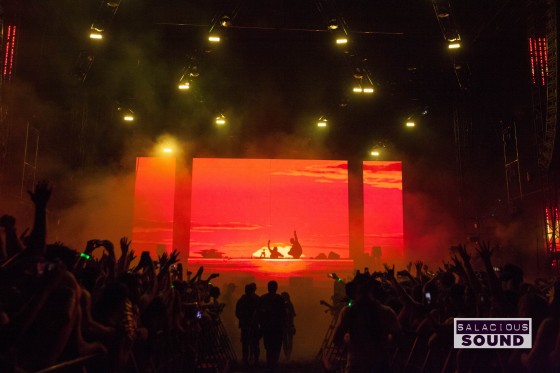 HARD Summer 2014 was absolutely a blast. This year the festival was held in a much bigger space, had 5 stages, and spared no expense on bass. As always, we were impressed by the positive attitudes, genuine-ness of people, and the music. Every set that we saw had its own special flare, and the audience fought through dust and rain to make the best of the festival.
Notable events included: A Circle of Life (From the Lion King) remix, a Game of Thrones title song remix, bass, trill shit, and surprisingly few flower crowns. The weekend was certainly a fantastic experience (apart from the dust) that provided no shortage of memorable moments. Let's break it down day by day shall we?
DAY 1: SATURDAY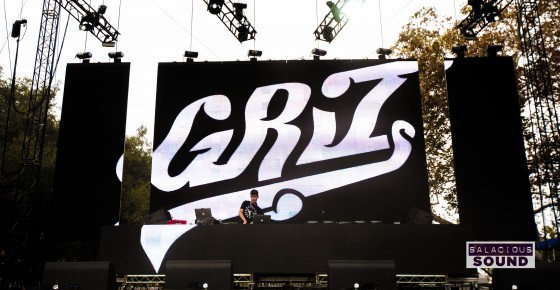 The first set we caught, after sorting out traffic, food, and getting our wristbands to work, was GRiZ. He brought out a couple friends with live instruments, whipped out his own sax, and told people to "get the funk down." He even got to play a longer set because Tommy Trash had gotten stuck at the airport. Though it was sad to hear someone was going to miss a lot of his set, we certainly didn't mind getting to hear more of him play.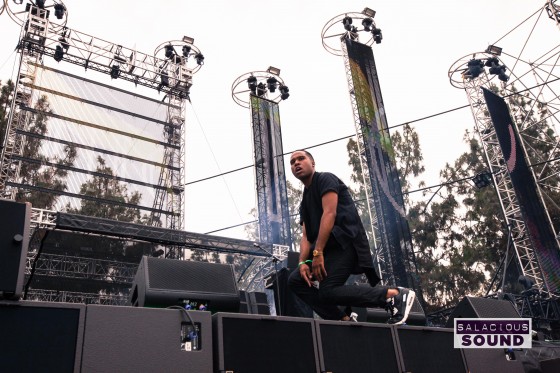 Lunice also put it down. Coming out from behind the booth, he hyped himself, and threw down some dance moves to keep the crowd going. I would have to give him the award for best performer because he was one of the few to really show-off. So many people just jump around and tell the crowd to turn up, (I'm looking at you floss.) but he danced, and seemed to be having the most expressive fun. That's not to say that all other performances lacked fun, but his really stood out.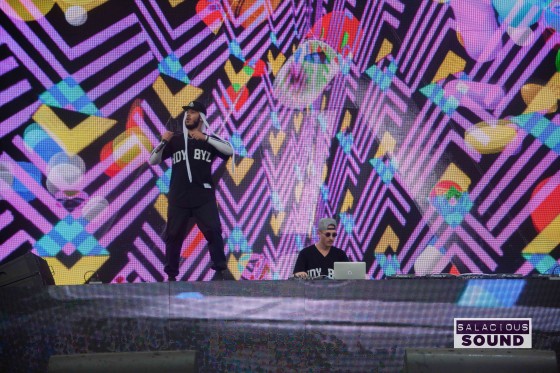 Next we saw tha' HDY BYZ. To quote the great Tupac Shakur, they had the crowd "bumping and grinding like a slow jam." There was in fact a lot of bumping and grinding especially when they had the entire crowd get low together. Picture shown below: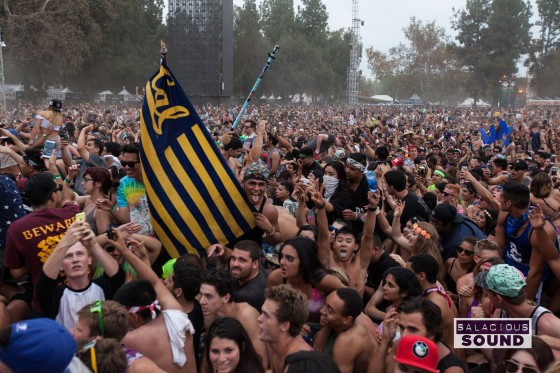 Their set was high-energy and it had the biggest crowd draw up to that point, so props to them.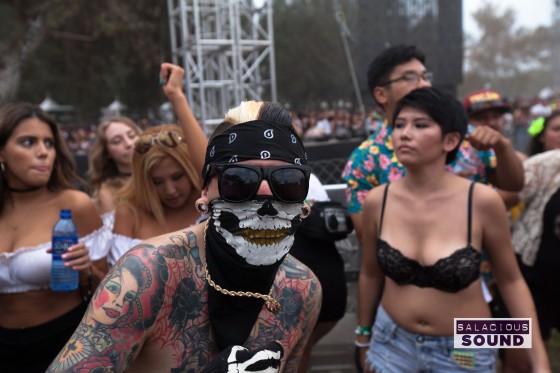 Then we had an interview hour, and reflected on the day before A$AP Mob and Jack Ü. Notable reflections included:
Damn, Flosstradamus do a really good job with branding. 
The lion's share of "Band T-shirts" on saturday featured caution signs, or "HDY BYZ/GRLZ." Notably, a pregnant woman (can that much bass be good for a child in the womb?) who had a shirt pointing to her belly saying that her child would be a "HDY BOY." Kudos for ingenuity, questionable though, from a letting-your-child-grow-up-without-gender-norms sort of perspective.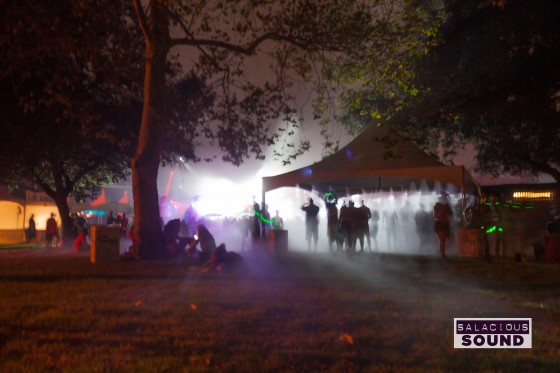 Damn it's dusty.
Parts of the festival grounds were not covered in grass, and thus, the dust from thousands of people jumping and treading about, left the air thick with dust. Those with bandanas definitely made the right call, because coughing was not easy to avoid. As you can see in the picture, there was plenty of dust in the air.
Not enough of these people appreciate house music.
The pink tent housed all the deep house over the weekend, and damn was it empty. Relatively speaking (compared to the other stages), it seemed like there were never enough people there. the music coming out of that tent was fantastic, and we never saw the tent at full capacity. Part of it was that there were so many other great artists at the big stages, that house music may not have been the highest priority on peoples radars, but still. Soon. The rise of house is coming.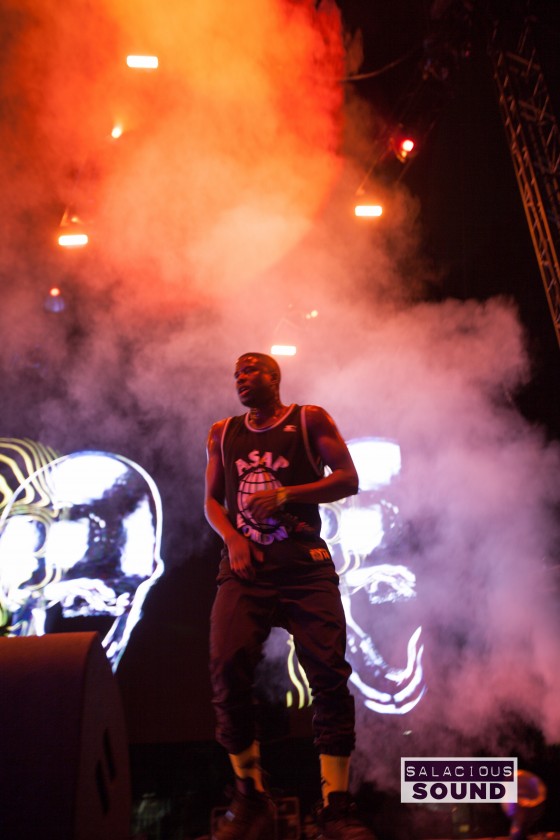 That's when the A$AP Mob arrived on the scene. They, being one of the few rap acts had a lot to live up to, and man oh man did they ever. They threw down like nothing else, and performed all the hitz. The bass was on point, and there were plenty of memorable moments. Including, but not limited to: when they told all the ladies to show them their tits, and when everyone was singing to Fuckin' Problems. It was a great set, and they seriously worked the crowd.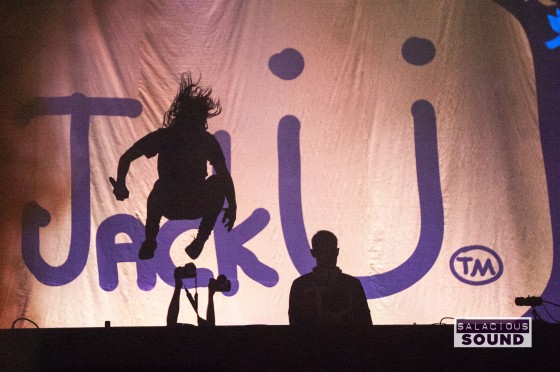 And then it started raining. Right as the two juggernauts of bass were coming on, the sky opened up, and it rained. IN LA! Can you believe that? No one could, but no one cared. Skrillex and Diplo's elusive side project, Jack Ü, absolutely went nuts. Playing their unique mix of music, they drew an immense crowd, and had a blast performing. Notable moments: Diplo took off his jacket, which elicited a collective scream from ladies in the crowd, and was nothing less than… well it wasn't really that exciting, it was a just a random white dude taking off his jacket. Big whoop. But, they truly deserved their headlining spot, and they played the remix of Circle of Life I was talking about. The picture at the beginning of this article is the sun rising at the beginning of the lion king, with their sihlouettes. Cray cray.
*END OF DAY 1.*
START OF DAY 2: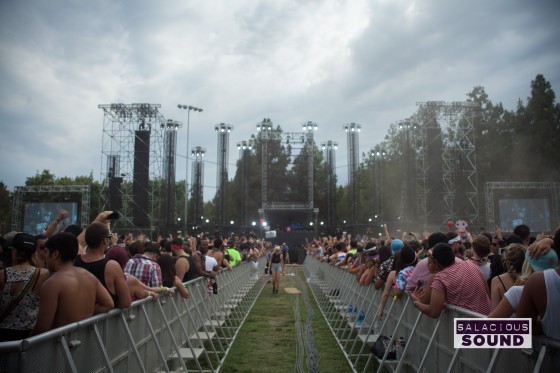 DAY 2 began with the great discovery that some of the dust had been taken out of the sky by the last night's rain, and we could actually see the sky. LA smog no more, and what a beautiful day it was. The ground was so dry, dust was still a problem, but there was a definite improvement in day quality.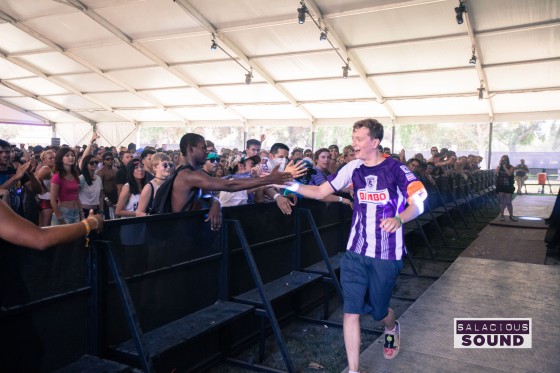 We began the day in the Purple Tent. Hosted by OWSLA, we had the bass-filled pleasure of listening to Djemba Djemba and Mr. Carmack B2B. The tent was rattling, and several dance circles were formed over the course of both artists' sets. It was early yet, but the crowd still showed some love, and really got into the music. It was nice to see a lot of appreciation of the music itself. People were jammin' and groovin', and good vibes abounded. It was solid for a 1-3pm set.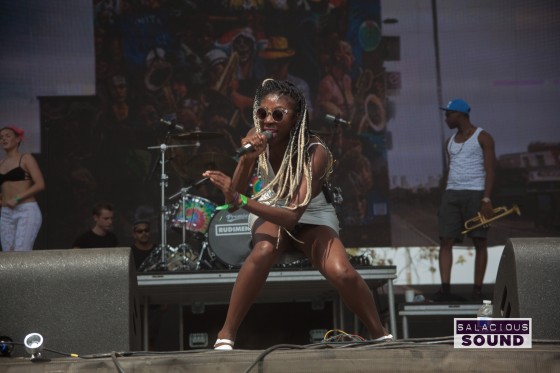 Rudimental was fantastic. I have a soft spot for bands that combine electronic music and live band. I mean, apart from a very talented singing trio, drummer, guitarist, trupmet, and keyboard set-up… THEY HAD A FUCKING KEYTAR. Mad props. Seriously though. A keytar. They were a blast on stage, and their music was fantastic. They commanded the crowd, and it seemed like everyone was having fun.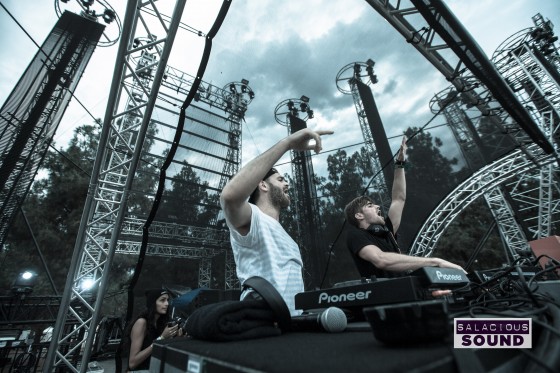 It's now time for your daily Chainsmokers appreciation hour. Firstly, they played a remix of the Game of Thrones theme music. Yeah. I'm not kidding. It was surreal, and by far one of the coolest concert experiences we could could have asked for. And then they played exactly what you wanted them to. Have you ever considered what it would be like to hear an hour of your favorite songs that you've never heard. Those songs that you wish were released so you too could jam along in your bedroom and hum in the shower. It was that, with some songs that you knew. They played their new single Kanye, and people went nuts, they showed they were also having a blast, and most importantly, closed with #Selfie. You may be tired of hearing it, but who doesn't want to experience it with 20,000 of their closest friends? Seriously, they had as many people (maybe a few less) as Jack Ü! They are clearly going to get even bigger, so start marking the calendar of when you first heard them, because you're going to want to brag about that.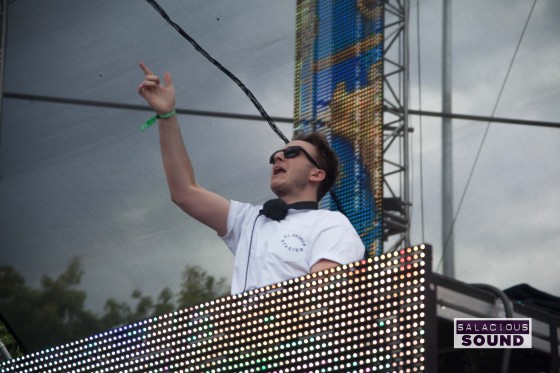 Then we were graced by one LA native, Clockwork, the progressive house side of the man who's alter ego blasts trap as RL Grime. His set was high-energy, and really,really well attended. All the Chainsmoker's crowd stayed, and though some people from the inner pit left to go elsewhere, it still seemed like the crowd actually got bigger (it must have condensed). I am constantly surprised that he doesn't have a bigger following in the public eye. He plays great music, and yet, not enough people know he is. Tell your friends, he deserves it!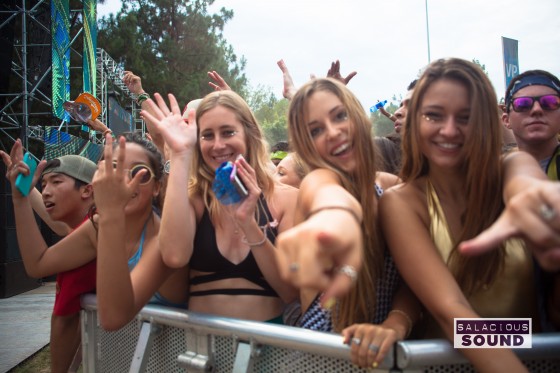 Tragically, at his point Icarus and I had to go home. It was 7pm, and we had 6 hours to drive home with work in morning. So we left tearing up; half from missing the likes of Disclosure, Dillon Francis, Wave Racer, and Cashmere Cat, and half from all the dust in our eyes. It was like. Totally tragical.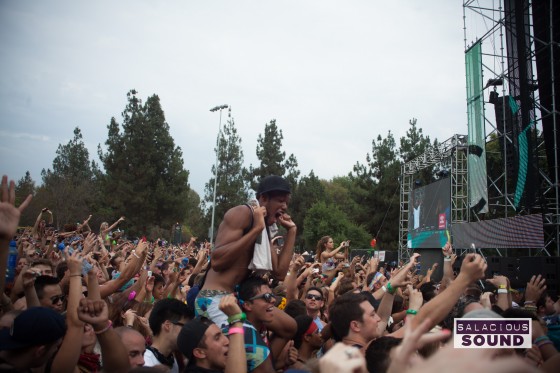 Final Reflections on Day 2: 
Dillon Francis does a fantastic job of branding.
So many artists these days have PR managers (who are great and make the world go 'round) and all that jazz, and I'm sure he has one too. But boy, does he do a good job with his socials. His Instagram has always been a favorite of mine, from all of his alter ego's to funny running jokes, because he just has so much fun. Every time you're getting (often really trashed) uncensored Dillon. And for that, hats off. Almost a third of the shirts that we spied over the course of Sunday had a reference to missing a Dad, or DJ Hanzel. People should take notes from him, and also the Chainsmokers, because they have such a fun presence online and in show form. Always fun.
People are so nice!
So many people just struck up conversations with us, or were happy to oblige us with a conversation, and we've always been impressed by the personable-ness of the electronic music community. Whether it was just to request a photo, or about nothing we had in common, it was refreshing to see.
It was so fucking hot.
This one speaks for itself.
THANKS HARD!
PEACE AND LOVE,
^Xaos and
-Icarus