Walking into Wrongbar to see last friday night's Danger show seemed almost like walking into an alternate universe; it's very strange to be in a venue you're so used to seeing filled wall-to-wall with bass fans almost empty, its only denizens thirty or so people dancing however (and wherever) they wanted.  The entire main stage was taken up by a baby grand piano (which upon further inspection proved to be empty, its insides removed for the sake of weight) with another stage set up to the left of the bar for the openers.
Hugs not Drugs and Andy's Ill provided warm-up sets that really played into the vibe of what we would be hearing later on in the night; elements of dubstep in the latter, of course, but the night was dominated by tech and electro house that kept things refreshing and the people moving. By midnight the club wasn't full, but you could tell that those who were there were a good mix of the curious and die-hard fans.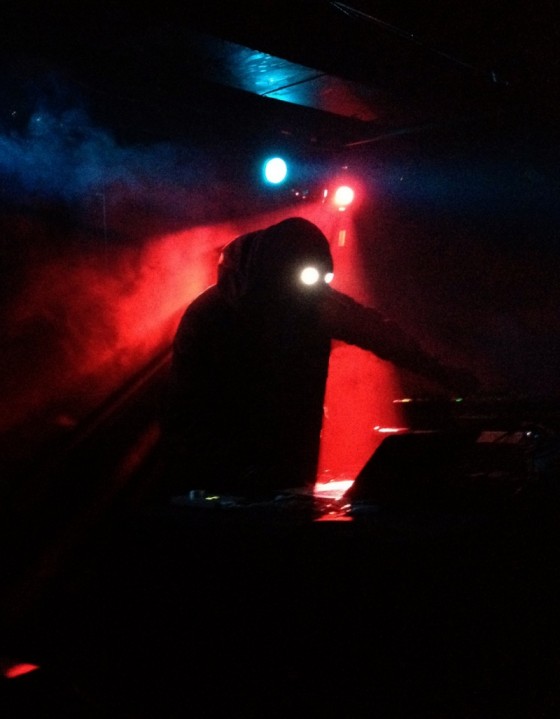 For a little over an hour Frank Rivoire took the stage, dressed as his alter ego Danger, and with his face covered in a simple black mask with two of the brightest LED lit eyes I have ever seen. It became hypnotizing, as the eyes really did drown out every other source of light (apart from a dim red light which illuminated the edges of his figure and not much else). It was pretty bizzare to see Wrongbar employees come up and interact with him during his set; it felt like staff members coming up to Mickey Mouse at some demented Disneyland and asking him if he needed a drink.
The show itself was well-scripted and extremely surreal. Although he was dressed the part, the eyes alone were enough of a stage show to entrance the entire crowd without requiring any fancy lights, which speaks largely to his skills as an artist and performer. All of his most recognizable songs were present, amongst them 4h30 and 19h11. However, I was surprised by how aggressive many of the tracks became in a live setting. He's clearly steering towards a bass-led sound (at least with his live show, either that or he knew his venue very well). Combine this with the 80's vibe that his songs already have and it's not much of a leap to say that whispers of Nero were echoing around the club.
If Danger can do any one thing it's create a thick sense of atmosphere unlike anything I've ever heard before in a live set. He could speed up and slow down the crowd at whim, keeping their attention through sections that were clearly not meant for dancing and building tension to its full potential. It's difficult to create surprises when you're using only your own content, and Danger kept us on our toes, ending his set with a halftime version of 11h30 which was so similar and yet so different from dubstep that nobody really knew what to do other than simply dance and enjoy.
The night rounded out and as suddenly as he appeared, he was gone; simply put, Danger turned Wrongbar into something out of Bladerunner, and for an hour and a half we were all the 80's dream of the future.