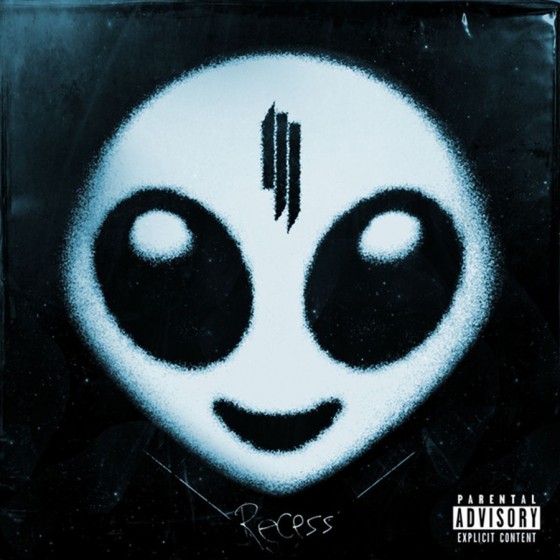 As you should all know by now, Skrillex came out of the studio with a fresh batch of tunes last week. The bass music connoisseur has already touched on every major genre you or your cat can think of, but manages to inject yet another handful of experimental sounds into his new full length album. Skrillex is no stranger to cross-genre collaborative works, having previously worked with artists ranging from alt-metal heavy hitters Korn, to hip-hop vocalists Foreign Beggars, to classic rock legends The Doors, and once again recruits a wide variety of talent for Recess. The album is available for purchase on iTunes here.
I'm going with a new review style today, but the song scores below obviously have some intangibles involved. You nerds better not hassle me about my formulas here!
The album kicks off with a playful jab at fellow dubstepper Zomboy, who (long story short) has been accused of ripping off an old Skrill track, when he really had no intention of doing so. There's no bad blood between the two however, and as the album opener states… "All is Fair in Love and Brostep". The track features Ragga Twins with some deep distorted dance hall vocals to go along with, well, really heavy throwback brostep bass. I can't say this is a highlight of the album, but a decent tune nonetheless.
Dance-ability: 8/10
Originality: 4/10
Zomboy Fist Bump Bonus: +1
Song Score: 6.5/10
Kill The Noise, Fatman Scoop, and Passion Pit front man Michael Angelakos form potentially the oddest all-star collaboration you'll see this year. Title track, Recess, is the clear cut widely appealing party starter of the album (what else would Fatman Scoop be doing in the mix?), and you can expect to hear this played out all Summer.
Dance-ability: 10/10
Originality: 8/10
Cause Fatman Scoop Said So: +2
Song Score: 8/10
The vocals bring a lot to this tune, but once that drop kicks in, Stranger goes in a disappointingly familiar direction. I get what they're doing here, but I feel Skrill could have done a better job with that lead line.
Dance-ability: 7/10
Originality: 6/10
Farty Synth Lead Penalty: -1
Song Score: 6/10
This collaboration with label-mate Alvin Risk has been out for awhile now, and I have to say it hasn't been making my playlists. It's just a little predictable for my taste, and the wow factor seems to be lacking for an artist I have such high standards for.
Dance-ability: 7/10
Originality: 4/10
Song Score: 6/10
Coast is Clear is a drum & bass hip-hop crossover, largely based around the vocals of Chance The Rapper. The instrumentals are creative enough, but you have to somehow love those odd vocal stylings to give this a second play. I just can't get over the lyrics, as they seem so rushed and uninspired… I'm calling this a big miss in my books.
Dance-ability: 4/10
Originality: 4/10
Song Score: 3/10
If you're into the 808's, this is probably your jam. Dirty Vibe features the production stylings of Diplo, along with the unlikely duo of Korean rappers, CL and G-Dragon. I haven't been that impressed by Diplo's work over the past year or two, but every album seems to need a trap tune these days, so I guess Dirty Vibe fills the part.
Dance-ability: 8/10
Originality: 5/10
Song Score: 6/10
Skrill brings back Ragga Twins for another bone cruncher in the Bun Dem-esque Ragga Bomb. As a lame white boy, I miss out on 60-80% the lyrical content, but in terms of style, it seems reggae dance hall vocals go hand in hand with the raw power of a good Skrillex bass line.
Dance-ability: 8/10
Originality: 7/10
Song Score: 8/10
Doompy Poomp is just as odd as the title suggests.
Dance-ability: Don't Even Try.
Originality: Sure.
Floompity Scroomp bonus: +5
Song Score: I… I Just Don't Know.
Fuck That encompasses that funky style of minimal house you'd expect from a Claude VonStroke type, with the bouncy bass to pass off as top notch Jack Beats. The sub-heavy dubstep breakdown finishing off this beauty is icing on the cake, and locks in Fuck That as a pleasant success.
Dance-ability: 10/10
Originality: 8/10
Song Score: 9/10
Ease My Mind is actually a remake of Niki & The Dove's original piece, but this version obviously comes with a growly screeching twist. It's more of Sonny's heavy work we know well by this point, but the vocals are calming, catchy, and do a great job of balancing out the instrumentals. I'm into it.
Dance-ability: 7/10
Originality: 6/10
Song Score: 8/10
I don't think there's any better way to close out this album, than with a tune like Fire Away. It's pretty reminiscent of the often overlooked 2013 release, Leaving, which did a great job showing off Sonny's mellower side. I'd love to see a full length of nothing but this down the road.
Dance-ability: 4/10
Originality: 9/10
Feelings Punched Bonus: +3
Song Score: 9/10
My expectations are tip-top when it comes to Skrillex, and while a few tracks did meet that standard, there was much room for improvement here. The heavier pieces fell flat at times, while his more experimental work left me wanting more. I wouldn't call Recess a flop, but I'll be picking out the gems for my library rather than listening to the album as a whole.
Album Score: 7/10

– StatiK