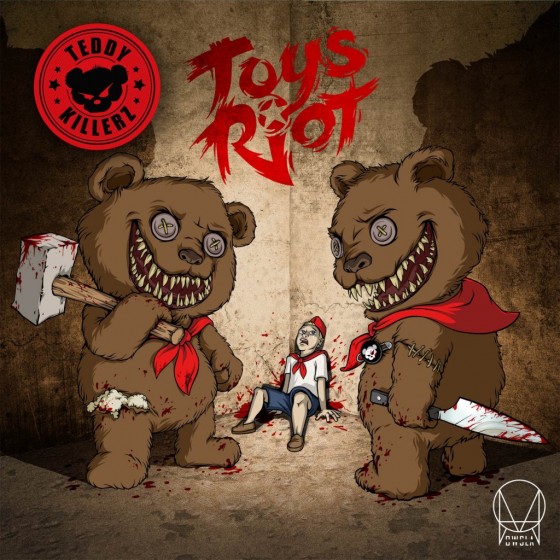 You may remember Teddy Killerz as the duo who won honorary mention for their remix of  Make it Bun Dem by Skrillex. Well, that honorary mention landed them a release through OWSLA. If you've been following the duo over the last year you'll know that they make a heavy and dark brand of Drum n Bass, while also dabbing in Dubstep and Electro. This release shows the duo's offering in Trap while still feeling evil. If you're a member of The Nest, Skrillex's subscription based music service, then you'll this release started off as an exclusive for Nest members. For whatever reason its now an official OWSLA release, which it deserves.
The EP kicks off with What Do You See In Me. The hiss of the hi hats and the swirling of synth jabs immediately grab your attention; the  melody is simple, but damn is it catchy. Accompanying the melody is the typical "HEY" vocal samples found in trap, but here they're layered in reverb. The vocals, along with the synth keep their eerie vibe intact.

Up next is I Don't Know which the duo says "trap-influenced halftime drum and bass than actual trap." It's the most experimental song on the EP. Featuring heavy slabs of bass with a DnB beat accompanied by some chopped vocals. Here they feature a more "bubbly" synth than the previous track.

Last but not least is the title track, 'Toys Riot'. Out of all the tracks on the EP, 'Toys Riot' is a party tune. This is guaranteed to get you moving. Out of all the tracks I had this one on repeat the most. It's also the most "standard" track on the EP, but it still feels like Teddy Killerz. A great way to end an album.

Toys Riot is a refreshing take on Trap. I had fun from start to finish. While not every track is a "party starter" it's nice to see some originality.  These two Russians have a bright future ahead of them and I can't wait to see what they bring next. If you're looking for something progressive and fun at the same time, then look no further.
– Fillipo