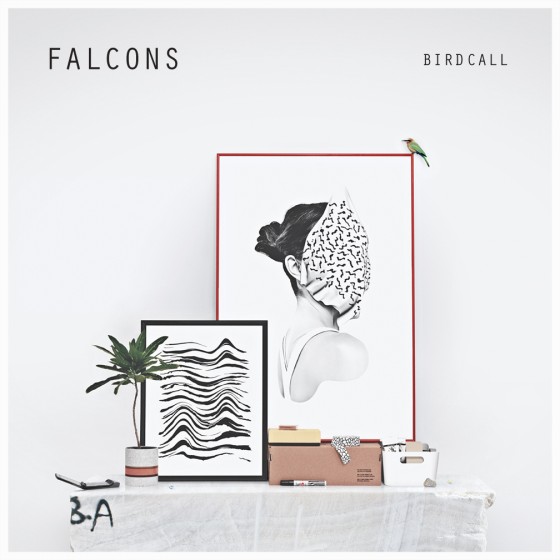 Back in the seductively sunny month of June, we here at Salacious Sound had the great honor of introducing our readers to a budding new artist by the name of Falcons. Though my days of one-size-too-short v-necks and Australian-grade short-shorts may be over for the year, the intellectual of the bird realm has carried over to the blustery months of winter without so much as a lost feather, gracing us all with the revitalizing presence of his new EP, Birdcall.
Since our interview with the man, a mere 5 months, retribution has struck deep for the LA native – signing on to HW&W Records alongside such names as Kaytranada and Ta-ku. Standing shoulder to shoulder with such names warrants a quality indubitably  quite rare in the current interwebz' tidal wave of EDM, but if a listen to the bird man's new EP is any indication whatsoever, one shan't be worried in the slightest.
In a world dominated by presets and Skrillex samples, original composition is progressively becoming (or always has been, rather) the coveted life blood of musical success, and Falcon Eye (Reprise), the lead single off Birdcall, strikes a vivacious chord almost rivaling that of a live performance – wonderfully crisp instrumentals, smoky vocals and of course, the coveted 808.
With the EP's sheer diversity, rocking noticeable influence from a span of genres, ranging from Flume to the Wu-Tang Clan, well.. You're bound to dig somethin' about Birdcall. The good news – five more days and this bad boy is all yours. The bad news? It's.. It's still five more days. As much as I would like to keep shelling out bird puns in exemplifying the span of this fellow's talent (and there are so many), perhaps I'll stop here. Be sure to check out the original interview below with the man himself, and mark the 20th of November on your cellular phone devices. Adios, amigos.
How would you describe your style to someone who hadn't heard one of your tracks before?
Ecclectic music thats fun to dance to… pop appeal, with layers of complexity and references to nostalgia.
Who's your music for?
People who like to go on a journey with music and dancing… I try to take you somewhere – almost visually even -with my stuff, and especially with my sets… people who enjoy hearing rainforest sounds and 808′s in  the club, basically.
Who are your biggest influences?
Timbaland, duhhhhhhhh. Haha, also Pimp C's productions for UGK back in the day, Neptunes, Aphex Twin, Mouse on da Track, Mike Will Made It, Drumma Boy, DJ Tray.
So, you're from the South, lived in Vancouver for a few years, and now you're living in LA – is that the end of the line for you, or is there another city you'd want to live in for a while?
I've lived in 5 cities actually… I honestly had no intention of moving ever, shit just plays out like that sometimes. I love LA for a lot of reasons, but I have no idea if I'll be here forever. If the opportunity ever arose to live in Europe or Asia, even temporarily, I  would probably pounce on that. Spain or Japan in particular.
Why "Falcons"?
Birds, man.. birds are cool. Falcons are one of the smartest birds, they do whatever they want.
What's your production setup?
Ableton Live is the shell of all my production. I also use an apc40, midi keyboard, etc., but the route of my sound is really my folder of unique sounds and effects that I've collected and made over the years.
And when did you start producing?
2002-ish I got Fruity Loops and Acid Pro and I was making southern rap beats, like the shit that was popular where I'm from… Then i heard Aphex Twin and Squarepusher and I was like 'oh fuck'. I could never really shake the influence of southern rap radio though.
What was the goal of Remixxes Vol. 3? What's your favourite track on the release?
The whole Remixxes series is just about tracks that have meant something to me over the years… paying homage to them in my own way. A lot of producers chop acapellas just because it's aesthetically pleasing or in key with the beat they have going, but I pick shit that had an impact on my life, and then I rearrange and splice the vocals to mean something new to me now.
Favorite track off Vol. 3 has got to be Boy Is Mine. It was my jam in 7th grade, and it's still my jam now.
Are you a lover or a fighter?
I have my moments… haha, but I am a peaceful dude at heart.
Do you have any upcoming projects that you can talk about? I've heard rumors of a Jeffree's release.
Can't elaborate on anything right now… A lot of people on Jeffree's are good homies, i've done some official remix stuff with them,… but we'll just have to wait and see
Our female readers want to know if you have a girlfriend.
Married to the game, man.
If you were going to have sex to one of your tracks, which would you recommend?
Damnnnn thats a good question, I fucks with this question… Depends on the sex u trying to have, but it would either be Call Your Name, Oops, or Oh!… Unless u trying to get crazy, then Stilettos.
What's your next big gig in LA?
I'm playin' Drai's Hollywood on June June 23rd with Green Lantern and my dude Arnold from M|O|D. (Info Here)
Last question – who's on your radar right now?
Sango, Kaytranada, Arnold, Yung Satan, Lil Texas, Yolo Bear, Trippy Turtle, Cashmere Cat, 8prn, Djemba Djemba, Carmack, Kloud, DJ Hoodboi, Astronomar…. everyone I'm forgetting.
Falcons on:
SoundCloud | Facebook | Twitter 
> Shwing