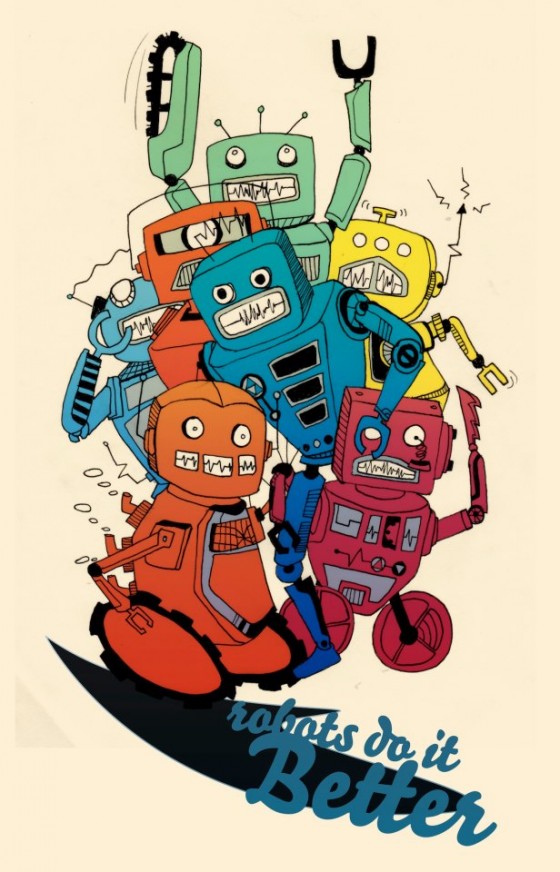 I love a great live vocalist as much as the next guy, but today, "Robots Do It Better" will be giving credit to the machines. I'll be showcasing my all time favorite tracks prominently featuring vocal lines that without heavy use of technology, would simply be impossible.
I've seen lists like this done a few times over, so to keep it original I'll be focusing my selections on relatively recent dance music only. Let's say nothing before 2000? I guess I have a thing for counting down top 10′s, so hey, let's do it again! Part 2 will cover the top 5 tracks that robots really did better.
#5
 [wpaudio text="Aphex Twin – Windowlicker" url="http://salacioussound.com/wp-content/uploads/2013/03/aphex-twin-windowlicker-ep-windowlicker.mp3″] Aphex Twin is a master at jerking you around and leaving you in the dark through the use of odd timing, but despite the track's complete lack of predictability, 'Windowlicker' is still relatively catchy for the style of music it envelops. I think it's safe to say this one takes the cake for most intense vocal manipulations, as Richard James digitally tweaks his voice in just about every way possible. Such a classic.
#4
 [wpaudio text="Kavinsky – Nightcall" url="http://salacioussound.com/wp-content/uploads/2013/03/01-Kavinsky-Nightcall.mp3″] Possibly the darkest song of the bunch, Kavinsky's Nightcall uses spine chilling vocal effects to create a laid-back gloomy atmosphere. I can't support the humans too much here, but I really enjoy the contrast created by the bright vocals of the chorus, as they slice right through the abrasive vocoder lines.
#3
 [wpaudio text="Kai Tracid – Conscious (Ferry Corsten Remix)" url="http://salacioussound.com/wp-content/uploads/2013/03/KaiTracid-Conscious.mp3″] Aside from the well produced clarity and beautiful vocal tone, the lyrical content has always been a big sell for me on this track. 'Conscious' describes a being, detached from time and space, looking back, and realizing how under appreciated many of the small joys in life can be. If there's one song in the top 5 you haven't heard of, I'd guess this is it… but I think you'll appreciate it among these heavy hitters in the same way I do.
#2
 [wpaudio text="Skream ft. Sam Frank – Where You Should Be" url="http://salacioussound.com/wp-content/uploads/2013/03/04-Where-You-Should-Be-Ft.-Sam-Frank.mp3″] Aside from being one of my go to breakup songs… *cries* 'Where You Should Be' is obviously well produced coming from the legendary Skream, and is greatly enhanced by the ghostly vocals of Sam Frank. These two had a few songs I was considering, but as a chilled out dubstep track, this one is just so unique. It was a close runner up.
#1
 [wpaudio text="Daft Punk – Digital Love" url="http://salacioussound.com/wp-content/uploads/2013/03/daft-punk-discovery-digital-love.mp3″] Come on… it's an article about the coolest robots… of course you're going to see these guys in here. There were a handful of Daft Punk tunes worthy of this list, but a number of things make 'Digital Love' a personal favorite of mine. First of all, it's a straight up party track, no matter where said party might be. Secondly, the lyrics are smooth and uplifting, and fade effortlessly into possibly the most insane solo in electronic music. Three, listening to this song just makes life better.
There you have it, the humans are dead.
– StatiK