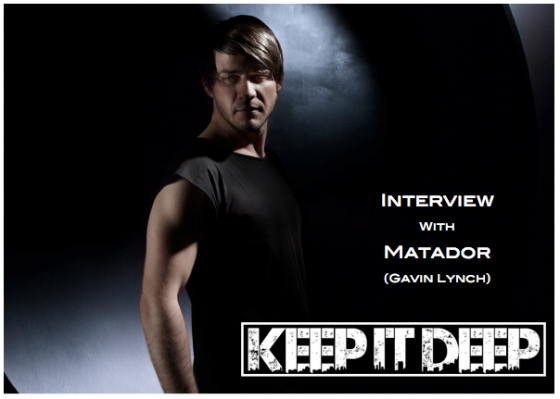 Continuing on with our M-nus showcase from the banging Halloween party a few weeks ago, we are proud to present a few questions we were lucky enough to get in with the legendary Gavin Lynch, aka Matador.
Being a master of not only food (yes he is a trained chef) but also techno, this trained sound engineer has travelled the world as the protege of label boss Richie Hawtin. His organic take on techno is not only original but unparalleled. His dark and chugging tracks are best served in the after-hours, and are always the highlight of whichever DJ has chosen to pepper his set with the darkness that is Matador.
Hailing from Ireland, he bought his first turntables at 16, moved to Dublin at 18, and learned the dark art of techno production. Oh boy are we glad he decided to dish the dishes and master the turntables.
Geoff: The Matador project originated from the early mornings in the studio, where production is at its most natural. Its sound quickly established itself as an unparalleled, organic take on deep and dark techno not only in the M_nus family, but in the genre as a whole. As it keeps evolving, having just released enter.GROOVES with Hobo, how do you think this release represents the latest chapter of the Matador project? Where was its inspiration?
Matador: The inspiration came from the actual ENTER promotion video/photo shoots we done back in april. We were writing the music on the vibes of the video footage that was recorded on the day.
Geoff: Having just recently ended the ENTER. parties in Ibiza, how was its first summer? Was there an especially memorable week? Are you ever going to look at sake the same way again?
Matador: It was an amazing summer, and so cool to go back to ibiza after not going for 4/5 years, to go back and play space was special. My first show was probably the most memorable, playing in between Ali Dubfire and Rich at space in the mailroom….need i say anymore.
Geoff: Having ascended into the depths of the techno world through the sounds of 'Dave Clarke's World Service' and 'Richie Hawtin's Deck Efx 909.' What was the most appealing aspect of edm at the time, why could you not stop listening?
Matador: It drew out an emotion in me, it was like…..right this is for me, something just clicked…..i wanted a piece of his, i wanted to get involved…a natural draw to put it simply.
Geoff: Out of genre, what would you say now if your most listened to album/podcast/artist?
Matador: LCD soundsystem, sound of silver at the moment, such a great album. also Pink floods Dark side of the moon gets regular listens.
Geoff: It has been an amazing journey to being listening to Hawtin and Clarke and now are performing beside them on the world stage. You have travelled all around the world and played all around the world. What are the 5 things you must have with you on the road, not including your equipment?
Matador: My ipad loaded with tv shows, 'an idiot abroad' always cheers me up!!
My sleeping gear for the planes. Thats really my main essentials for traveling, outside of the Laptop, phone, headphones etc.
For his latest release check here and his release with hobo here
Thank you Matador and Hobo for answering our questions. More to come from keep it deep soon.