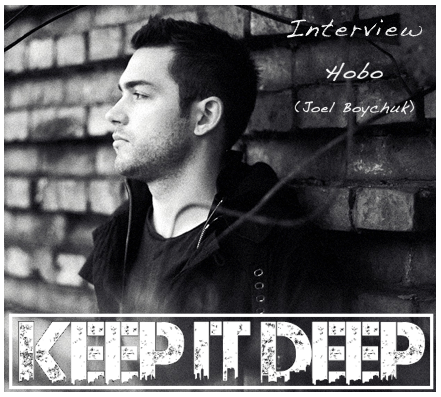 With the recently passed M_nus showcase of Hobo & Matador at Moskito, Keep it Deep got the opportunity to talk with the two DJs. As this interview will be released in two parts it seems fitting to start with the Canadian born Joel Boychuk, a producer/DJ from Sarnia, Ontario. Percussionist turned techno producer he joined the M_nus family in 2007 and has quickly risen to become a defining DJ/producer of the dark techno/minimal scene. With numerous releases this year, the most recent being the ENTER.GROOVES release this past september, it was amazing to finally have the sounds of Hobo in Toronto this Halloween.
Bringing your show to your native land, and playing alongside your release partner and label brother, what are your expectations of the Canadian techno scene? How do you consider it to be different from the European parties? Where do you think the techno scene is headed in Canada?
It's always a sincere pleasure to come and play in Canada, a country that has fostered so many amazing artists many of them favourites of mine and even colleagues, but I don't have any expectations of the "Canadian scene" because I don't believe that there is one. Canada is simply too big to harbour that healthy cross pollination of scenes, city to city – much like how the American midwest operates. Instead of a major national scene, there exist several scenes scattered all across the country. A Toronto scene, a Montreal scene, a Vancouver scene, and so on. It's cool but the downside is that music and tastes don't grow and spread as fast (or at all?) because of the isolation of these cities from one another. Like I said, our country is just a little too big for that. But my expectations of the Toronto techno scene are simple. I expect a good crowd of underground dance music enthusiasts ready to have a good time. Toronto is in a particularly cool location because people do often trip down to Detroit and there are echoes of a once booming scene in that city that still can be felt today, so while I love playing everywhere in Canada, Toronto is a cool one because you get a diverse set of party people. But I do love them all. It certainly is different playing in Canada than it is playing in Europe mostly because of the rules. Earlier starts, earlier ends, though there is a feeling of specialness since big techno parties don't happen four times a weekend, but more and more in the bigger cities like Toronto, you can get a sense that people want to catch up to Europe. People are hungry for great parties and thats fantastic. Because people want to catch up, I think there's a great hope right now for a techno rejuvenation in Canada. People are heading to Europe in summer, getting bitten by the bug and bringing their excitement back home. Now if only we had a way to melt all that together across Canada and become a techno country, we Canadians would be set!
As the European scene is more concentrated it is the logical progression for a techno DJ, but it all started here for you. Growing up in Ontario, you have made a similar geographical transition to that of M_nus' label boss Richie. What were the contributing factors from bringing a percussionist in Sarnia to the depths of the underground Detroit music scene? Rumour has it that your parents were especially supportive in providing you with your clubbing qualifications (ie. fake ID).
What brought me out of Ontario and into Detroit was simple. I fell in love with electronic music through Detroit radio reaching all the way up to Sarnia where I grew up. It was listening to Chuck Horn's show on WDET that got me hooked. One problem however was that I was too young to go to many of the parties so in fact I had to make a fake ID to fully dive in. I distinctly remember sitting at the kitchen table with my mum and she brought out some of her expired driver's licenses and I took my very first expired license and carefully cannibalized these cards to make a new one that said I was born three years earlier. I was so nervous the first time I tried it out but it worked, and for the next couple years you could always count on there being two under-agers in any Detroit club. Me and Seth Troxler. It was an incredibly fun time. Techno and Minimal were booming again and there were some really great parties happening. I'm sure Detroit has had a few different golden eras, and for me this certainly was one of them.
Since you entered the realm of electronica you have been tagged as a dynamic artist that never stands still. Since entering the M_nus family in 2007, you have always been a force on your own. From your early days in Sarnia, to holding the position of 'Assistant Executive Audio Producer' for the Plastikman tour of 2010, to having just released ENTER.GROOVES (where you had your slowest track yet, Not Even Looking) where do you see yourself and your sound moving to next?
I always try to keep my sound evolving. I don't ever want two of my records to sound alike and I think I've done a good job taking care of that. What's next..?! Well, I was experimenting with some cool FX processors in Berlin on a three day stint I had in the studio last week and I've just 'retired' a bunch of synth presets that I'd written years and years ago, which I've realistically been tweaking for five years, so I'm just going to sort of start from scratch and come up with something big and dancey… in other words, I don't know, I'm just making this up as I go, but I'll test some brand new things out in Toronto and beyond this fall. We'll see what I come up with.
One of the highlights of Hobo's set on Friday was when he drop the magical track Frank Wiedemann & Ry Cuming – Howling (Âme Remix). Sent shivers through the crowd.
You have commented that you want to spend more time on your DJing (after having been a live show for almost 6 years). Why the sudden shift?
The sudden shift back to DJing was due to a few reasons. The most important one was that playing live was killing my creativity. The things I'm producing these are bigger and definitely more danceable, but for the past five years I've been making a lot of weird, dark, and deep excursions that don't translate into clubs. So when I was going to play and had these weird trip out sessions I was missing the point, straight up. People go to clubs to dance. They go to after parties to chill or get weird, and you can't make a career being an after party DJ, especially in a headliner slot. As a result I was making loops and beats to sub into the set but wasn't necessarily committing them to new tracks. What happened was I didn't know what I was making anymore, or why I was making it. I also wasn't really listening to any others' music. Switching back to DJing after nearly seven years off was the most natural plan and I believe that it has worked wonders on so many levels.
Looking to the road and your ability to keep… going.. "until .. I .. . fall.. .. asleep. .." what would you say are the top 5 things you
must travel with on the road, aside from your equipment?
Aside from music gear, what are the top five things I need on the road..? I don't even know. Really the only things I take that aren't clothes or performance tools would be my iPad, which means books to read when I can still hold my eyes open, and a good pair of in-ear active noise cancelling headphones, so I can shut out the world when I can't hold my eyes open. Oh and black sunglasses. Have to live up to the Berlin DJ stereotype.
Thank you for answering my questions. All the best in the upcoming sets and hope to see you back in Toronto soon. You can check out Hobo's newest release on beatport here. Look for Pt. II – Matador to be posted shortly…