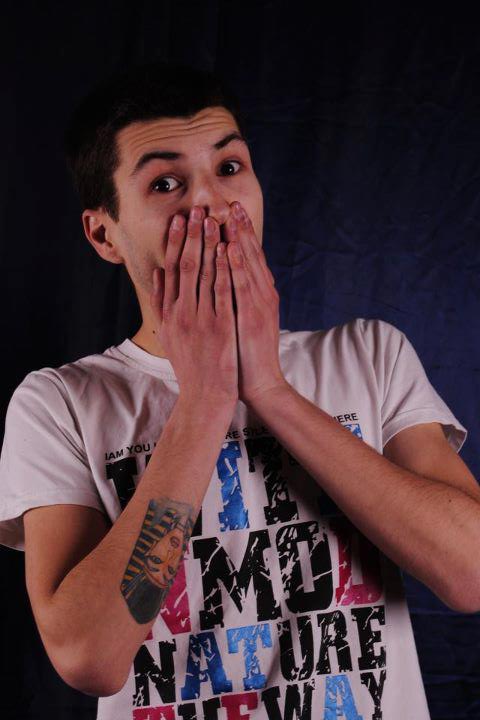 I was recently in Europe and I got a chance to catch up with one of the most promising producers from the Balkans, Split born Goran Paradjina aka Reblok. Reblok's main goal is blurring the lines between genres. First he was interested in dj-ing, but it wasn't long before he decided to translate his ideas in his own music. As a teenager he was influenced by House music and new wave electronic. In 2011 he won a remix contest for Boris Brejcha on Harthouse (First Sven Vath's label). His first important live show was at one of the biggest festivals on the planet: Exit Festival. After his Exit gig he played in numerous clubs around his hometown Novi Sad and later all of Serbia and the Balkan region. Shortly after he organized his first succesfull 30 day Mexican tour. He now has his eyes set on North America.
1) How did you get introduced to music as a child and what did you listen to?
Well here in the Balkans generally people listen to crappy stuff such as turbo-folk and balcan country music. It's heavily influenced by orient sounds, after all we've been under turks for 500 years hehe. Every nation like Croatians, Serbs, Slovenians, Macedonians etc. claim that they have their own country music, yet they all listen and praise the same "artists". One alternative musician & poet Rambo Amadeus described turbo folk such as "Awakening of the lowest passions of homosapiens while drunk" lmao. And then you have the alternative side of the Balkans which is like maybie 20-30% of kids listening to Rammstein, Slipknot, 6 feet under and similar. Basically if you're not one of "them" then you are wierdoo, junkey etc etc.
2) How did you discover electronic dance (EDM) music?
First appereance of edm was on tv it was the song "Narcotic Trust – Safe From Harm", and I immediately felt goosebumps but didnt know what it was and I was just intrigued. Like when you give a kid a rattle for the first time and he is amazed. I had that kind of expression on my face. Soon after that I heard jakkata-one fine day, american dream and so on, and i fell in love with house music.
3) What producers to you pay attention too most today? Does your sound resemble any producers at present?
I like producers from totally different spheres like Gesaffelstein, Disclosure, Urulu, Bicep, Marc Houle and basically thats how my sets sound.It reflects on my mixes a lot, because I try as much as I can to be different/colorfull. Concerning the other subquestion I think of one very smart quote in which I deeply believe "Keep an open mind, but try hard to avoid comparing yourself to anybody, even secretly in your own head. It is a path to ruin, or at best mediocrity. If somebody else says, "Oh your new shit is like part Marcel Dettmann part Stereo MCs", tell them to fuck off. It is subconscious jealousy and lack of imagination/passive aggression."
4) What is the best live show you have ever seen?
Definatelly Gesaffelstein in Novi Sad @ Exit Festival.
5) Have you played or been to any shows in North America? Do you have a dream party/club in North America that you would love to play at?
Nope not yet unfortunatelly. The closest I was was Mexico, but if I could it would definitely be "Circus Circus" club in
Las Vegas.
6) Do you think there is a difference between the European EDM scene and the North American EDM scene?
I think that the European is way more underground than North America's, but yet again depends on which genre.Cant say much because I havent been there yet.
7) What do you enjoy more; producing or DJing?
Well I change my opinion quite often concerning this question..depends on my mood. Sometimes theres periods when I dont make any music for 2-3 weeks a month..i think it's dj-ing that I enjoy a bit more, but it's almost even.
Reblok on: